Can You Mask Your Way to Beautiful Skin?
|
Masks are the fastest growing segment in the skin-care industry today. According to research done by NPD in a 2017 consumer report, '30 percent of women today are using facial masks (1).' More women and men are incorporating  them into their skin care regimens. The type of masks available today vary from clay to cream to a variety of different types of sheet masks.  
Different ingredients are used to create different skin outcomes and appeal to varied age groups and skin types. In the beauty product market, there is a demographic shift from Baby Boomers to Millenials. Research shows that Millenials place less emphasis on gender and ethnicity and more emphasis on positivity, confidence and psychological and emotional health. 
This represents a shift in emphasis from an anti-aging era to 'skin preparation for today' era. As Estee Lauder CEO Fabrizio Freda explained in an interview, 'A 30-year-old today has more photographs of themselves taken in a day than their mother did in a year, so they care what their skin looks like now, not when they will be 40 (2).' The research also shows that the Millenials, ages 20 to 36, are the ones spending the most money on beauty products and are driving a shift in the skin care market to include more natural ingredients. They are media savvy and know what they want.  
While the beauty market demographics are changing, this does not mean that women in the Baby Boomer generation and the ones sandwiched in between these giant groups are not using masks and other beauty products. According to an infographic article from womensmarketing.com, 73 % of all women use skin care products while 1 in 5 women use anti-aging skin care (3). Anti-aging skin care benefits all age groups and masks can help rejuvenate skin quickly. Some of the reasons your skin may need a mask are: lack of sleep, too much sugar in your diet, and drinking alcohol. 
"Alcohol dehydrates you. Sugar can damage the protein fibers on which collagen and elastin depend to keep the skin firm, plump and without wrinkles. Lack of sleep can interfere with skin cell turnover and repair and can lead to the new skin cells not being formed correctly. Also, lack of sleep can put the body in a state of stress, causing extra stress hormone release that can cause inflamation and breakouts (4)." Other skin damaging factors are simply found in the environment – the sun and smog particles do plenty of everyday damage.
In reviewing two different masks, I found that each has many of the anti-aging and other  ingredients necessary to fight against skin damaging external elements. I hope to give my skin a short break and offer it some hope and sympathy. I live in a dry sunny climate and have spent way too much time in the sun and wind. It is an increasingly urban area with lots of traffic and although we don't have 'smog alerts' like we did when I was a kid, I know the particles are there and so does my skin. The BIONYX Platinum Foaming Sheet Mask and the lavelier Coralline Collagen Boosting Masque offer me two different types of Masks and a variety of ingredients. I am hoping for a short 'Spa Day' feeling and rejuvenation for my tired skin.  
Lavelier Coralline Collagen Boosting Masque
The Coralline Collagen Boosting Masque is a cream mask, which according to Dermstore.com, are best for sensitive dry skin. The ingredients include skin boosters such as Coralline, Collagen and Sunflower Oil. With its antioxident properties and vitamins E, A, and C, Sunflower Oil is known to boost firmness while decreasing redness. Coralline is a type of algae, an extract of the calcified seaweed called Coralina. It helps skin cells to accept moisture and 'plumps them up.' According to an article in Consumer Health Digest, Sunflower Oil has been shown to be effective in 'alleviating a number of skin conditions including dryness, acne, sun damage and premature aging (5).' Products with collagen help to repair aging skin and skin that is under stress from environmental factors, such as smog particles and the environment.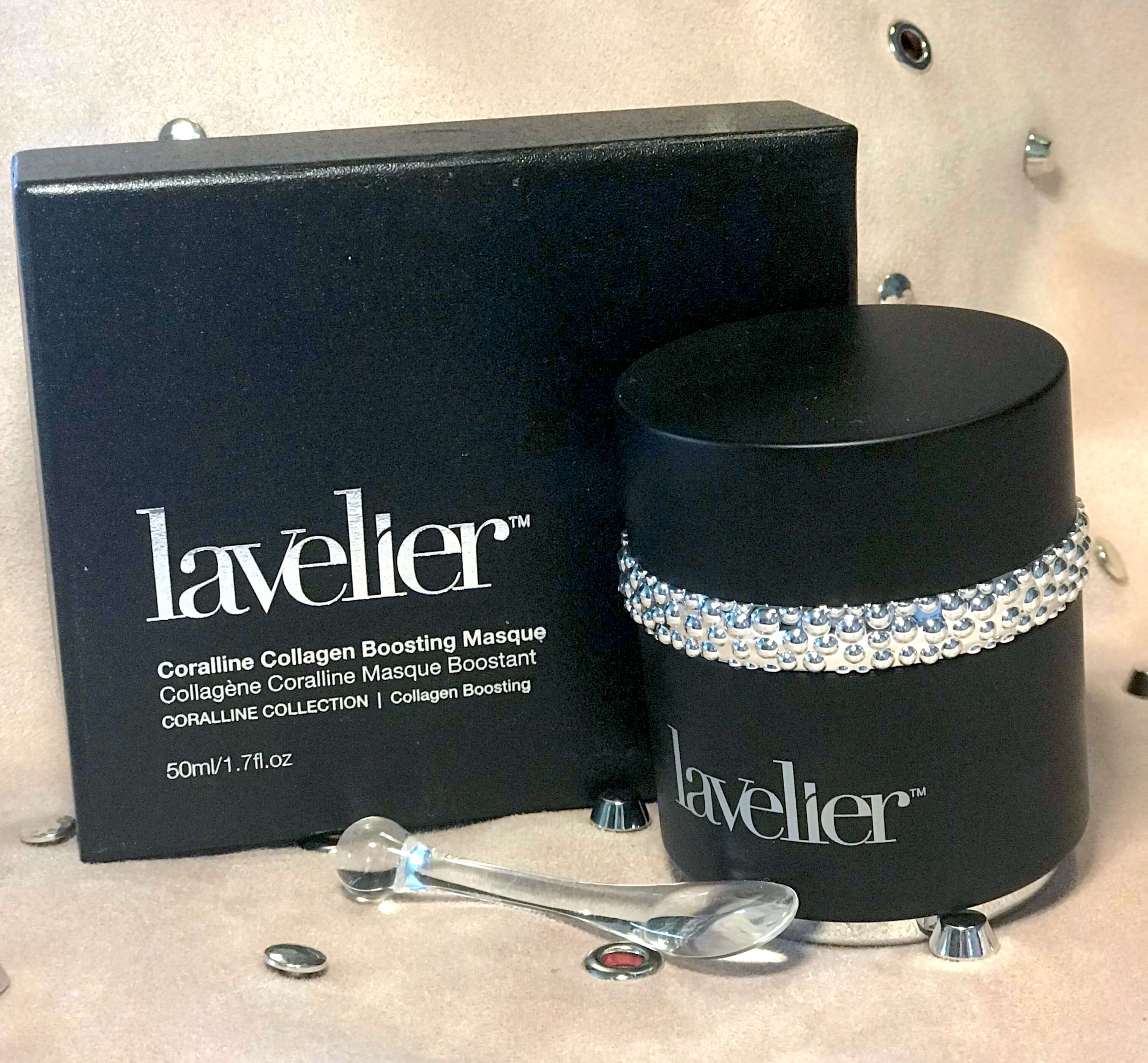 The Coralline Collagen Boosting Masque has a beautiful container that is understated and sophisticated on the outside with the same shiny silver chrome interior setting off the small black matte jar with a hammered silver ring around the middle.  The jar was carefully fitted into the black matte box and attached alongside it was a crystal clear small spoon to use to spread the mask. The name of the product, lavalier, was written in the same elegant silver lowercase font as the moisturizer. The masque was the color of cream and smelled crisp with a faint hint of fresh linnen, but not too flowery so a man or woman of any age would enjoy using it.  
 My first impression of the Coralline Collagen Boosting Masque was that using it was fun.  The little spoon applicator was just the right shape and size and made applying the masque easy, plus it was pretty and looked like glass. The consistency of the masque was like peanut butter or a light buttercreme frosting. It went on very smoothly. While wearing the masque my skin felt invigorated and cool. The masque rinsed easily with cool water and my skin felt soft and clean afterwards.  
Using a product with collagen is new to me. I did a little bit of google research before I put it on my skin. According to dermatologist and skin care expert, Dr. Stefanie Williams, in an article on honestyforyourskin.co.uk, you can't really see results from using Collagen for about 3 months. She says that you can see skin hydration within a day but "changes in collagen metabolism in the dermis take longer to notice." In the article she also says that generally any skincare regime should be used for at least 3 months before judging it. This is especially true for anti-ageing products, where you can't really expect true anti-ageing results before 3 months. The reason is that changes in collagen metabolism (in the dermis) take around 3 months to happen. Prior to this, you might see other changes already such as an improvement in skin hydration, which often already happens after a few days. Further improvements in skin glow caused by increased cell turnover in the epidermis might become visible after around one month already. However, real anti-ageing benefits with increased collagen production will take 2-3 months (6).  
The Coralline Collagen Boosting Masque is a once-a-week product so only two applications have been reviewed. The masque makes me feel pampered and even a little self-indulgent. My skin feels soft and smooth and clean without the tight feeling of being stripped of every shred of moisture that so many products like it leave behind.  The package is elegant and sophisticated and makes me feel like it is a special occasion when I use it. The coolness of the masque, the easy rinse and the clean soft feeling after using the masque make it easily adapted into a skin care regemin.  
Bionyx Platinum Foaming Sheet Mask
The BIONYX Platinum Foaming Sheet Mask is a cloth sheet mask. Sheet masks are not just for Millenials, they are also gaining popularity in other populations. Recent marketing research shows that older populations are catching on. "Consumers have shown increased preference for anti-aging formula and treatment for dehydrated skin. Moreover, increasing skin aging problems and dry skin especially in winter coupled with changing lifestyle patterns is increasing the usage of sheet face masks. 
It is found that sheet face masks are gaining popularity among the elderly across the globe, especially anti-aging formulation sheet face masks due to which the market for sheet face maskes is booming significantly (2). I am not quite in the 'elderly market' – I am somewhere between the Millenials and Baby Boomers, the generation that they don't really talk about in market research, but I do live in a place with many skin stressors and my skin could use a boost from a sheet mask.  Nacy Reagan, liscenced aesthetician and founder of Bella Reina Spa in Delray Beach, Florida gave an expert description about sheet masks, she said, "You will want to apply hyaluronic serums under it so that the occlusive nature of the mask can push the serums deep into the skin." Skip any kind of rinsing altogether and instead seal in the effects of the mask with your favorite moisturizer, which you should apply immediately after use (4).
The ingredients in the Platinum Foaming Sheet Mask are interesting. The foaming sheet mask includes actual platinum powder. Platinum powder acts like an antioxident and helps reduce inflamation and free-radical damage. It is "a skin protector that helps the skin's electrons to rebalance. This improves the skin's ability to hold moisture (7)." Charcoal powder helps cleanse the skin by drawing out dirt and toxins. According to an article on the Livestrong.com, "charcoal powder is proven to absorb thousands of times its own mass in harmful substances, which makes it a popular ingredient in facial masks (8)." Living near a busy freeway, this is a must for me. Cucumber juice is also listed as an ingredient in the mask. Cucumber helps reduce puffiness and and inflamed or irritated skin. It has Vitamin C and caffeic acid in it (8).
The classic package for the Platinum Foaming Sheet Mask is a classic matte white box with light silver-gray matte letters. The look is clean and simple and doesn't really reveal the quality of the product inside. The BIONYX logo is in a large all caps font that runs vertically, bottom to top for the length of the front of the box. The logo is definitely noticable but not overwhelming. The name of the product, Platinum Foaming Sheet Mask, is written horizantly in small letters in English and in French below. Including the French name makes the mask appear to have higher standards than a product that is only sold in the English speaking world. Everyone knows the French know their beauty products. The instructions on the back of the box included 4 small pictures showing how to use the mask. Opening the box, I found 10 sealed pouches. The front side of the pouch was white and has the same logo and name as the box. The back was black with platinum colored font. They are smooth and elegant in their simplicity. The design is flawless. The pouch was easy to tear open and it smelled fresh and clean, almost like springtime, and soap and foamed up right away.  
Using the Platinum Foaming Sheet Mask is wonderful – it is truly a luxurious addition to my skin care routine that is very addicting. My skin feels renewed, rehydrated and well cared for. After reading about the properties of charcoal and platinum powder and what they do for skin, I was very impressed with the result. I had not ever tried  a skin care product with either of the ingredients. My skin is now cleaner, softer, and smoother. I am not sure which ingredient is the cause of this result; it is probably the combination of all of them. The mask is a once-a-week indulgence, and having sensitive skin, I would be reluctant to try it more than that. It is not harsh on my skin at all, but rather it has very potent ingredients. The package admonishes the recipient to use the mask once a week for best results. The mask is also so luxurious that to use it more than once a week seems like it would be too great of an indulgence and take away from the exclusive 'spa day' feeling it imposes.   
In conclusion, the chic but understated packaging and the in-demand ingredients of both of these masks appeal to today's wide audience of skin-care product consumers. Men and women from any demographic would find that either of these products could suit them. 'Spa day' is for everyone and we could all use a 15 minute break!
SOURCES
(1)  Source:  The NPD Group, Inc./U.S.Prestige Beaurty Total Measured Market, 12 months    ending August 2017
(2)  Source:  elle.com, The New Art of Ageing- the end of 'anti-ageing' as you know it. Joely Walker.
(3)  Source:  womensmarketing.com.  What Women Want In Anti- Aging Skin Care .Ann D'Amo Dec 12, 2016 
(4)  Source:  Dermstore.com, Face Masks 101: what are the types and which one is best for you.  Marilyn Oliveira. January 19, 2018. 
 (5)  Source:  ConsumerHealthDigest.com; 5 Amazing Benefits of Sunflower Oil for Healthy Skin. 
(6)  Source:  honestyforyourskin.co.uk 3 Skincare Experts Answer: For how long should you try a skincare product, before seeing results? In Being Savvy at Skincare by Cheryl Woodman
(7)  Source:  wmagazine.com, Platinum Status. Jane Larkworthy. September 1, 2008.
(8)  Source: Livestrong.com, What Does Charcoal Do for Skin? Alexandra Early, July 18, 2017.