I have a real fondness for baked goods, so an absolute must for me when I'm travelling is sampling the products at a local bakery. New York City has something for everyone, it's a huge bustling city with a little bit of everything. So it's no wonder that they also have amazing bakeries. When you're travelling to New York, be sure to make a stop at these bakeries: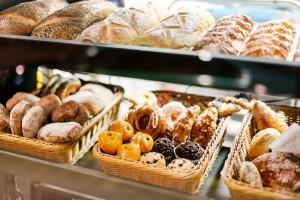 Levain Bakery
You might have to wait in line for a while to get into their bakery, but their amazing cookies are well worth the wait. Though they only come in four different varieties—chocolate chip walnut, dark chocolate chocolate chip, oatmeal raisin, and dark chocolate peanut butter chip—the few choices make it pretty easy to try one of each! With three locations total, one in the Upper West Side, one in Harlem, and one in The Hamptons, you'll have no trouble getting to one. And though they're cookies are the best, don't be afraid to try any of their other delicious pastries or breads.
Dominique Ansel
Any establishment that could come up with the genius that is the cronut—the croissant-doughnut hybrid pastry—is a must-stop for me. Pastry chef Dominique Ansel experiments with a ton of different flavors every month, like Thyme Ganache for example, and we're all his willing guinea pigs. Be sure to pick up some savoury item while you're there as well, such as the deliciously flaky and oniony DKA. There are a lot of unique, specialty items at this bakery that you just have to see—and try!—for yourself.
Maison Ladurée
This bakery could also be on a list of bakeries to try in France, as this is a spin-off of the very popular French bakery of the same name. It specializes in macarons, and does not disappoint. If you've never had a macron you are missing out—these delicious treats come in a variety of flavors and melt in your mouth. Maison Ladurée has flavors ranging from orange blossom to raisin-cinnamon and the ever favorite pistachio. The best part is that you won't even have to break the bank for one of these treats—they only cost $2.80!