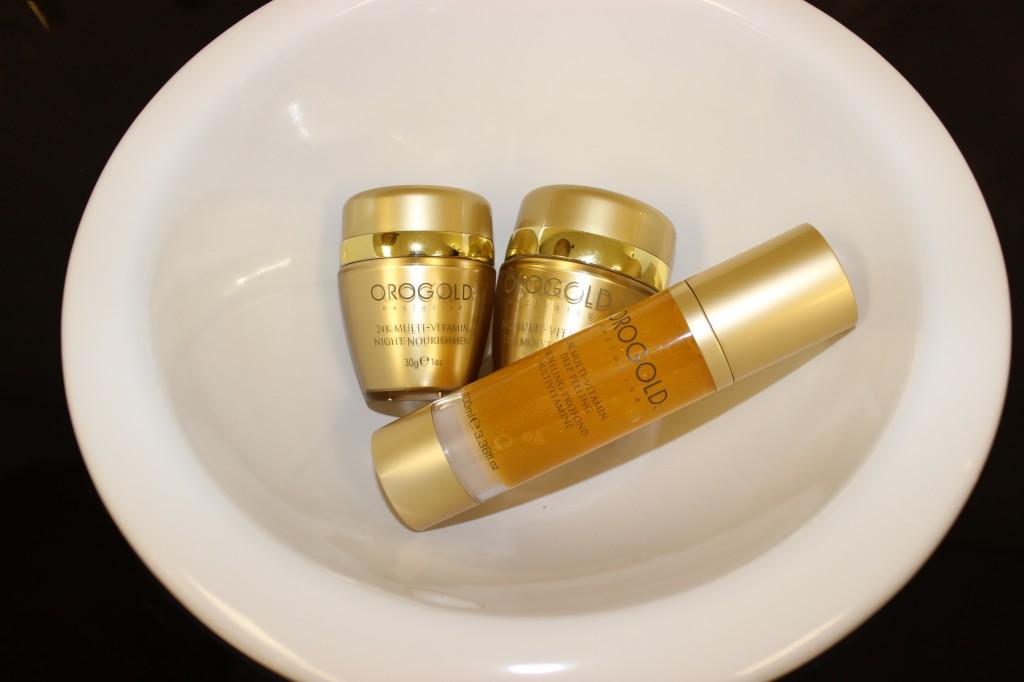 Hi guys. Today, I am going to talk about the OROGOLD Multi-Vitamin Collection. I have had my eye on this brand for quite a while, but it was only recently that I got a chance to review their products. Let me tell you a little bit about OROGOLD Cosmetics. What impressed me the most was the fact that OROGOLD Cosmetics offers its customers with luxurious skin care products that have been infused with the powers of pure gold. Wow. Imagine all those Cleopatra pictures flashing right before my eyes the moment that I came to know I was going to review a product that had real gold. But, that's not the only thing about OROGOLD that impressed me. OROGOLD Cosmetics was launched as a luxury skin care brand only in the year 2008. Within just 6 years, the company has managed to expand its presence to all states in the US and over 22 countries all over the globe. Well, that's about OROGOLD. If you want to know more about the company, all you need to do is visit their website www.orogold.com.
Let's start off with why I am here. Yes, the 24K Multi-Vitamin Collection. I think that the 24K Multi-Vitamin Collection is a must for any skin care routine. Why? Well, simply because of the fact that it is one of the most complete collections that I have ever seen. Not only does it tackle your skin care issues, it also gives you with all the essentials that you're likely to need – a moisturizer, a night cream and a peel. Moreover, I personally feel that the Multi-Vitamin Collection has some of the best and most effective ingredients for the skin. This is what makes the collection so effective for people with all types of skin and all sorts of skin issues.
On another note, I really liked the way these products are packaged. The packaging is not over exaggerating so as to stand out in the crowd, but they are no pushovers over. In fact, they are among the most perfect ones that I have seen. They spell luxury in every corner and turn and they completely set the mood for you to apply these beautiful products. What I liked the best was that velvety bed look where they place the products on a golden satin bed. It just goes on to show how highly they regard their products and what you can really expect from them.
Now that you're aware of the collection that I am going to review and what it can offer to your skin, let's discuss the various products that I am going to talk about. There are three products in the 24K Multi-Vitamin Collection – the 24K Multi-Vitamin Peeling, 24K Multi-Vitamin Night Nourishment and the 24K Multi-Vitamin Day Moisturizer.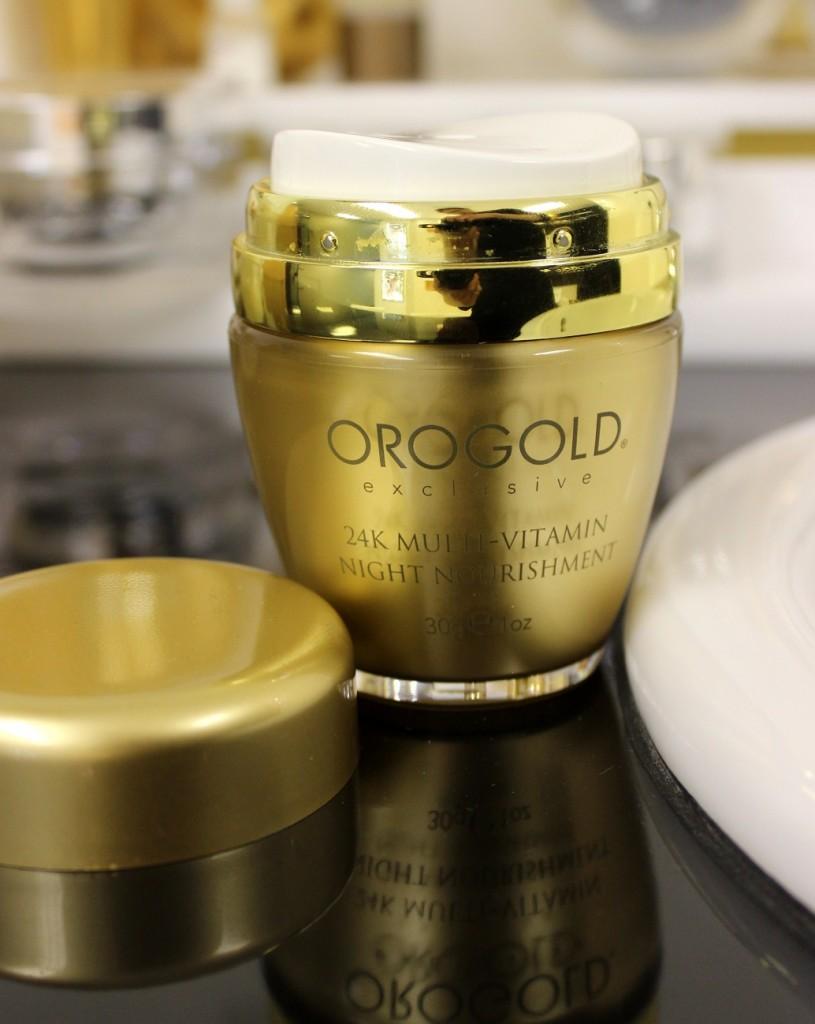 24K Multi-Vitamin Peeling
The first thing that I did was turned over the box to check out the ingredient list. I was pleased to see that the 24K Multi-Vitamin Peeling was formulated using delicious skin ingredients like tocopheryl acetate, gold, ascorbic acid, riboflavin, niacinamide, retinyl pamitate, panthenol and thiamine. The box suggested I massage the product on my skin in a circular motion and rinse thoroughly using cool water. The box also recommended that I use this product once or twice a week and follow it up with the Multi-Vitamin Day Moisturizer/ Multi-Vitamin Night Nourishment depending on when I use the product. Now, since I was using the Peel in the morning, I decided to follow it up with the Multi-Vitamin Day Moisturizer. The peel itself was great. It really gave me a deep cleanse and made my skin feel a lot refreshed. I liked the fact that it managed to slough off my dead skin cells and also remove the dirt from my face. Furthermore, my younger skin cells began to shine through and my face started to glow as well. Really happy with the product.
24K Multi-Vitamin Day Moisturizer
My expectations had already soared sky high after using the 24K Multi-Vitamin Peeling. So, by the time I came to the Multi-Vitamin Day Moisturizer, I was already quite excited about trying out the second product in this collection. Again, I started off with the ingredient list. And again, I liked what I saw. The 24K Multi-Vitamin Day Moisturizer contained a number of highly effective skin care ingredients like tocopheryl acetate, riboflavin, gold, glycerin, thiamine, helianthus annuus seed oil, retinyl pamitate, niacinamide and ascorbic acid. Personally, I feel that the Day Moisturizer is an ideal way of reducing the signs of aging, improving your skin health and making it glow as well. Yes, a single product can do all that and much more. I would suggest that you lather a generous amount of the product to give your skin with the ultimate in terms of a moisturized and hydrated feel. And, I am not the only fan. The Multi-Vitamin Day Moisturizer also found a fan following among celebrities like Denise Richards and Demi Lovato. Denise also feels that the Day Moisturizer is offers an amazing base under her foundation and I totally vouch for that. What about you guys? Let me know what you feel when you try the product out!
P.S. I know that OROGOLD Cosmetics specifically mentions this, but I thought, let me just mention it again. After all, despite the fact that we read about it all the time, we still end up ignoring this issue most of the time. Yes guys. I am talking about your neck area. Make sure that you apply the day moisturizer on your face as well as your neck area.
24K Multi-Vitamin Night Nourishment
The 24K Multi-Vitamin Night Nourishment is yet another novel product from OROGOLD. I applied the other two products from the collection in the morning and they really helped my skin to stay fresh and look beautiful all day long. I even received a few compliments at work about how fresh I looked. Some even winked at me saying that they knew the reason behind my glow. Sigh, I just wish. Aah, anyways. Let's not get ahead of ourselves, shall we. So the Multi-Vitamin Night Nourishment is all about luxury and moisturizing the skin. It helps to repair the damage caused throughout the day and allows your skin to hydrate and moisturize itself over the night. Using the night nourishment cream is sure to give you a glowing look the next morning. Furthermore, this cream also goes a long way in helping you to deal with the common signs of aging such as fine lines and wrinkles. Like always, I didn't forget to check out the ingredient list on this one either. Some of the most famous skin care celebrities that I could find there include panthenol, ascorbic acid, riboflavin, retinyl pamitate, mineral oil, niacinamide, helianthus annuus seed oil, thiamine, tocopheryl acetate and gold.
I have seen many skin care products that actually deliver on a lot of fronts, but I have never seen a skin care brand or a skin care collection that deals on all fronts. The OROGOLD 24K Multi-Vitamin Collection does all this. It made me redefine the way I looked at skin care and inspired me to take more care of my skin. After all, if this is the difference that I get in a single day, imagine what I could get in a couple of weeks. And then imagine the kind of changes that the products could bring to my routine if I use them diligently for a couple of months.
They say that watching those 212 degree type videos on YouTube or listening to "May It Be" by Enya can inspire you like no other. But I say, show a woman that skin care can really work and you can inspire her to achieve almost anything under the sun!