The name Jelessi itself is hard not only to pronounce but to write as well. When I first heard of this brand, I didn't know how to exactly pronounce the name correctly. So, like any other person, I looked up the brand online to see what it was about. According to them they are a passionate brand that focuses on the power of technology to help revolutionize the skin care industry, focusing majorly on LED technology.
LED, also known as Light-emitting diode, is the latest advanced technology in the beauty industry. This technology has been used as a revolution to the skin care industry and has been in use for decades by professionals, providing incredible results along the way. The exposure to LED light and its marvelous benefits inspired Jelessi to create and design its skin care devices to be used at home for quicker, lasting and beautiful results.   
I'll be honest, this was a first for me. I've never really been that into skin care brands that use technology as their main focus. Jelessi not only works in more ways than one, but it also allows you to understand the importance of technology as well. So, to be fair, I decided to give it a go and see if my mind would end up changing after using for the first time two of their products: The Jelessi Torché and the Photonix-2 Jade Eye Wand.
First, I started with the Eye Wand because I read that it helps with puffiness under the eyes and unfortunately for me, I've been dealing with puffiness for years. This product however has two types of ways to use, a bunch of features and a variety of benefits.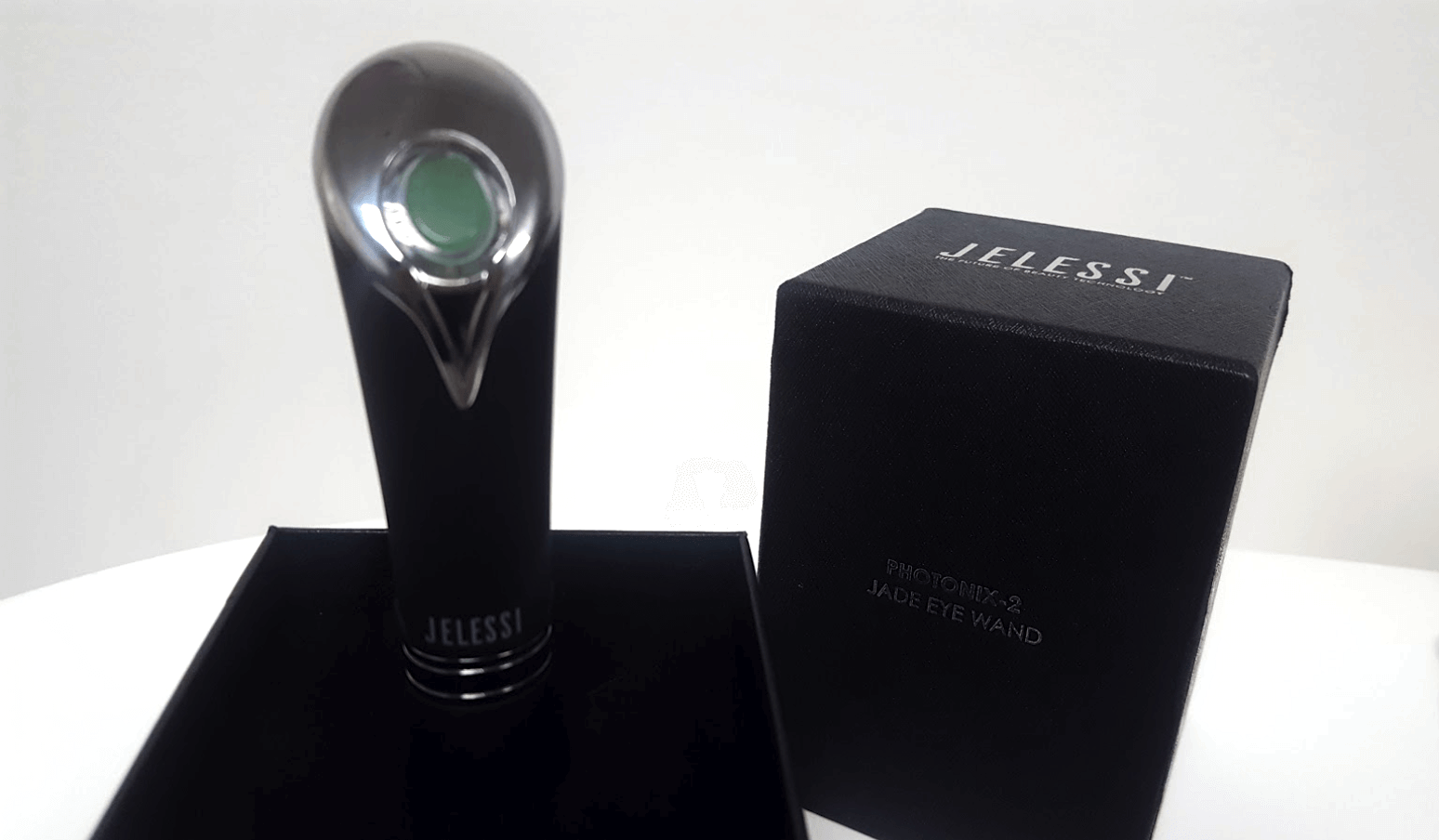 Let's start off by explaining the benefits and functions of this wand and how it works, starting with the Jade stone, which is inserted on the top of the product. This stone, for those that don't know, has been used in traditional Chinese medicine for centuries. For many years it has also been used in skin care to keep and help make the skin look happy, healthy, more elastic and youthful looking.
The Jade Stone, also known as Nephrite, is said to represent good luck. For a lot of centuries, it's been said how the Jade brings to a lot of elements of your life not only good luck but good fortune as well. Making you more open and acceptable to abundance and prosperity, not only in health but in wealth as well. It helps guide you through the decisions and moments in your life, whether it's a relationship, success, happiness, among others.
Some of the well-known benefits of the Jade stone is that it helps to detoxify and promotes lymphatic drainage so it can help remove the skin's toxins and it also increases blood flow, which helps when it comes to puffiness. Its anti-aging and anti-inflammatory properties help the reduce of redness, wrinkles, age spots and dark circles under the eyes.
But now that we understand a bit more about this stone and how it helps our skin, we can now all understand the reason it is placed on the top part of the wand, being the section that will be place under the eyes and make direct contact to your skin. This part can work with the following features:
Mode 1 (Left Button):

Anti-Aging. This mode works with the combination of Red Light (

heated

), negative ion technology and heat. It's helpful to stimulate the blood circulation and increases the absorption of your eye serum. This Anti-aging mode can improve the appearance of wrinkles and lines of the eye.

Mode 2 (Right Button): Anti-puffiness and Relief.

This was the mode I used the most. The blue light (

cold

) vibration and its positive ion technology helps to stimulate the Collagen production and reducing puffiness around the eyes while detoxifying. The positive ion technology fights bacteria and improves the tired eyes and renews your look.
Now, I may say that after using the Eye Wand for almost a week I could definitely see clear results. Just like a lot of people in the world, I suffer from puffiness around my eyes and I've always been looking everywhere for a beauty tool or cream to minimize them. Until I got this Jelessi beauty tool.  

Steps:
I cleansed my face before using.

I pressed the right button and automatically the blue light turned on and started getting cold.

I started massaging around the eyes for about 5-6 minutes.

I turned off the device and cleaned the product with a dried cloth.
Even though it takes some time to see the results, they're worthwhile. They start to show after using the product for about a week. They recommend to use the treatment 2-3 times a week. Let's be clear that the Mode 1 wasn't used as much due to the fact that even though I do have wrinkles and fine lines, my main concern at the moment was to help reduce my puffiness, I gave the Mode 1 a try as well.

Steps:
Cleansed my face.

Pressed the left button and the red light came on.

Waited about a minute or two for it to heat up.

I applied a serum under my eyes and started massaging the areas around my eyes. Don't worry, you won't burn off your face.

Turned off the Eye Wand.
Now, I did feel different after using it. Like I said, my main focus at the moment aren't the appearance of wrinkles, but puffiness, still I always recommend to take your skin care routine a step further, because it's never too late to start working and preventing wrinkles and signs of aging. We won't stay young forever, but if you guys are looking for a great product to help you reduce those puffy eyes and wrinkles, look no further. The Jalessi Eye Wand is perfect for these specific areas but wait until you read all about our next product from this brand: The Torché.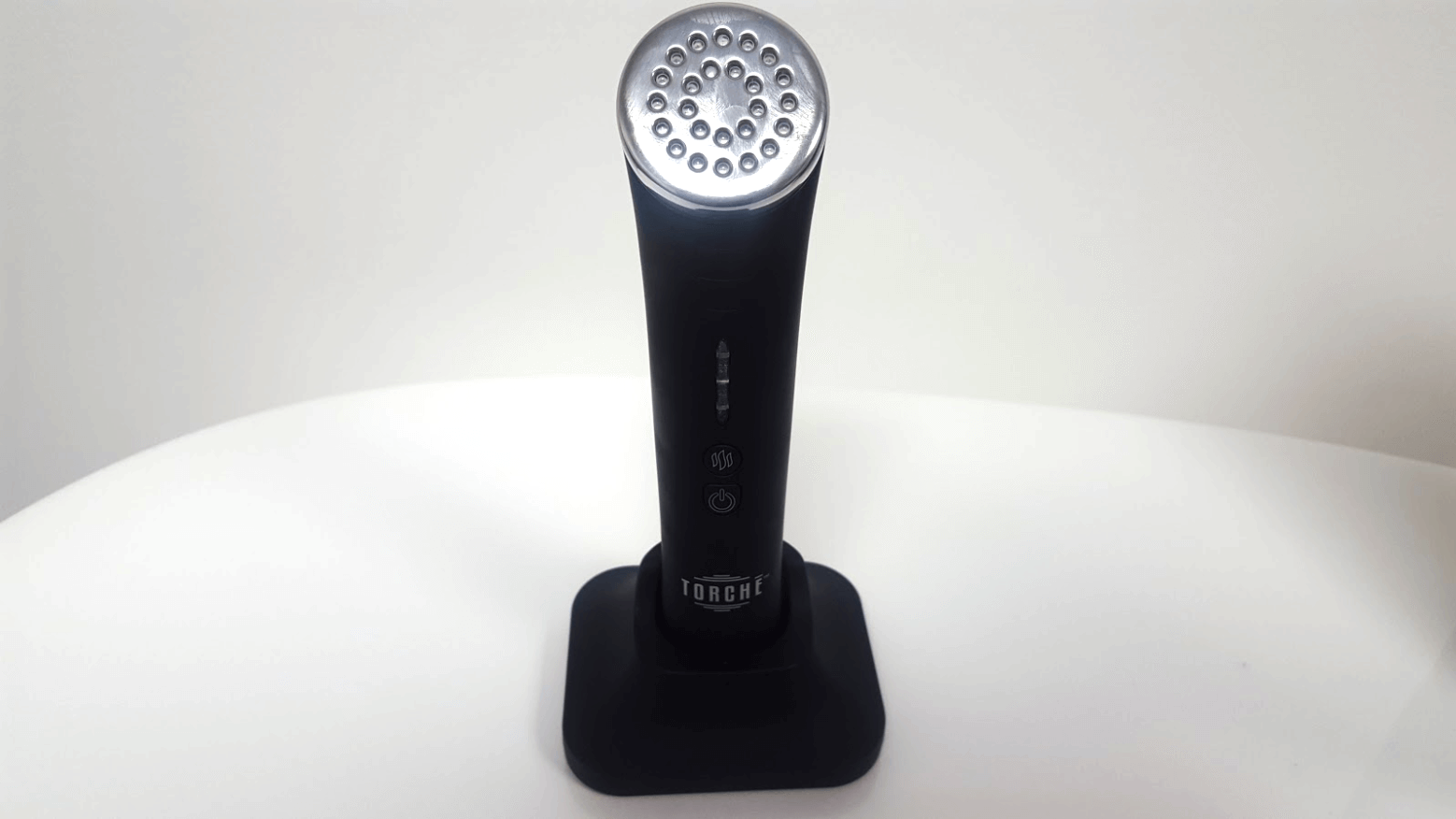 The Torché is an innovative device that provides the ultimate skin rejuvenation treatment. It posses a LED infrared technology that focuses on wrinkles, fine lines, and maturing areas of the face and neck.
Packaging:
First of all, I'll talk about its packaging:
It consists in a black box with a very sophisticated and futuristic design. It doesn't open like a normal box, but more like the doors of a ferrari, but not quite either. The lids open from the middle to each size, making the object inside it the main focus. I would really like to know who designed this incredible box; who came with the idea of opening like there was a diamond inside! It's beautiful! Also, the texture of the box is very fancy. It even shines! Is like if it has fairy dust all over it. The font is very modern, but classy at the same time, and in silver, which adds an elegant touch to it.
So when you open the box, the first thing you see is the Torché standing majestically in the middle. It is a black, elongated device, with a silver head full of small holes that resembles a shower head. But from these holes LED light comes out, not water.
When you take out the Torché, you can notice that it comes in a stand or charging port. This is very convenient because you can charge it and keep it in a safe position at the same time. The on/off and the heat on/off switches are big and easy to push.
It also came in a little black box that contains a pouch and the user manual. Then, another white box. In it is the adapter. Everything comes very well organized and very well packed.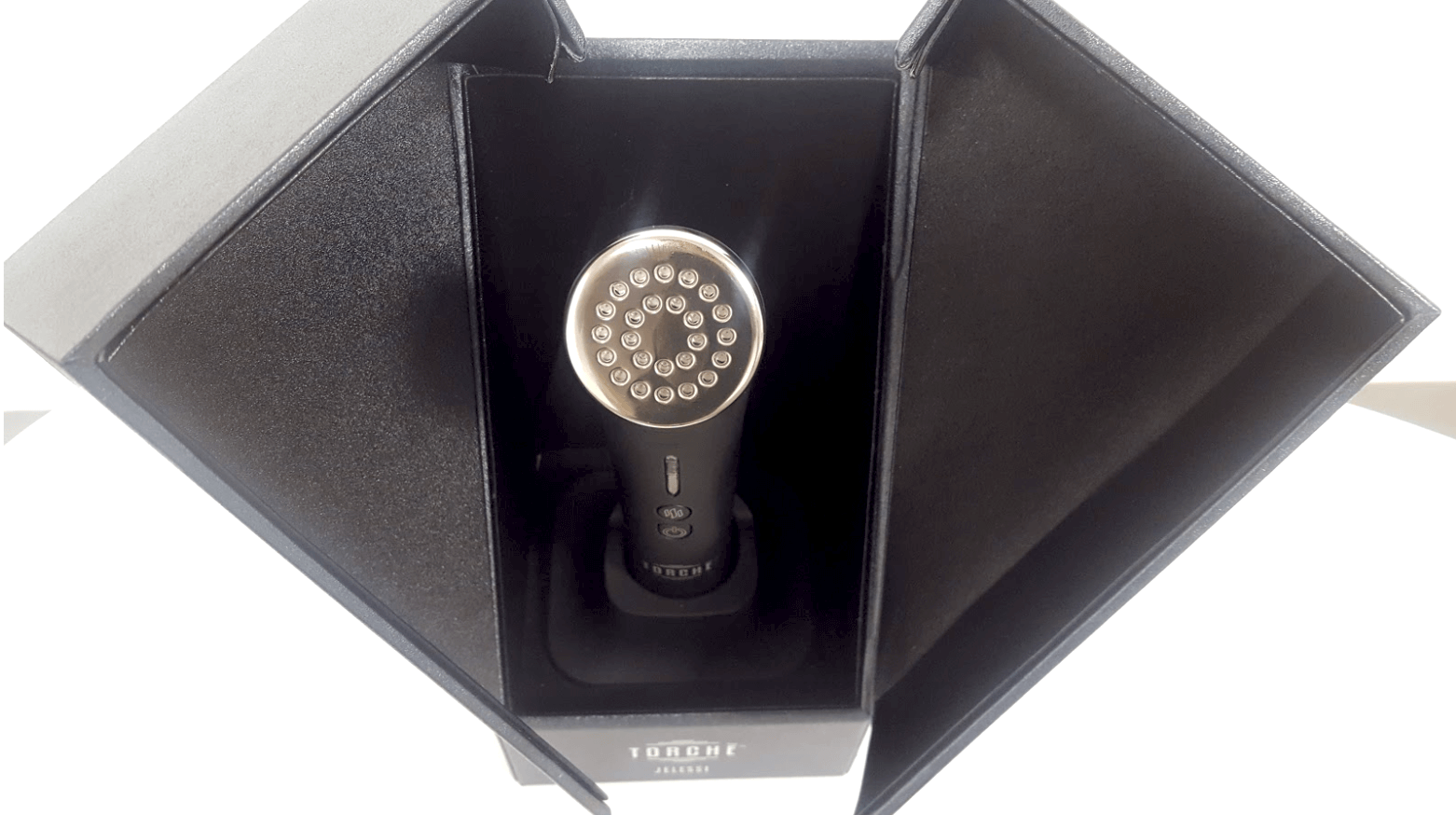 So, let's recap:
The Jelessi Torché box includes:
Jelessi Torché

Charging Port

Adapter

User Manual
According to the manual, the Torché is an amazing treatment that will restore your youthful looks and will leave you with soft and smooth skin.
I'm 45 years old and of course my main concern, other than puffiness, are my wrinkles and fine lines. I've using all kinds of moisturizers and serums, but they don't seem to work. But I still have faith in science and technology, so I'm going to try the Jelessi Torché.
But first, let me tell you a little more about my skin:
I have combination skin. My T-zone is super oily and very prone to blackheads, unlike my cheeks, which are very, very dry. I don't have many wrinkles on my forehead, but I have a lot of fine lines under my eyes and around my mouth. You could say that those are happy lines, because they get more pronounced when I laugh.
Steps:
Wash and dry your face. Skin must be clean, dry, and free of moisturizers, creams, lotions, gels, and serums

Take the Torché and press the on/off button. When the green light shine steady, the Torché is ready to use.

If you want to increase the results, press the heat button. Both the green and yellow lights will shine steady. The heat will gradually intensify to stimulate blood circulation.

You can place the treatment surface on the area that you prefer to treat first.  Move the applicator in small circular motions while applying a light pressure.

When you're done, turn the Torché off.

After the treatment, apply a small amount of moisturizer on the treated skin areas, gently massaging in circular motions

Always, always clean your Torché after each use and put it back to the charging port
So, let's see what the Torché can do for me, shall we?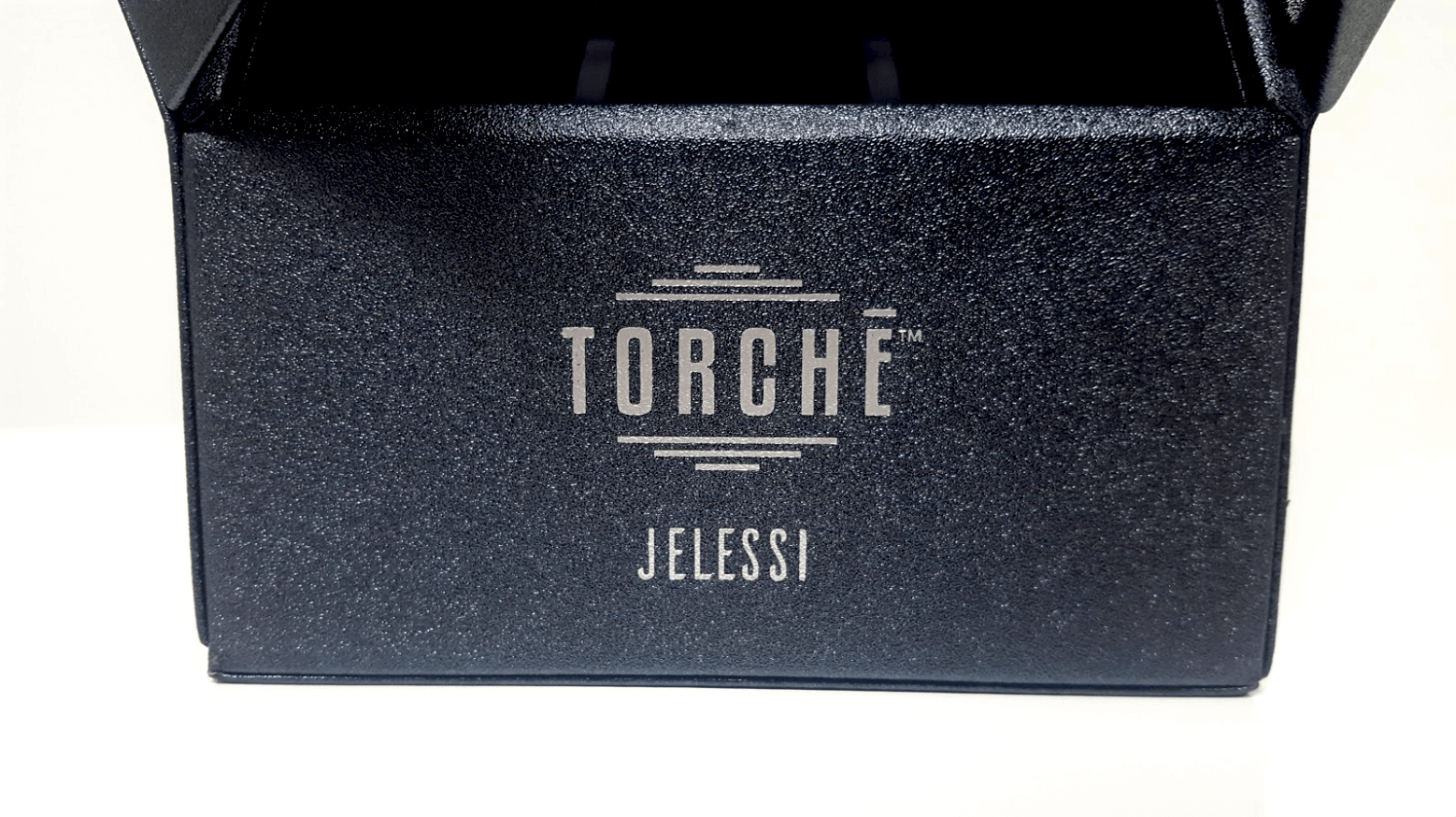 The first day, I started by washing my face with my cleanser, which is a very gentle and mild one, but very effective. I patted my skin dry, and didn't apply serum or moisturizer. I turned on my Torché, and the green light glowed. The LED was ready for my skin.
I placed it on my left cheek first, and started moving it in small circles. I noticed that when I pressed it against my cheek, the red light turned on. It felt ok. No discomfort or pain, and, at the same time, I didn't feel like it was really working.
After a few minutes, I wanted to increase the treatment, so I pressed the heat button. The Torché started to make the sound of a small ventilator, but didn't heat immediately. After a few seconds, I began to feel the heat.
Now I can say that I felt that the Torché was really starting to work. I moved it all around my face, especially around my eyes and my mouth, but not in my eyelids, as the manual specifically tells you to avoid. I really wanted this applicator to work! I don't want to have any more wrinkles! Please, Torché, do your magic!
The manual recommends performing the treatment for 5-7 minutes on each area. So I did exactly so. I was excited to feel the LED-infrared treatment was really transforming my skin into a youthful and radiant complexion.
After that first time I used the Torché, I couldn't notice any visible change. My skin looked exactly the same. Several minutes after, I felt a tingly sensation on some parts of my face, but they receded quickly. I felt a little disappointed, but I remembered that the manual says that it might take 3-4 weeks to start seeing some improvement.
I know I shouldn't expect a beauty treatment to start making progress right away, but still I was looking forward to see my new revitalized skin.
I continued using the Jelessi Torché 3 times a week for a month. Do you want to know how it went?
It was fantastic!
My skin was younger than ever! The wrinkles and fine lines diminished and my complexion feels smoother and softer. The change was noticeable and now I feel that I have recovered my lost youth.
Thank you, Jelessi!