When I heard about skin care products made with mud, I couldn't help but think it was just another beauty fad. I remember saying that the beauty industry is getting really desperate. Are they really using mud in their products? The same mud I have in my backyard just after it rains? What's next? Charcoal!
As the time passed by, I realized that the mud fad was here to stay. There were now spas offering luxurious mud baths that promised to leave your skin soft as silk. Mud was everywhere: in soaps, in face masks, in body scrubs. There is even a certain kind of mud that you can eat to draw out toxins from your body! But isn't mud dirt, hence, full of toxins?
Well, it turns out that mud is beneficial.
Cleaning With Mud
Mud has been used from ancient times for healing purposes. It's rich in minerals, like sodium, potassium, and magnesium, which are beneficial to the human body, so it can be used topically as well as internally. Playing with mud when we were children wasn't that bad after all.
Here's a list of mud's health benefits:
Promotes

detoxification

, because it draws out toxins, yeasts, and other poisons from the body

Its

anti-inflammatory

properties are very useful for relieving pain and swelling

Increases circulation

, letting cells get more oxygen while getting rid of waste

Improves skin health

by treating conditions like dermatitis, vitiligo, psoriasis, and more
But mud's benefits aren't limited to only these. It can really make some miracles on your skin's appearance!
For example:
Minimizes

acne and blemishes

Cleanses

pores, making them look smaller

Reduces

wrinkles, making skin look and feel tighter

Improves

skin texture

Softens

skin
Who would have thought that earth has so many amazing properties!
Of course, not all muds are the same. Mud from different parts of the world have different properties, e.g., the Dead Sea mud has a higher concentration of salt and minerals than other muds. If you want to learn more about the different types of mud, click here.
Mud baths are highly recommended because of their great physical and emotional benefits. Among these benefits are:
Relieves

muscle and joint pains

Relaxes

muscles

Balances

pH levels

Rejuvenates

mind and body
Now that you know the amazing properties of mud, you must be asking yourself why is she telling me all this. Well, that's because I just tried Vivo Per Lei's Mineral Mud Body Scrub, and I'm very surprised with the results.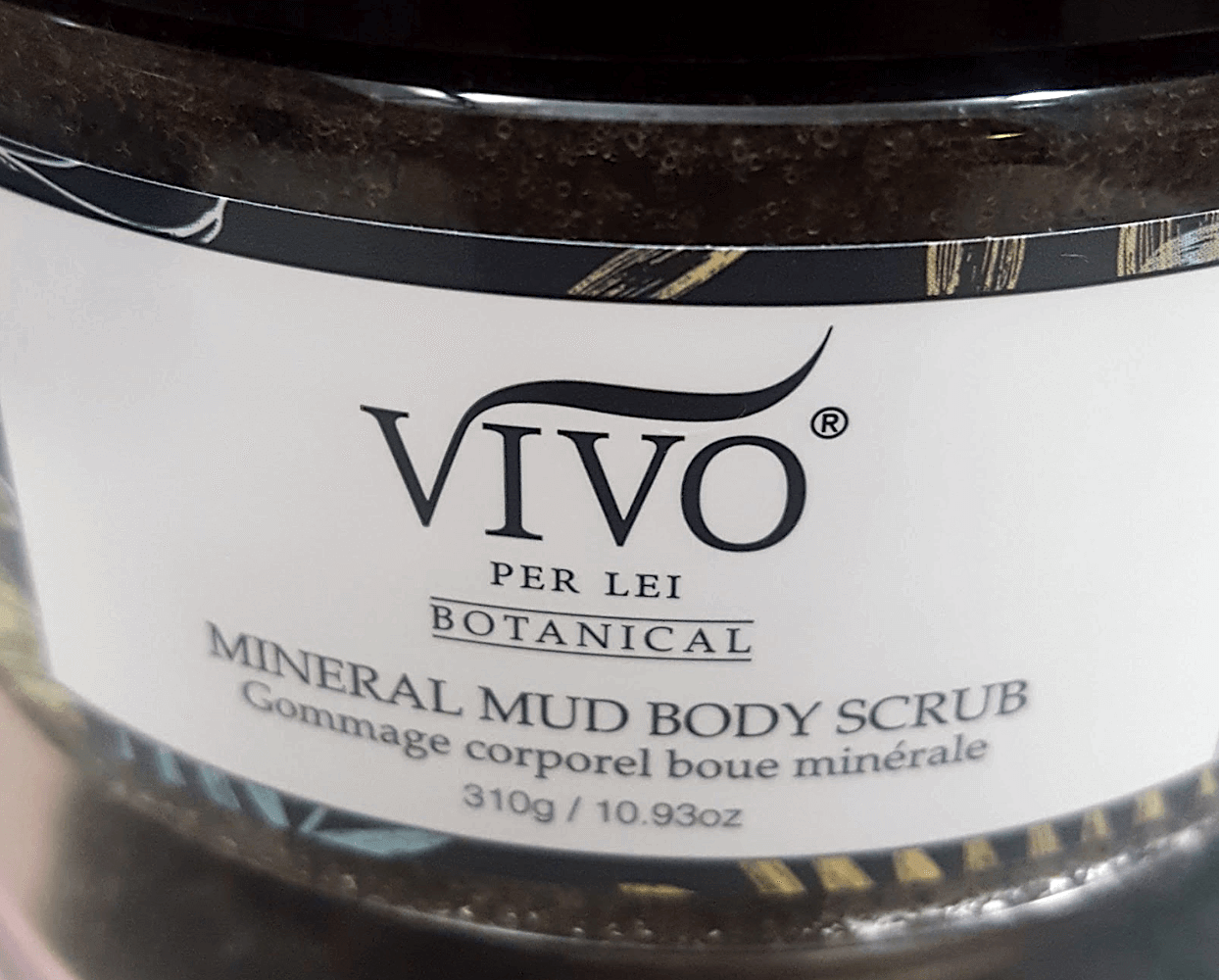 Let's talk about it in detail:
First Impressions
From the moment that you open the jar, you can begin to appreciate its alluring aroma. Obviously, you don't expect it to smell like mud, but, honestly, I didn't know how to _____ its scent. And it was a pleasant surprise! Because, it's one thing to recognize all the benefits of mud, but it's quite another thing to want to smell like dirt. But this scrub actually smells really good just opening the jar! Now, when applying it to your skin, you can actually feel its great scent wrapping around your skin and filling up your shower. After exfoliating my body with the Mineral Mud Body Scrub, I really didn't want to use any other perfume.
So, yes, I really enjoyed how it smells.
Take with a Grain of Sugar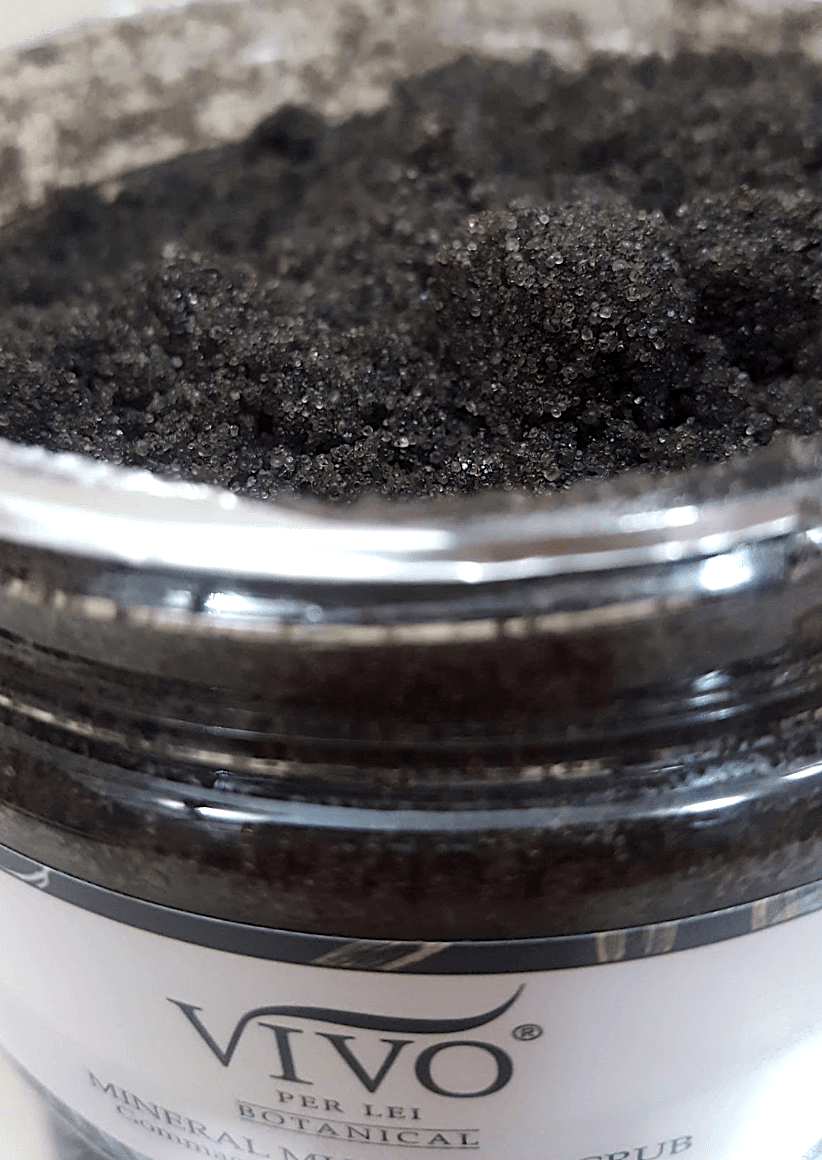 After the scent, the next thing you notice is the texture. It's brown and grainy. It reminds you of used coffee grounds. You would expect these granules to feel a little rough to the touch, but actually, they feel very soft, but don't let this deceive you. You can also feel the sugar grains that will provide the exfoliation your skin needs. Body scrubs are usually made of sugar, salt, or crushed nutshells. This will help to remove dead cells, improving the appearance of your skin, while giving it a soft feeling.
My Scrubbing Experience   
Looking for that skin care product that makes your skin soft, supple, and bright, while leaving you smelling amazing and feeling beautiful, is like looking for the Holy Grail. So when you finally find your Grail, you don't want to let go and want the whole world to know. So here I am, telling you about my beauty experience with Vivo's Mineral Mud Body Scrub.
I already told you about my first impressions. But, now is the moment of truth. Is it as good as it looks?
I don't know why, but I always start by soaping up my midsection, so I did the same with the scrub. Just as I started, I could feel already the scrub's soft consistency. The sugar grains weren't rough at all, and it almost felt like smooth sand. Once a felt comfortable with it, I started to rub it all over my body. My back, arms, legs, and feet, putting special attention to elbows, knees, and heels. It felt really nice and didn't want it to end.
After a few minutes, I started rinsing off the scrub, and, OMG, I could feel already an incredible smoothness! It really felt like my skin was made of silk! I jumped out the shower, put some moisturizing cream and indulged myself in the feeling of my own skin.
The softness wasn't just at the touch. I could really see my skin's softness! It had a velvety look that you want to touch immediately. It was amazing! It was softness you can see and feel!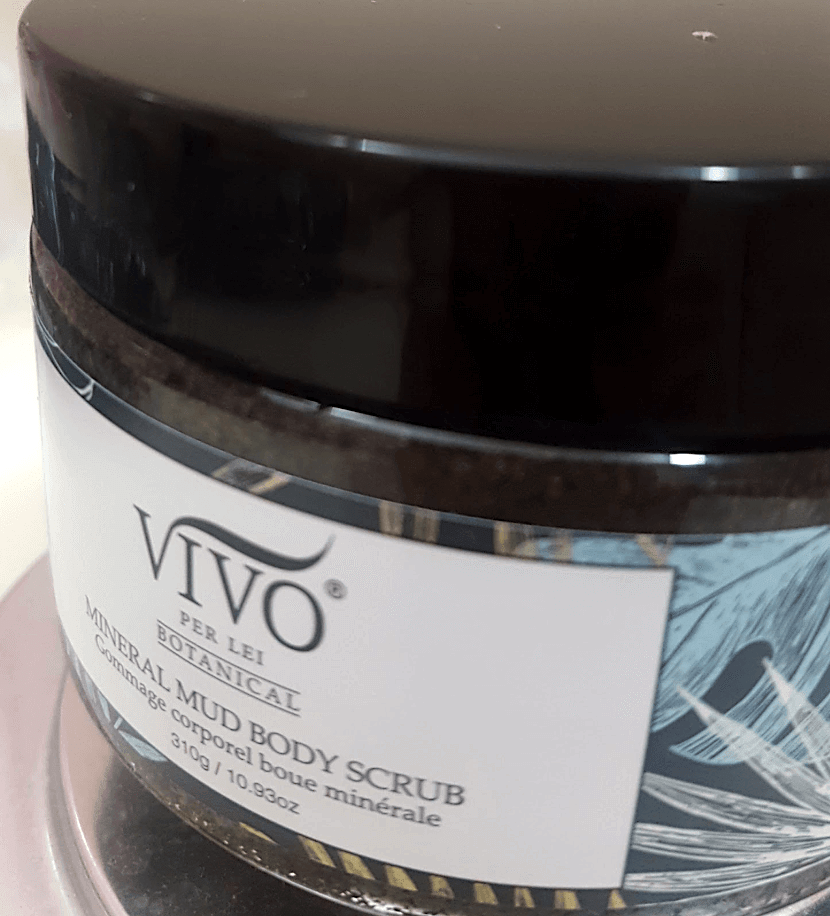 My Last Comments
I can assure it was a very pleasant experience using Vivo's Mineral Mud Body Scrub. Now you know you don't have to go over the edge or go to your backyard to collect mud to take advantage of all the benefits of mud to achieve beautiful, soft skin. It's just right there in a cute jar waiting for you.
Just a heads up:
The scrub is brown, so you can expect it to color your bathtub temporarily.
Charcoal is the New Black
Rmember that at the beginning of this article I joked about charcoal being the next beauty fad after mud? Well, I wasn't that wrong. We can find toothpastes, soaps, face masks, and even sponges made of charcoal. And no wonder why!
Surprising Things About Charcoal
If, like me, you thought that charcoal and coal were the same thing, well, you, like me, were wrong. While coal is a fossil fuel composed of carbon created over millions of years of pressurized organic material (think diamonds), charcoal is just burned wood cooked in a low oxygen environment.
Here are another fun facts about charcoal:
The use of

charcoal

dates back to ancient Egypt, where it was known as a natural body

detoxifier

It is used in hospitals today as an

antidote

to accidental poisoning

Its porous structure make it ideal for

filtering

gases and solids from a solution

It is used in water

purification

, sugar refining, and in gas masks

Charcoal works both as an

antibacterial

and

whitening

agent
If you think this list is impressive, wait till you see the skin benefits.
Charcoal skin benefits:
Treats acne

– because of its capability to extract toxins on and below the skin, and its capacity to absorb oil, charcoal can be used as a beauty treatment for blemishes.

Deep cleanses your skin

– charcoal can pull excess oil and dirt from your skin

Soothes irritation

– charcoal can take care of cuts, scrapes, and minor skin infections by helping speed the healing process.

Eases itchy skin

– you know that once you start, you can't stop scratching. Charcoal can help ease the itch while relieving the tiny cuts scratching can cause to the skin.
As the adventurer that I am, I took the decision of trying Vivo Per Lei's Charcoal Foaming Detox Mask. On its web page, they describe it as a sheet mask that delivers oxygenating bubbles and deeply detoxifies your skin.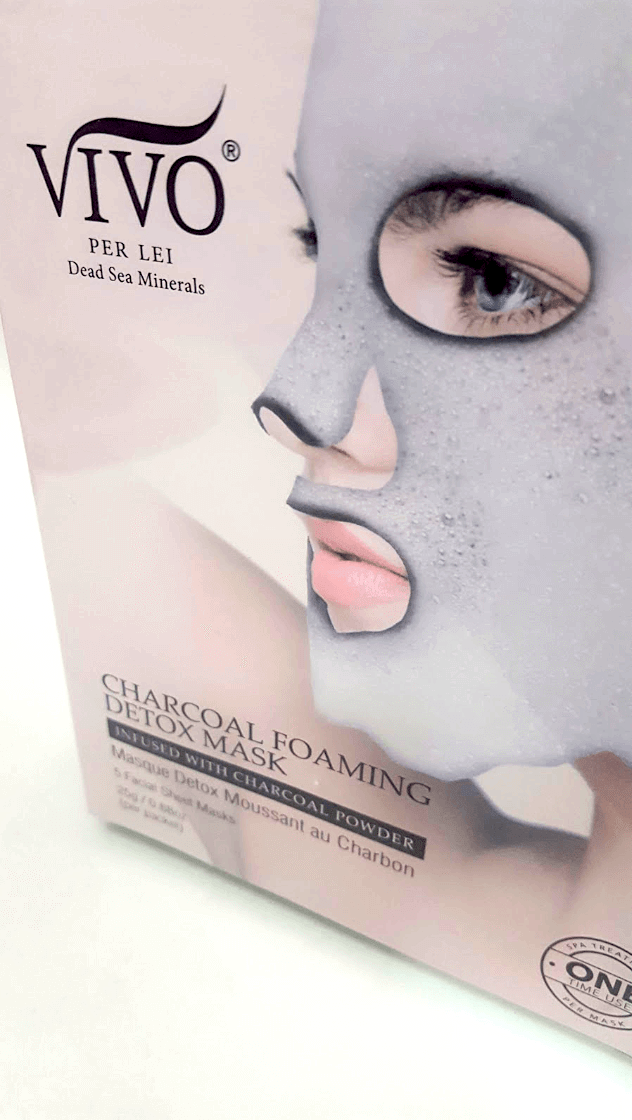 Sheet masks, what are they and why are they great?
Everybody knows that South Korea plays an increasingly prominent role in culture today, and it's almost impossible to find a girl that hasn't tried at least one K-beauty invention, for example, sheet masks.
Sheet masks are face-shaped fabric sheets packed with nourishing ingredients that will help your skin stay hydrated, soft, and beautiful.
They're great because they're easy to use, very convenient, and they seal-in their powerful blends, delivering its nourishing properties directly into the skin faster than a conventional face mask.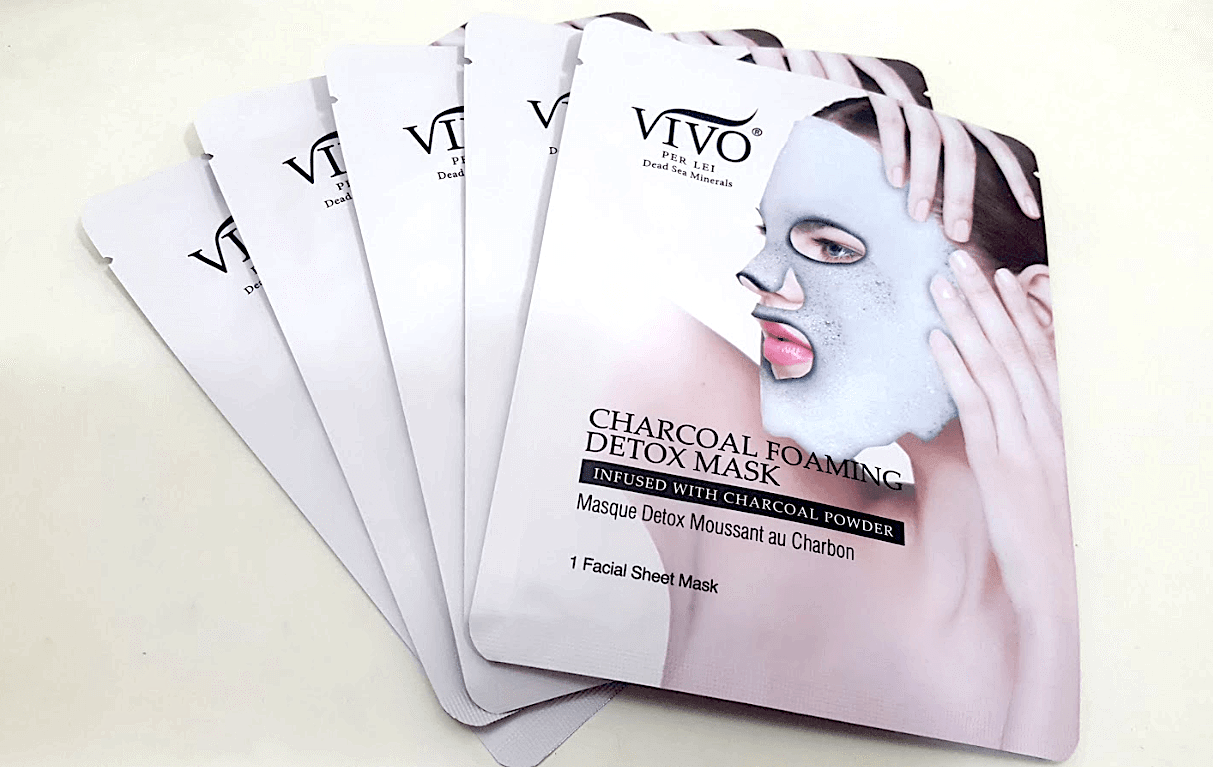 Happiness is… Bubbles!
As I said, sheet masks are great for the face, because they are packed with nourishing ingredients that will leave your skin beautifully soft and smooth, and looking clearer. But having a sheet mask that delivers oxygenating bubbles into your skin, while you literally feel the crisp and tingly sensation of the purifying process, is even better!
The Charcoal Foaming Detox Mask's energizing bubbles start to work from the moment you apply the sheet mask. When I first read that it makes bubbles, I kind of doubted it could be a lot of foam, but, actually, it makes a lot of foam. It even keeps foaming after you discard it!
The bubbles feel great during the time I had the mask on, and after that, I could really feel my skin clearer and smoother. The combined powers of the charcoal and the oxygenated bubbles make the experience very uplifting and fun. I loved using this mask!
So, this is is how it went for me:
I washed my face with a gentle cleanser

I took the sheet mask out of its package

I applied the sheet mask carefully, avoiding eyes and mouth

I watched how it started to form a lather

I waited 10 minutes until it activated the oxygenated bubbles

I rinsed with lukewarm water

I enjoyed beautiful soft skin
Spreading the Word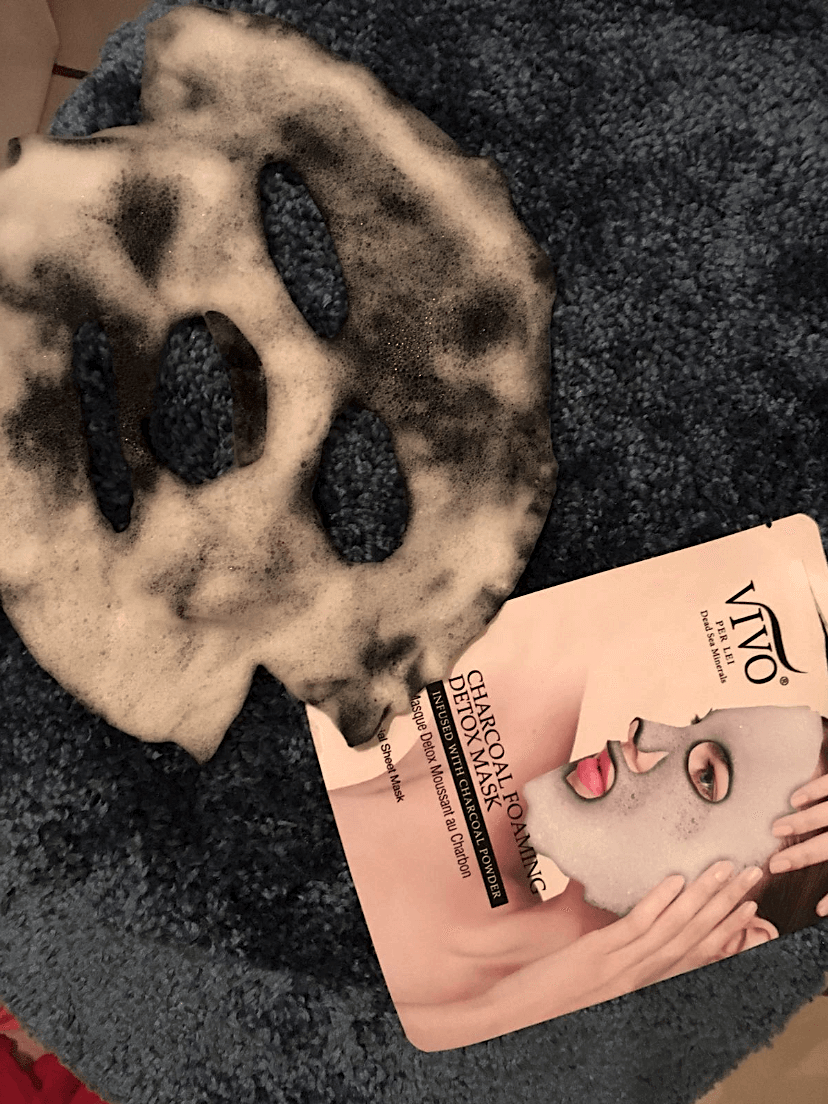 I liked Vivo's Charcoal Foaming Detox Mask so much, that I gave one sheet mask to a friend, so she could try it, too. The box contains 5 sheet masks, so I could share the happiness.
While I have oily skin and it can stand almost anything, my friend has sensitive skin and she's very careful with the things she applies to her face. Learning about the detoxifying properties of charcoal and after listening about my favorable experience with this sheet mask, she was willing to try it. To our surprise, her skin reacted favorably to the sheet mask.
She describes her experience as follows: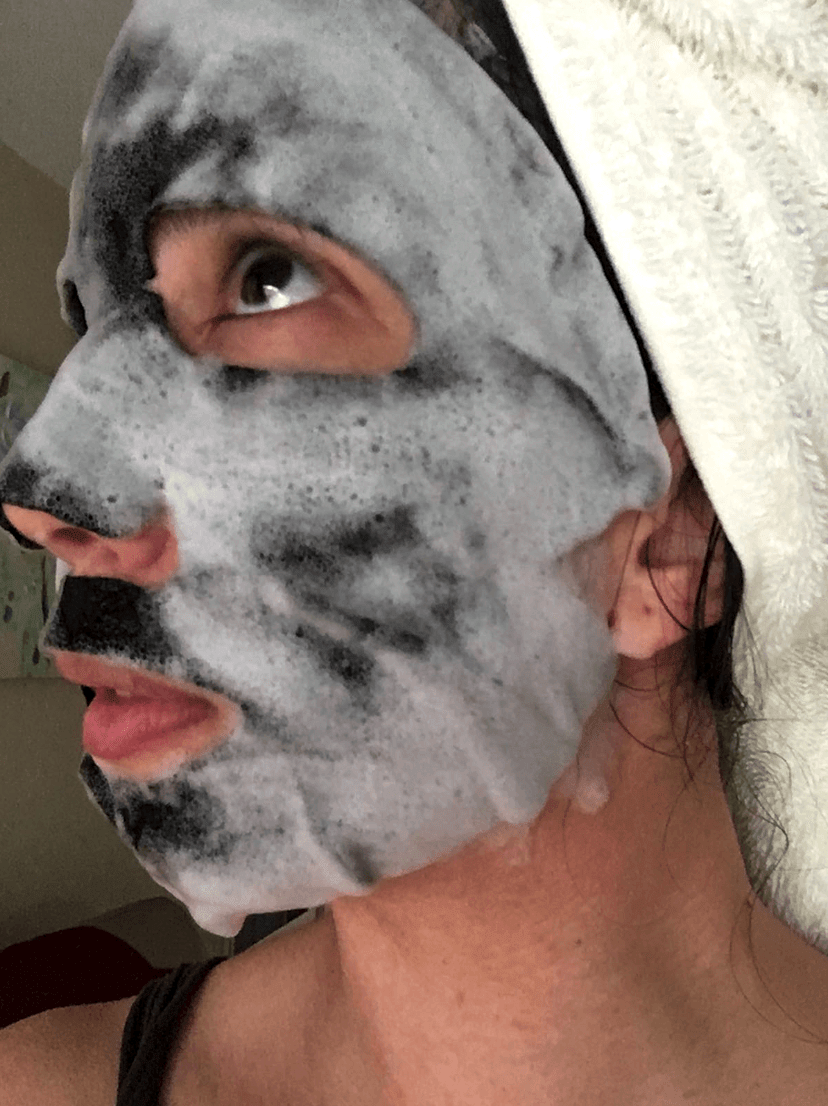 First, I took a long warm bath do de-stress from the everyday events. I washed my hair and cleaned my face and decided that I'll treat myself with the Charcoal Foaming Detox Mask. When I opened the pack, I noticed the wonderful scent of cucumber. It's already refreshing! I applied the mask and it began to foaming immediately, which was interesting and fun at the same time. I left the mask on for 10 minutes, and after removing it, I washed out the residues and noticed how smooth and bright my skin looked. I was very impressed by this product!
Final Word
Beautiful skin is the consequence of taking good care of ourselves. On the inside, with nutrition with some exercise, and on the outside,following a proper skin care routine.
In these days of constant changes, extreme pollution, fast foods, and sedentary lifestyles, keeping skin healthy, looking amazing, and feeling soft is not an easy job. Even following a proper skin care routine can be difficult to achieve, when there are hundreds of products whose ingredients can cause allergies and other conditions. But, as I showed you, mud and charcoal are nature's gift, and science brings them to us in a very convenient way: in the form of a mask or scrub.
I urge you to take care of yourself, and this must include some pampering. Indulge in beauty routines that increase your skin's health and overall wellness. Try new things that will revitalize and illuminize your complexion. Enjoy a home spa that includes a facial, hair treatments, and a manicure. I can assure that afterwards you'll feel not only beautiful and empowered, but you also capable of achieving all your life goals.