I always love it when doctors and dermatologists launch a skincare line. They usually contain amazing ingredients and boast cutting-edge features that regular skincare brands can't compete with.
That's exactly what drew me to VouPre. Founded by board-certified dermatologist Dr. Luchetti, this brand was created by the highly-respected professional as a way to provide her patients with the high-quality ingredients that they were struggling to find elsewhere. 
I gave the brand a try and fell in love, so much so that my entire skincare routine now consists of VouPre products…and my skin has never looked better! Here are the VouPre products, along with the daily routine, that I've used to significantly (and surprisingly!) transform my complexion:
Start With the Radiance Facial Cleanser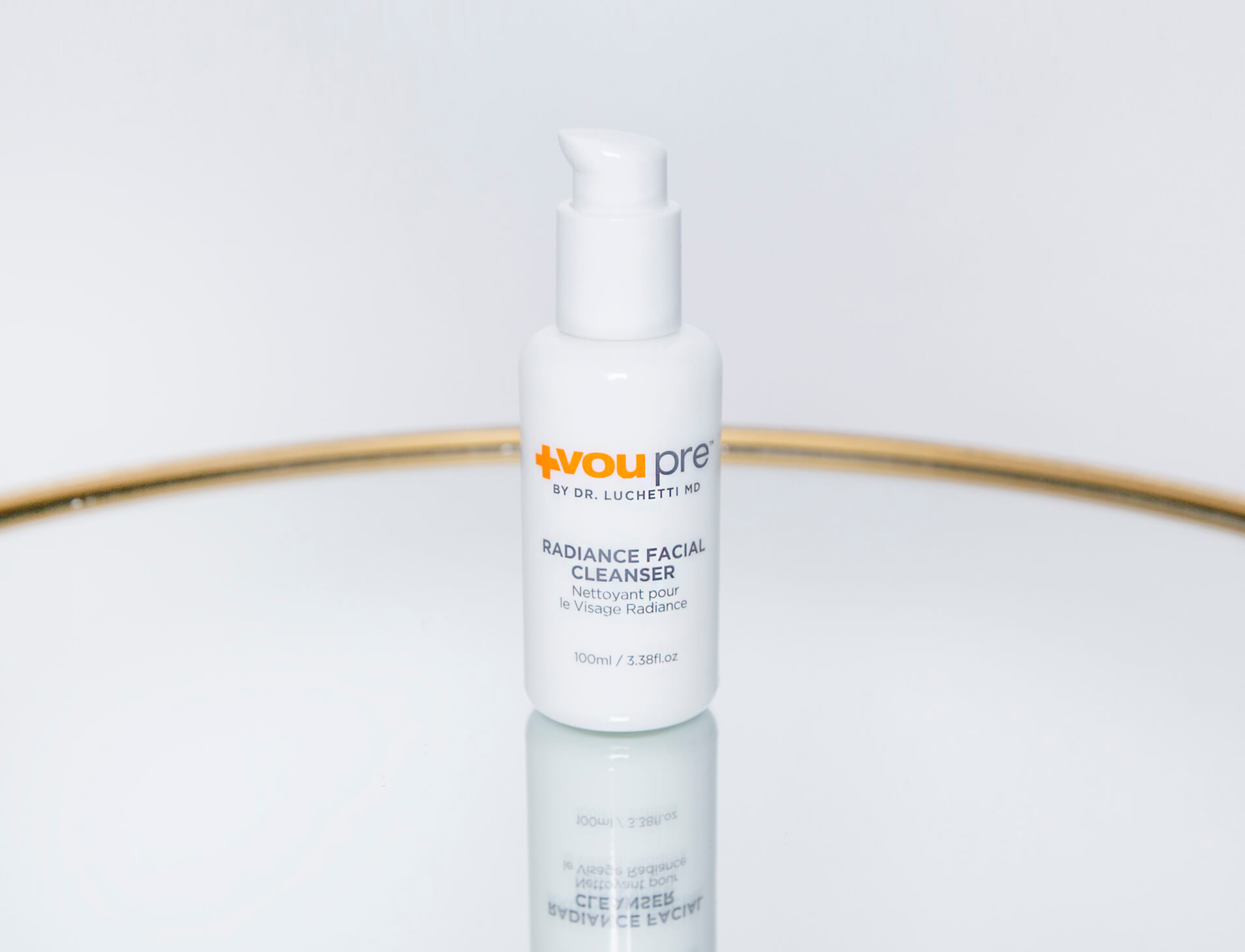 The first step in my new and improved skincare routine is to cleanse with the VouPre Radiance Facial Cleanser. This cleanser really stood out to me because of its sulfate-free formula, which is so much better for my dry skin. Having said that, sulfates don't do anyone any favors so they're best avoided by all skin types!
The fact that this formula contains amino acids gives it even more of an edge. The skin uses amino acids to build new proteins, which then keep the skin looking smooth and firm. Applying amino acids topically ensures that your skin cells feel fully supported. It's such a huge difference from cleansers that simply strip away and dry out the skin!
Soak Up Some Antioxidants With the Vita C Serum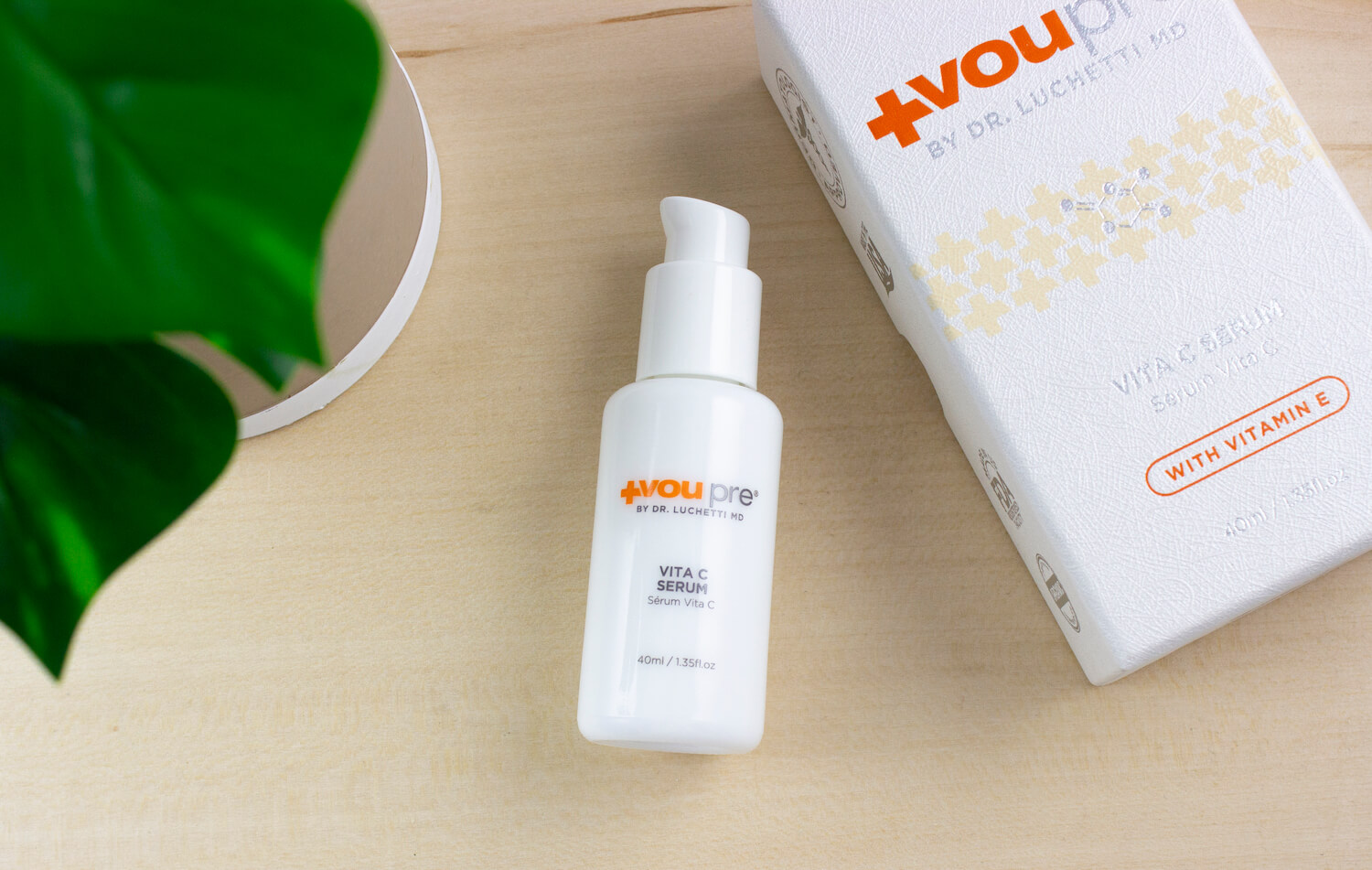 No matter what your skin may be like, you would benefit from a vitamin C serum. Although I haven't seen my dermatologist in a while, this is something that she used to stress. It doesn't matter what visible skin concerns you may be struggling with since vitamin C will be able to help.
Just about every brand has its own version of a vitamin C serum, but VouPre's Vita C Serum really stands out. It combines two forms of vitamin C with vitamins A and E. That alone would be enough to impress but, again, VouPre takes things to the next level by providing a plethora of other antioxidants via a variety of botanical extracts. Grape stem cells, jojoba, olive, avocado…these are among the most antioxidant-rich ingredients around. 
Why do antioxidants matter? These ingredients will keep your skin looking bright and glowy. The more, the merrier when it comes to adding antioxidants to your skincare routine, so I can easily see why this serum is one of the brand's bestsellers! Not to mention, it feels so silky, absorbs really quickly, and gives my skin some instant luminescence. 
Quench Your Skin With the Aqua Hydration Serum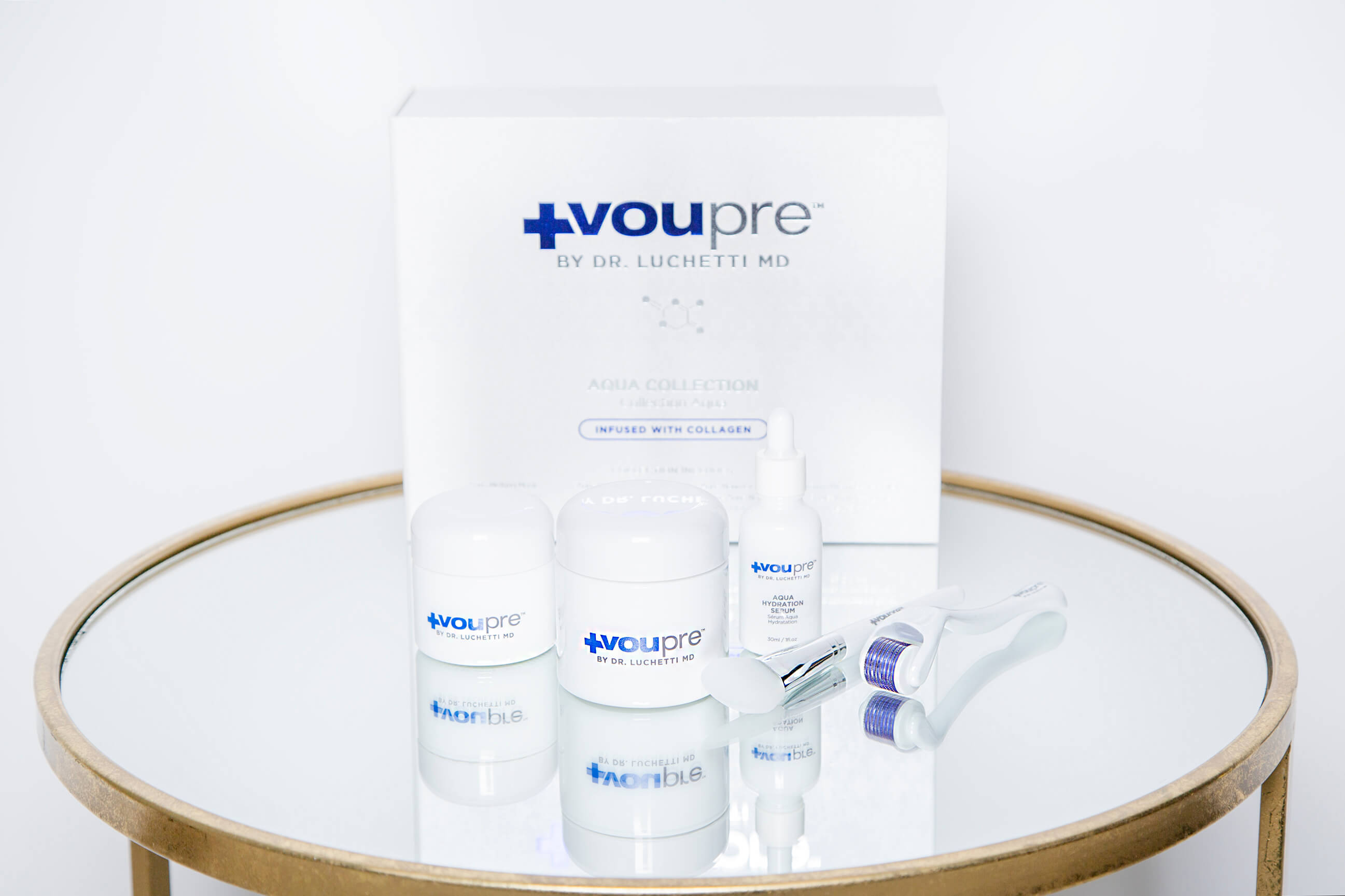 Just like vitamin C, hydration is something else that everyone benefits from. I love layering multiple serums in my skincare routine, so it only made sense to follow the vitamin C serum up with the VouPre Aqua Hydration Serum. It's from the brand's Aqua Collection, which also contains a mask and a face cream.
The serum is absolutely exquisite. I can't quite believe how soft my skin feels each time I use it, and the way in which my skin looks so much bouncier and more elastic is even more of a bonus.
These results all come down to the serum's superior ingredient list. Ascorbic acid, sodium hyaluronate, collagen, retinyl palmitate…these are all top-shelf ingredients. They not only work to improve skin hydration levels but also each provide an additional array of benefits.
During the Day, Cover Up With the Age Defense Cream SPF 30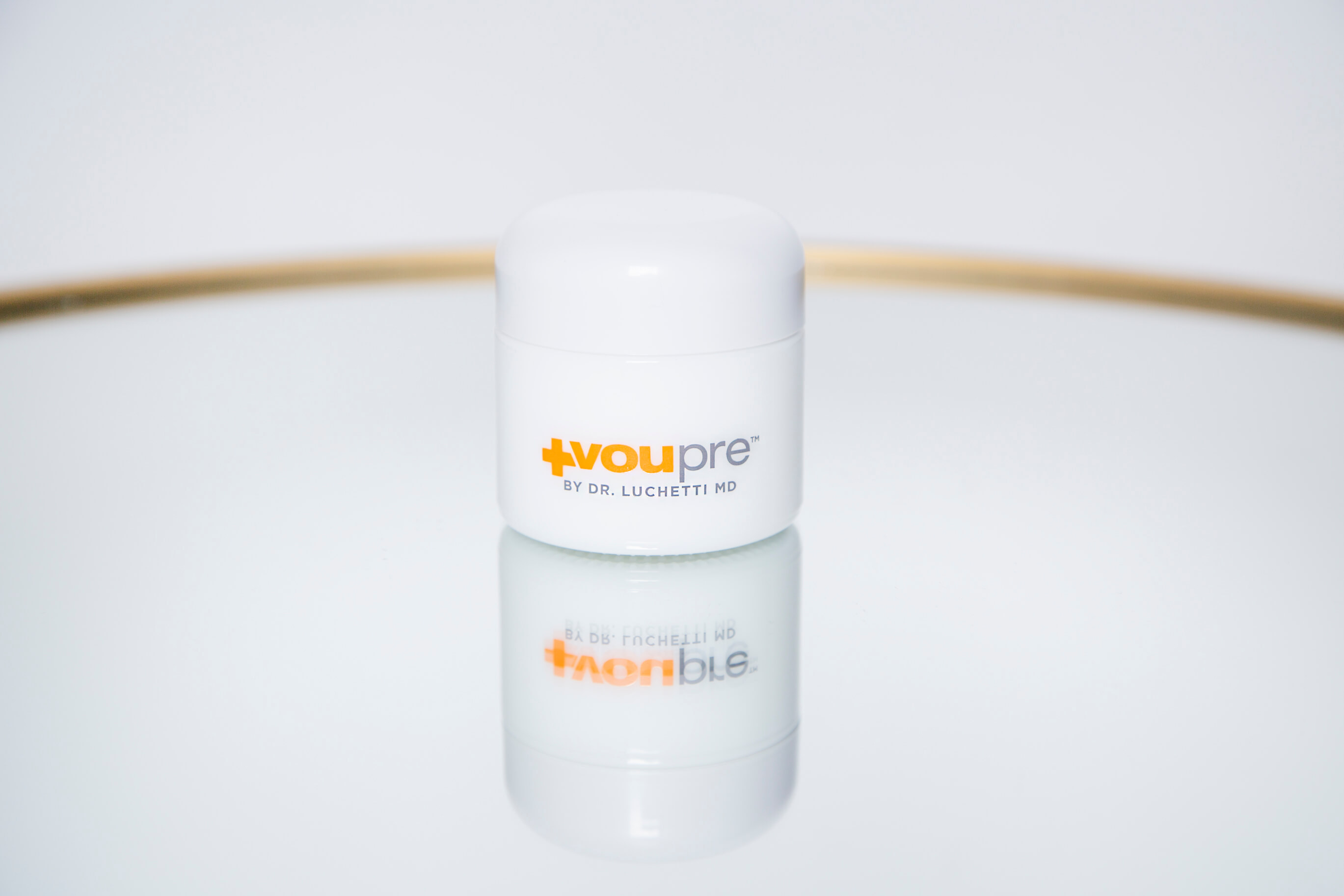 If you don't want to be dealing with the appearance of premature wrinkles, dark spots, or sagging skin, not to mention skin cancer, then sun protection is a must. If, like me, you don't have much time to waste in the mornings, then a moisturizer that contains SPF can be a game-changer.
That's exactly what VouPre's Age Defense Cream SPF 30 is. SPF 30 is the recommended amount of sun protection for the average individual, so this cream meets the mark on that front. 
When it comes to its moisturizing prowess, it shines once again. In this formula, the moisturizing properties of vitamin E meet the super hydrating effects of aloe vera extract. Meanwhile, vitamin A keeps the skin looking radiant and smooth while green tea extract works to enhance how protected the skin feels when faced with environmental damage.
This isn't a particularly thick cream, making it ideal for daytime use. I often apply makeup over the top without any issues, with this cream doing away with my need for a primer.
At Night, Slather on the Aqua Nano Cream
My skin used to feel really dry every morning, especially in the winter. At the same time, I hate sleeping with greasy creams on my face, so I figured that I would have to live with the morning dryness.
Well, you can probably guess what I'm about to say! Now that I've been using the Aqua Nano Cream (also from the VouPre Aqua Collection) every night, that dryness isn't an issue anymore. In fact, I'd go so far as to say that my skin feels almost dewy when I wake up. It definitely doesn't sport that dull and blotchy finish that it used to, and things only improve even further once I carry out my morning skincare routine.
The best part is that this moisturizer doesn't feel oily on the skin. This is, in a way, surprising because there are a number of plant oils in this cream. You would think that combining avocado, sunflower, coconut, and soybean oils would produce a greasy texture but the lighter ingredients in this cream, from seaweed extract to sodium hyaluronate, keep it silky. 
Could VouPre Help to Transform Your Skin Too?
Usually, when I review and recommend a brand, I'll do so with a certain demographic in mind. One brand may be amazing for people with dry skin, for example, while another may be better suited to those with oily, acne-prone skin.
However, when it comes to VouPre, this is a brand that everyone needs to take a look at. They have collections designed for all skin types and skin concerns, and the ingredient choice for every product they make is truly stellar. You can easily tell that the problem-solving mind of an experienced dermatologist is behind these one-of-a-kind formulas, making it hardly surprising that these products always seem to be able to deliver on their promises.