Skin care products featuring gold have always intrigued me…
Do they really offer up additional benefits, or are they just a marketing ploy?
Well, I recently had the chance to try out a couple of products from OROGOLD's White Gold Collection, so that I could find out the answer for myself. OROGOLD is a luxury skin care brand that makes use of 24K gold in each and every one of their products.
I tried two products from the collection – the 24K White Gold Purifying Toner and the 24K White Gold Anti-Aging Eye Serum.
Here's what I discovered…
A Little Background Research on the Skin Benefits of Gold
Before using the OROGOLD products, I decided to dig a little deeper to see what I could find out about the skin benefits of gold.
It turns out that gold has been used for medicinal and cosmetic purposes since ancient times, with everyone from the ancient Egyptians to the ancient Romans making use of this precious metal.
What does gold actually do for the skin?
A number of things, such as:
Reduces inflammation, which is one of the biggest factors behind accelerated aging, acne, and other skin conditions

Encourages skin healing

Contains antibacterial properties

Increases skin elasticity
Has science proved any of these benefits?
It actually has. There have been a few studies carried out on the skin benefits of gold, and while there is still much more research needed, the results so far seem extremely promising. 
The OROGOLD White Gold Collection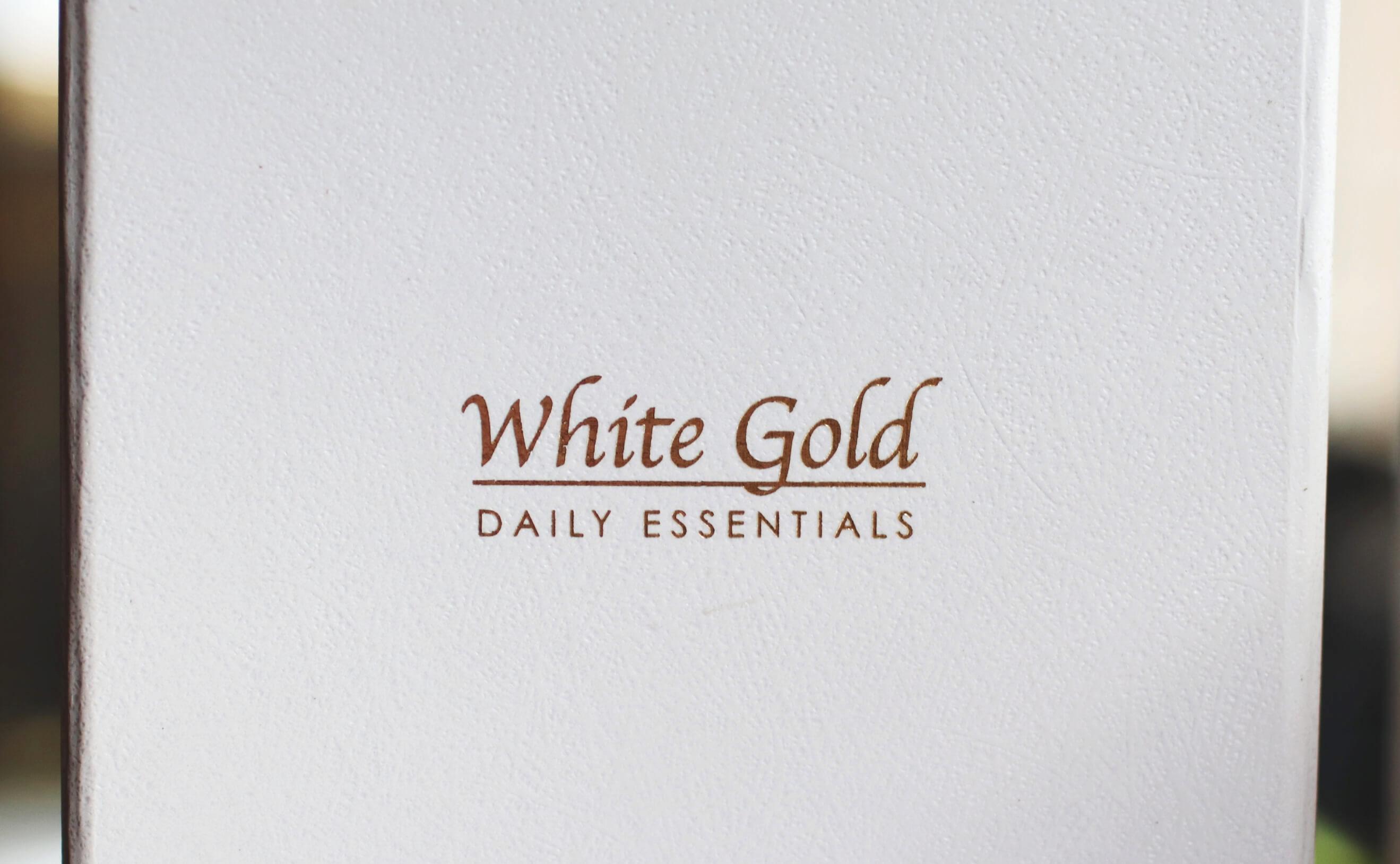 The OROGOLD White Gold Collection consists of 11 face and body products – pretty much everything that you would need for a complete skin care routine, plus a few extras.
In addition to the gold, the collection features a number of other exciting ingredients, from lab-produced vitamin derivatives to natural botanical extracts. I personally love products that combine both of these elements, as they really do then give you the best of both worlds.
The 24K White Gold Purifying Toner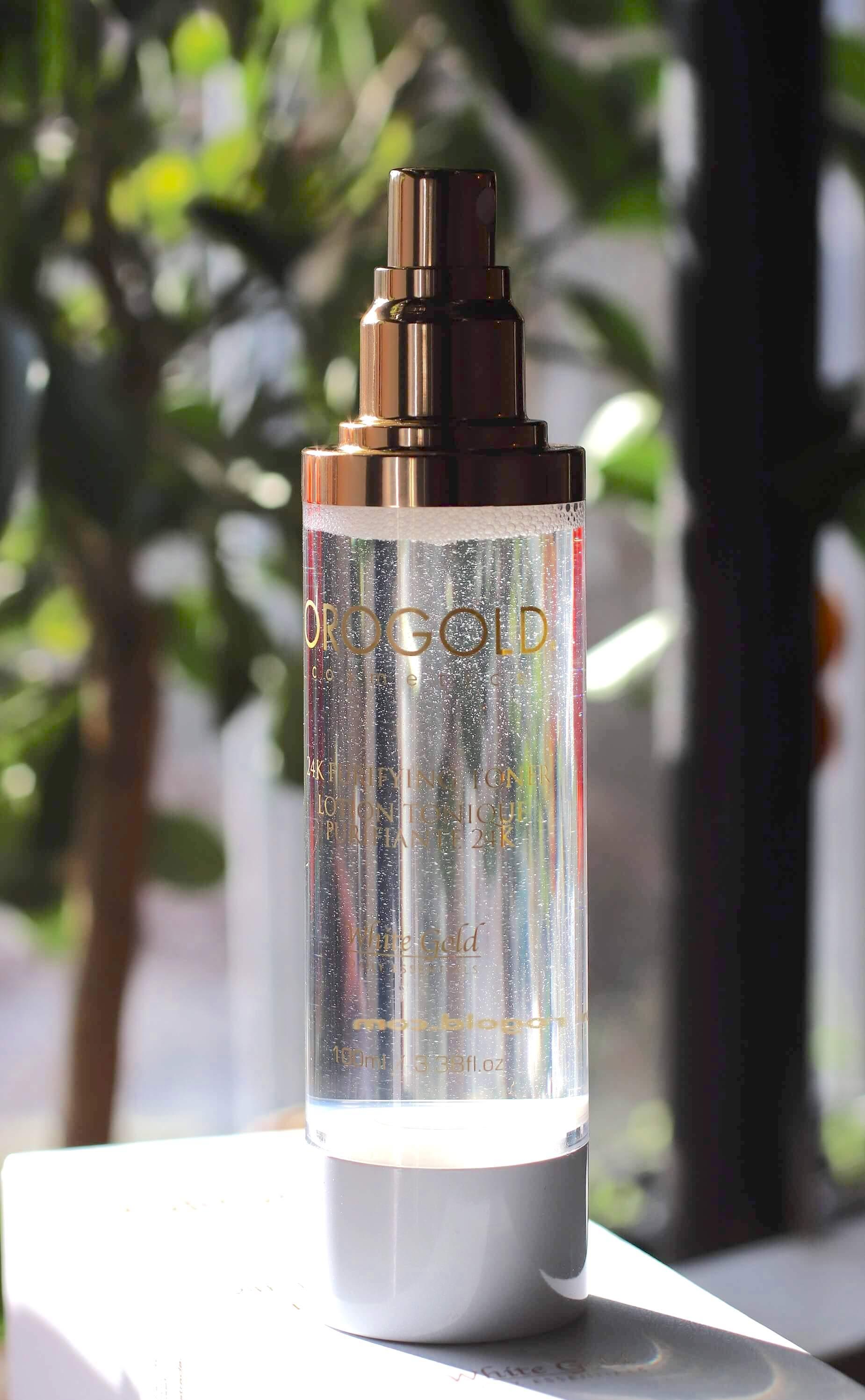 The first product I tried from the OROGOLD White Gold Collection was the 24K Purifying Toner.
I added a toner into my skin care routine a couple of years ago, after learning about the many benefits that a toner can have. A toner is designed to clear away any residue or impurities left behind by a cleanser, while also re-balancing the skin's pH level.
It is the pH part that is most important…
The majority of cleansers out there lean towards the alkaline side of the pH scale. While this may be great for clearing dirt and oil off the skin, the skin is naturally a little acidic, meaning that cleansers can often throw off their ideal pH balance.
What happens when the pH level of the skin is compromised?
The outer layer of your skin won't function properly, which can cause:
Excessive dryness

Excessive oiliness and acne

Redness and inflammation

Eczema and psoriasis

Accelerated signs of aging
So, back to the 24K Purifying Toner…
Before I use any new skin care product, the first thing I do is take a look at the ingredients list.
I currently only use natural toners, with rose water being my favorite at the moment, so I was a little hesitant about using a product that contained so many more ingredients.
However, the ingredient list for the 24K Purifying Toner actually looked pretty good…
Apart from water, the first three ingredients are all botanical extracts, meaning that this is what the majority of the product formula consists of:
Aloe Vera Leaf Juice – an extremely hydrating and moisturizing ingredient that also contains anti-inflammatory and antioxidant properties
Cucumber Fruit Extract – considered by many to be a skin superfood, cucumber extract is packed with skin-boosting proteins, lipids, vitamins and minerals, while also boasting moisturizing properties. When applied to the skin, it has an astringent effect, meaning that it leaves your skin feeling tighter and smoother
Organic Chamomile Extract – contains potent antioxidant properties, while also being anti-inflammatory, anti-fungal, antiseptic and antibacterial
All of those ingredients are extremely soothing to the skin, making them ideal for a toner.
Using the 24K Purifying Toner
A toner should be used after a cleanser, and a cleanser is something that every skin care routine should begin with.
With it currently being winter, my cleanser of choice at the moment is a micellar water. This effectively cleanses the skin but doesn't strip it of its important natural oils.
After cleansing, I opened up the box for the 24K Purifying Toner. The box itself is sturdy and high quality, and is designed to easily be flipped open. I loved that the box included an "Authentication Certificate", which tells you that the product contains "beaten metal leafs with a thickness of 0.07 microns".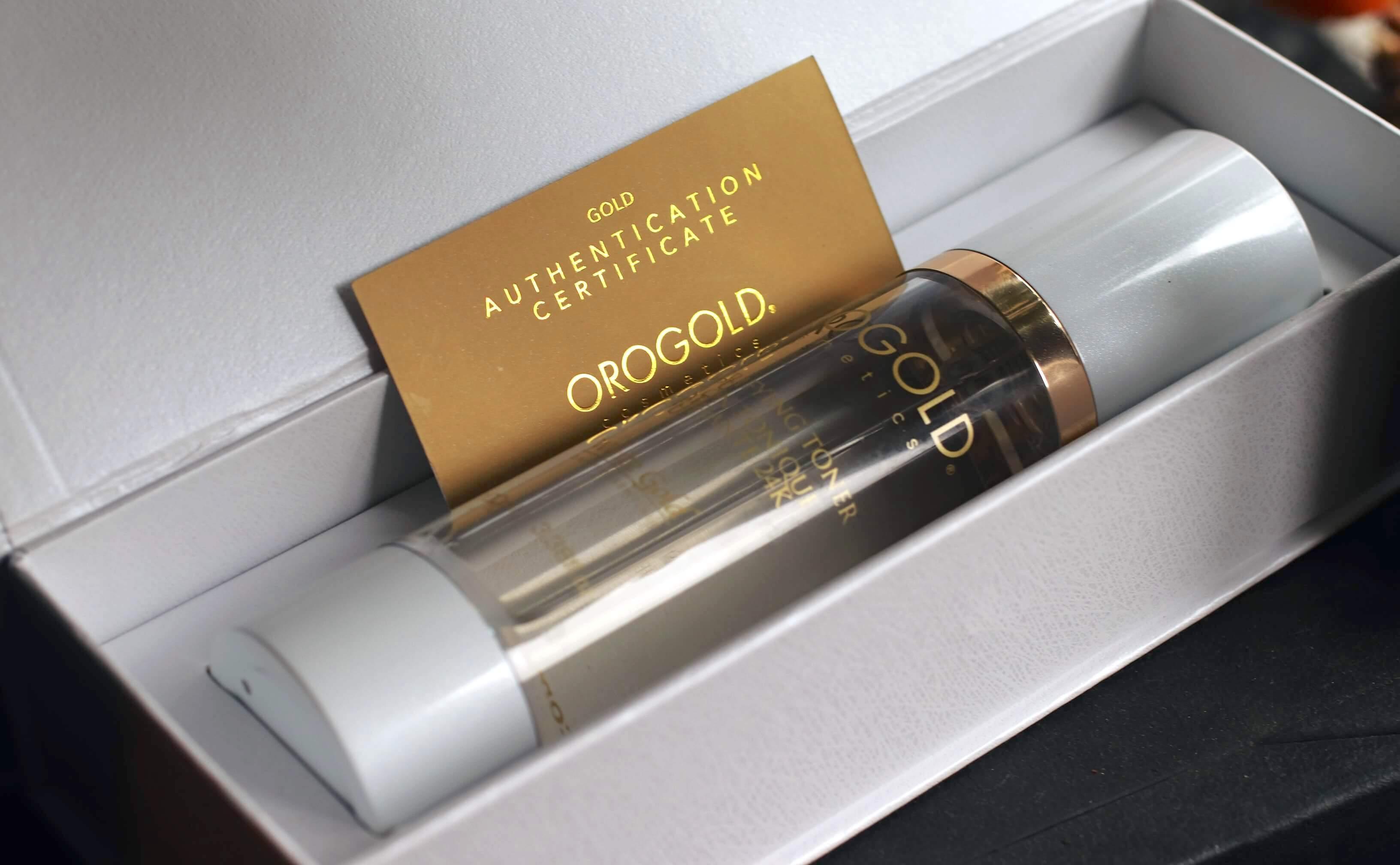 I also noticed the recycling symbol on the box, which is a big bonus.
The container for the toner itself is transparent plastic, and you can just about see the gold flakes floating around in there. 
On the box, it tells you to use a cotton pad to apply the toner to your face and neck. However, since the toner features a spray-style dispenser, you could easily skip the cotton pad part and spray the toner directly onto your skin.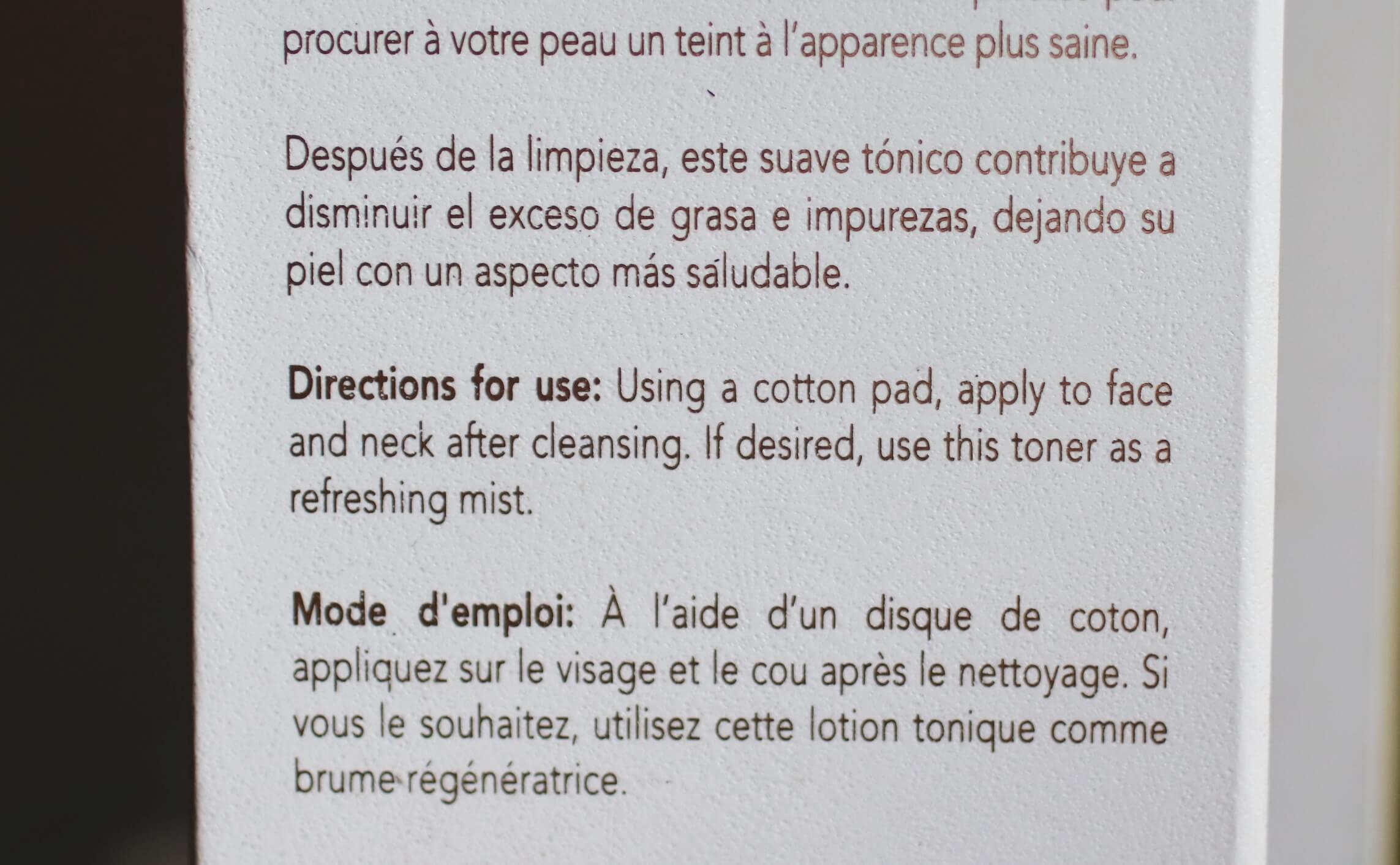 What does the toner feel like when applied to the skin?
It's instantly cooling and refreshing.
It has a very subtle scent to it that I can't quite identify, but it smells fresh, light and clean, rather than being heavily perfumed.
As stated on the box, this toner can also be used as a facial mist throughout the day, making it quite the multifunctional product.
So, what did I think of the 24K Purifying Toner?
Without a doubt, I loved it!
My skin already usually feels quite refreshed after cleansing, and this toner amps up that feeling big time.
It has definitely earned itself a permanent place in my skin care routine – sorry, rose water!
The 24K White Gold Anti-Aging Eye Serum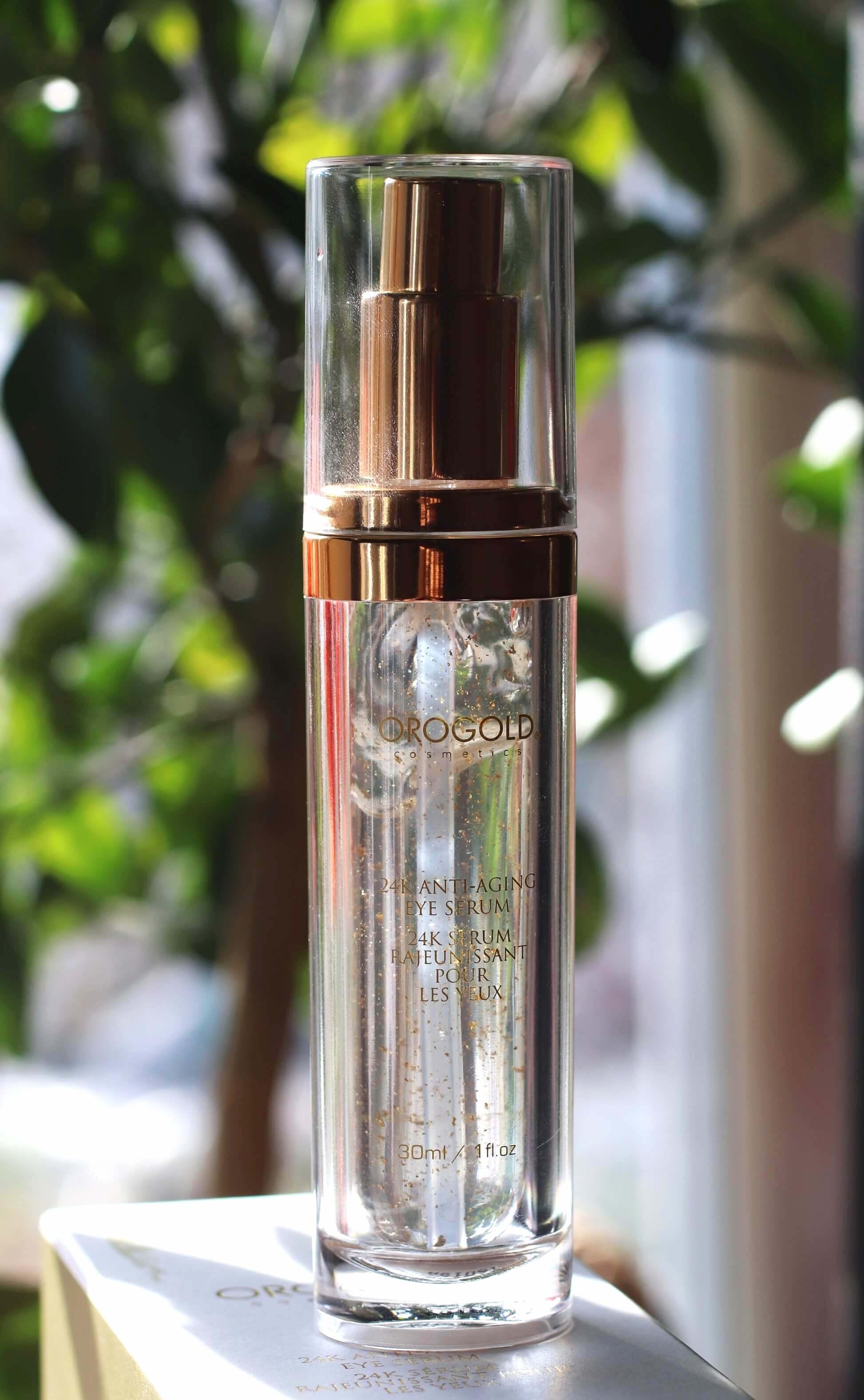 Did you know that the skin around your eyes can be up to ten times thinner than the skin on the rest of your face? 
This is why the area around the eyes is often the first to develop visible signs of aging, especially when it comes to fine lines and wrinkles.
Due to the fragile nature of the skin here, you should only be using mild and delicate ingredients around the eyes. This is especially important if you have particular skin concerns around the eyes. In my case, being a female in my early 30's, I am starting to see light expression lines around my eyes, which is why I have been investing more and more in skin care products for the eye area.
As you can imagine, this made me extremely excited to try out the 24K Anti-Aging Eye Serum.
So, as always, a quick look at the ingredient list is the first step…
The fact that this serum features two different peptides in its top five ingredients was the first thing that impressed me.
Why?
Well, peptides are the next big thing in skin care, as these amino acid chains are able to send signals to your skin cells, enabling them to act in a certain way. 
One of their biggest benefits is the way in which they can increase the skin's production of collagen and elastin, therefore reducing the appearance of fine lines and wrinkles while smoothing the skin out.
The peptides used in the 24K Anti-Aging Eye Serum are:
Palmitoyl Oligopeptide – one of the biggest players when it comes to increasing collagen and elastin production
Palmitoyl Tetrapeptide-7 – in addition to its anti-aging effects, this peptide also contains fatty acids that enhance the way in which the ingredient is absorbed by the skin
A few of the other key ingredients that stood out to me are:
Sodium Hyaluronate – hyaluronic acid is one of the best humectants for the skin, thanks to its ability to draw in and hold on to moisture from the air. Sodium hyaluronate is a form of hyaluronic acid that penetrates deeper into the skin, bringing about more significant hydrating effects
Calendula Extract – this is a great skin-healer thanks to its anti-inflammatory, antibacterial and antifungal properties
Green Tea Extract – one of the best anti-aging botanicals out there, green tea has powerful antioxidant properties and is also able to stimulate the production of collagen and elastin. It is also able to offer the skin additional protection from UVB rays
Ginkgo Biloba Leaf Extract – rich in antioxidant-packed flavonoids, this botanical increases collagen production while also reducing inflammation and redness
Ascorbic Acid – the purest form of vitamin C, ascorbic acid promotes collagen production, fights free radicals, brightens up the complexion, and so much more
Allantoin – a gentle, moisturizing ingredient that is a fantastic skin-soother
Hydrolyzed Wheat Protein – helps the skin with moisture retention, leaving it looking smoother and firmer
As you can see, this serum is packed full of goodies, and I couldn't wait to see how it would feel on my skin.
Using the 24K Anti-Aging Eye Serum
Just like with the 24K Purifying Toner, the packaging for the 24K Anti-Aging Eye Serum is top quality.
The box states the ingredients and the instructions, while also telling you that the product is free from parabens and hasn't been tested on animals.
Again, just like with the toner, the first thing that greets you when you open the box is the Authentication Certificate, telling you that the 24K gold used in the product has been sourced from Italy.
The container for the serum itself is similar to the toner, but slightly smaller.
This time, you can easily see the many gold flakes suspended in the serum, with these flakes varying in size.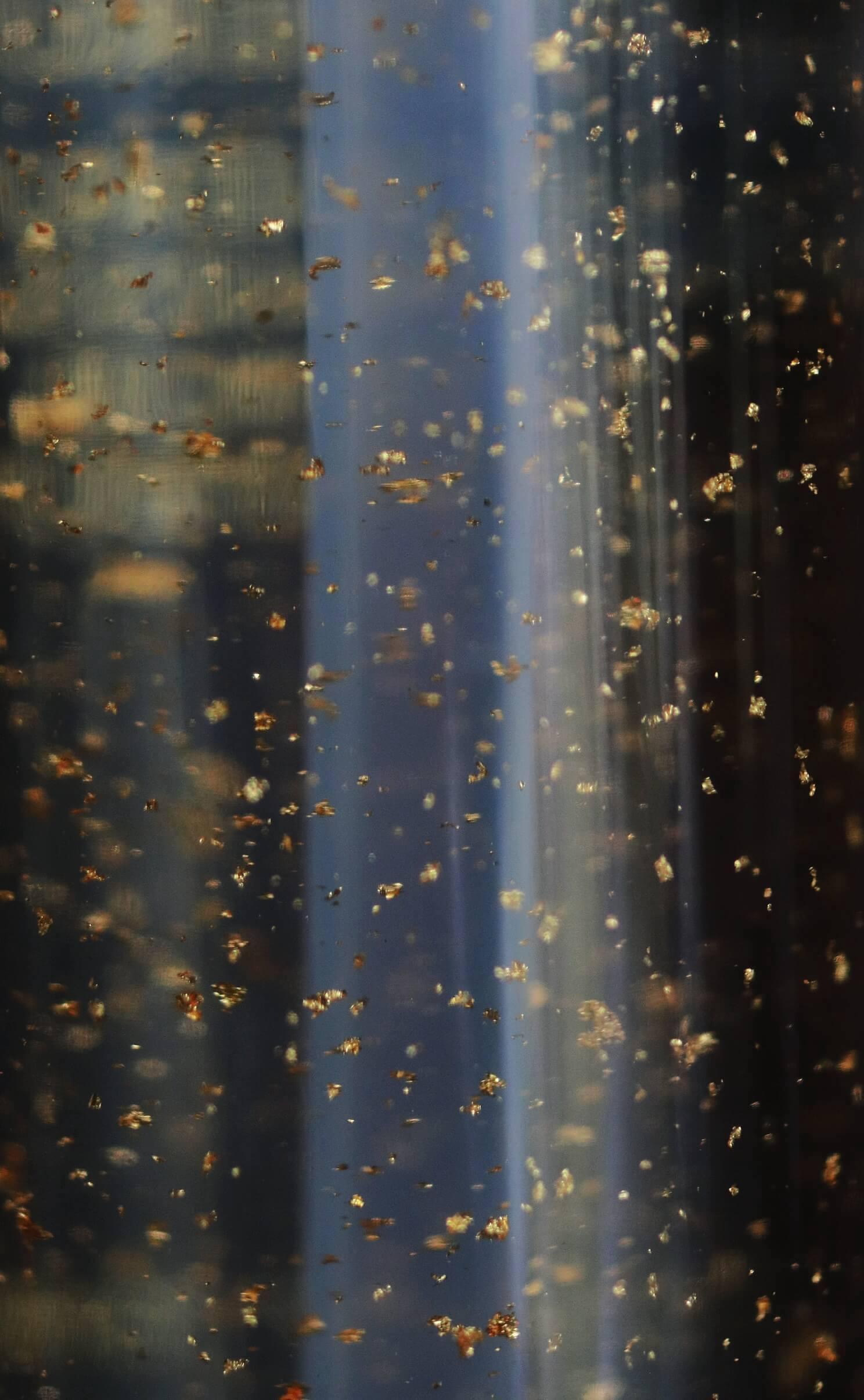 The pump-style dispenser makes the product so easy to use, and you only really need a small amount each time.
All you need to do is pump a small amount of the serum onto your fingertips, and then apply this to the skin around your eyes. Ideally, it should be gently patted into the skin, rather than rubbed.
Why?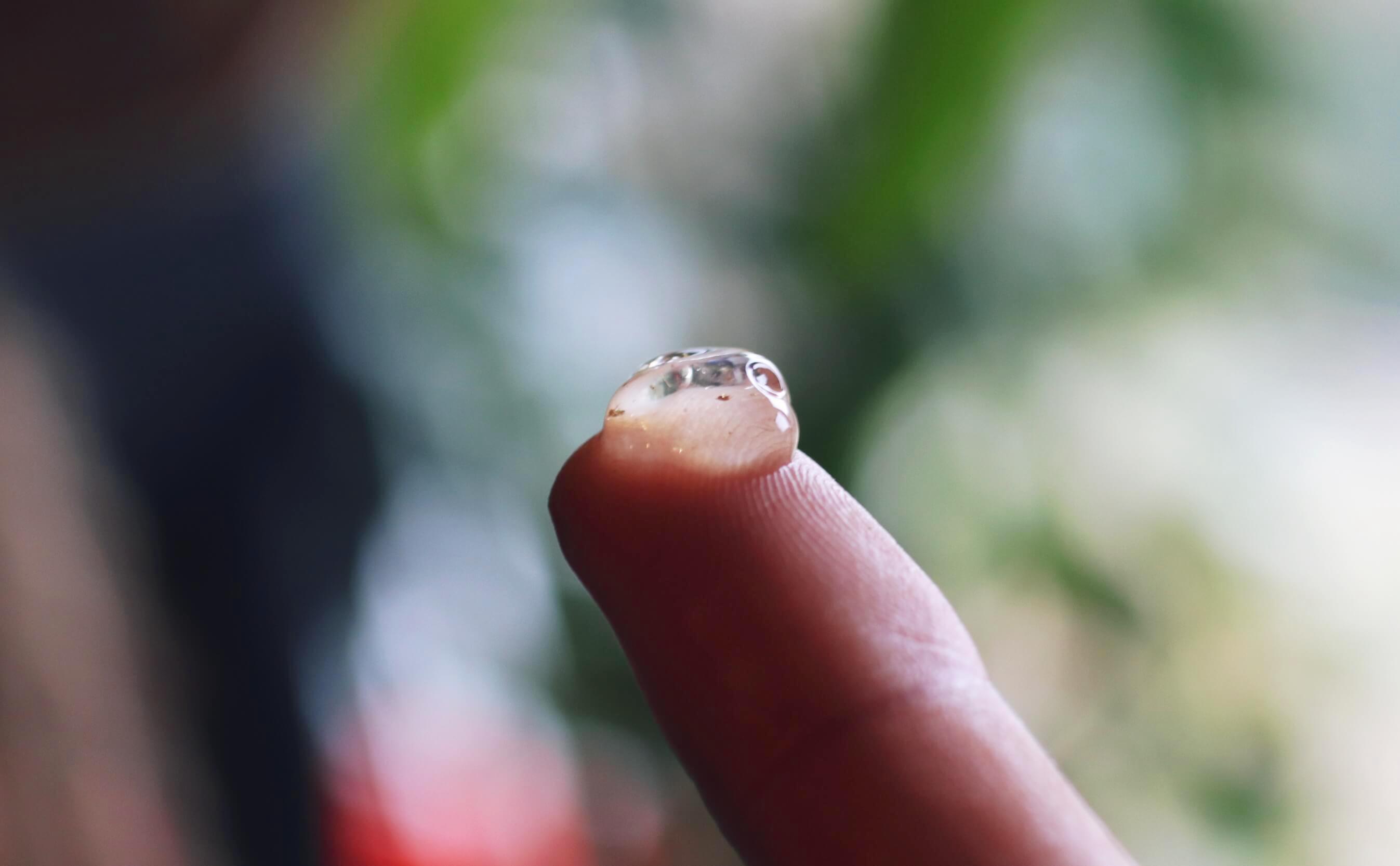 Because this not only saves your skin from the friction caused when you rub at it, but it also increases the product's absorption rate.
What does the serum feel like on the skin?
It has an immediate, very noticeable, cooling effect. This makes it feel as though your skin has been instantly perked up, and it does also help the eyes to feel more awake.
The texture of this product is quite lightweight, meaning that it sinks into the skin pretty quickly, and this is something that you should always expect from a quality serum.
Will I keep using the serum?
Yes, because I love the variety of botanical ingredients that it contains, as well as the fact that it also boasts pure ascorbic acid. These ingredients perfectly complement the retinol serum that I am currently using on my face, making this serum a great addition to my skin care routine.
The Morning After… 
Yes, both the 24K Purifying Toner and the 24K Anti-Aging Eye Serum felt great on my skin, but what were the longer term effects going to be?
I usually apply new skin care products in the evening, and the state of my skin the morning after gives me a good idea as to how my skin has responded to that product.
So, what did my skin think after sleeping in the toner and serum?
Let's just say that I did a double take when I looked in the mirror this morning…in a good way! My skin looked bright, clear and super hydrated, and there weren't any signs of irritation.
After seeing the results, I definitely regretted not taking before and after photos!
A Quick Note on Storage
One thing to keep in mind when it comes to storing these products…
As mentioned earlier, both the 24K Purifying Toner and the 24K Anti-Aging Eye Serum are contained in transparent containers. This isn't ideal, because it means that the products will be exposed to light, which can have the effect of degrading certain ingredients.
However, thanks to the fact that the boxes are designed to be quickly flipped open, these products can easily be stored back in their boxes, rather than leaving them out on a shelf. You should also keep these products away from extreme temperatures, as well as humidity, as all of those elements can have a negative effect on the ingredients within.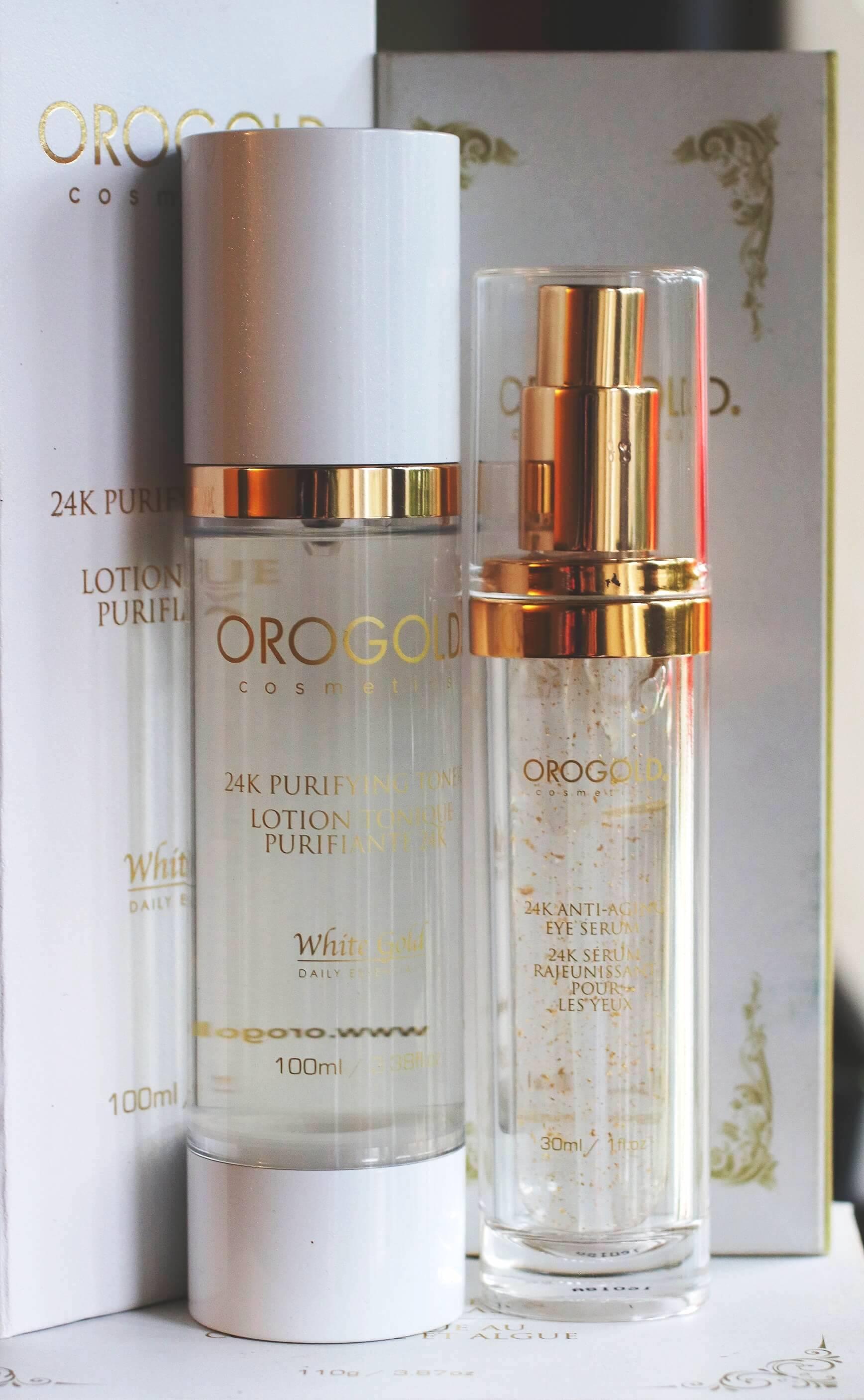 Air is something else that can degrade skin care ingredients, but this isn't something that you will have to worry about with these products.
Why?
Because the spray-style and pump-style dispensers prevent any air from entering into the product.
After trying out both the 24K Purifying Toner and the 24K Anti-Aging Eye Serum, I am definitely impressed with what I have seen so far of the OROGOLD White Gold Collection. In addition to the gold, both products contain effective, high quality ingredients in large-enough amounts for them to actually make a difference, making this a collection well worth investing in.