We are riding spring and summer is not far away. Lots of couples decide to have their weddings on these glorious months with warm weather, colorful skies and abundant flowers. To make the most of the seasons couples choose outdoor venues for their wedding receptions and even the ceremonies. You get the invitation and send that RSVP in a flash because you want to be a part of the love extravaganza. You imagine the warm sun glowing on the flower girls with flower crowns, maybe the couple is reading their vows under a tree and a dance floor underneath a lavender filled ceiling.
Then you realize that it might get hot, it might get humid, it might get both. Then you think about making the right clothing choice, something fresh but with a scarf or pashmina in case it gets chilly, an umbrella might be provided in case it rains a bit or the sun is too strong. You think about the shoes, if it's going to be on grass you don't want stilettos that will dig into the earth and trap you, and you don't want strappy sandals if it gets breezy in the evening (I'm all for a nice pair of peep toe not so high heels or platforms with a pair of funky socks to match). Then you think about your skincare and your makeup, under the sun, in a humid frenzy. (so many choices)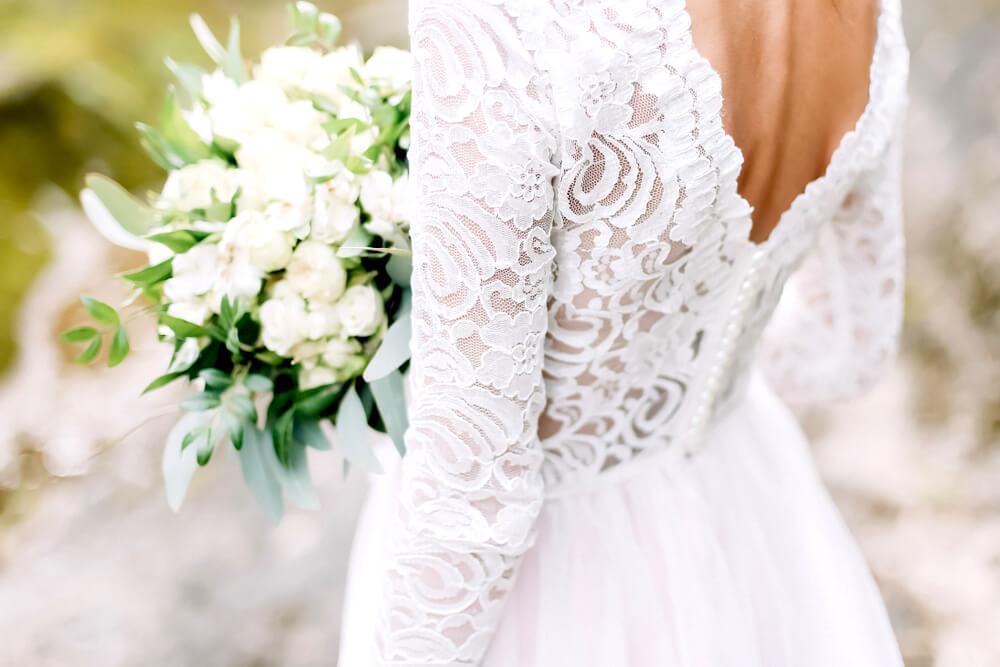 It can get even more interesting if it's a destination wedding and you have to figure out the essentials for your carry-on, as you definitely don't want to lose your checked luggage on a weekend wedding trip.
Now, I have been to destination and at home weddings in all the seasons: autumn, winter, spring and summer. What I take with me for my skincare and makeup tends to change from season to season. For example, I have a destination wedding this June in Kentucky, bourbon heaven. I will not only be packing my carry-on but my husband's aunt's carry-on too. Why hers too? This woman has 3 rooms in her house, each with full size closets and 6 drawer dressers, all filled with clothing, shoes, jewelry, skincare and makeup. There is no way she's gonna be able to decide what are her "essentials".
For this outdoor wedding I have the dress, a sky-blue tea length, sleeveless dress and I will take my pashmina for the evening. The shoes will be a pair of shiny nude colored ballroom dance open-toe heels (chunky enough not be become a stake in the grass but classy and perfect for dancing of course). For my oily-skin care, I will take my travel size gel cleanser, an eye skin serum, a facial serum, a lightweight moisturizer with broad-spectrum SPF for daytime and a replenishing lightweight moisturizer for the evening. I also always take sheet masks for the eyes and face and apply them the night I arrive. For makeup in spring and summer I take a concealer, eye primer, lightweight foundation, tint blush, vegan mascara, eye liner, eyebrow filler, a lip tint and of course a spray setter (in my 30's I'm more of a classic makeup kin of gal, in my 20's that list would have been longer).
How does Venofye come into play for my destination spring-almost summer wedding guest carry-on? With their Queen Bee Vitamin C Serum.
Queen Bee Vitamin C Serum
My oily skin fell in love with serums years ago, because in a nutshell, serums are like an active-ingredients packed really lightweight, liquid-y moisturizer that is more easily absorbed. Imagine you had to take boxes of 70% dark chocolate from one state to another, a serum would be like a private jet plane and a normal moisturizer would be like a commercial flight on economy that mixes the dark chocolate with corn syrup. It works, but isn't the private jet with rich dark chocolate a whole lot faster, efficient and healthier?
Serums work well under heavier moisturizers for people with dry, normal or combination skin, or if you live in places where colder climates last longer that the warmer months. For my oily skin, living in a warm and humid place, I use serums by themselves most of the time. I use a serum with broad-spectrum SPF included for the day and a serum with an added lightweight moisturizer at night. But when I travel (unless it to the tropics) I like to take both serums and moisturizers. Since serums are a concentration of active ingredients, a little does a lot, don't use it like you would your favorite coconut oil body lotion, just a little bit will do.
You know what I also love, besides serums? Vitamin C.
I was told at a young age that skin care products with vitamin C were perfect for me because of my keenness to expose myself to the sun so much (try not to judge me I was in my early 20's).  
Skin care ingredient sites rate vitamin C as a top ingredient. There is a lot of research on the topical application of vitamin C.
Vitamin C is a powerful antioxidant that can:
Brighten and even skin tone (preventing age spots)

Provide skin restoring benefits (can help heal acne)

Soothe skin (decreases moisture loss)

Help fight free radicals (atoms that damage DNA, cells and proteins, caused by sun exposure)

Stimulate

collagen

synthesis
Vitamin C comes in many forms such as ascorbic acid (the main one), magnesium ascorbyl phosphate, odium ascorbyl phosphate, ascorbyl palmitate, ascorbyl tetra-isopalmitate, ascorbyl glucoside, 3-0 ethyl ascorbate, among others.
When it comes to vitamin C quality and effect, the packaging does matter. Vitamin C can start to destabilize when its exposed to too much air or light. This is why its preferable that it comes in a boxed package and that the container has a pump nozzle, not a jar style container.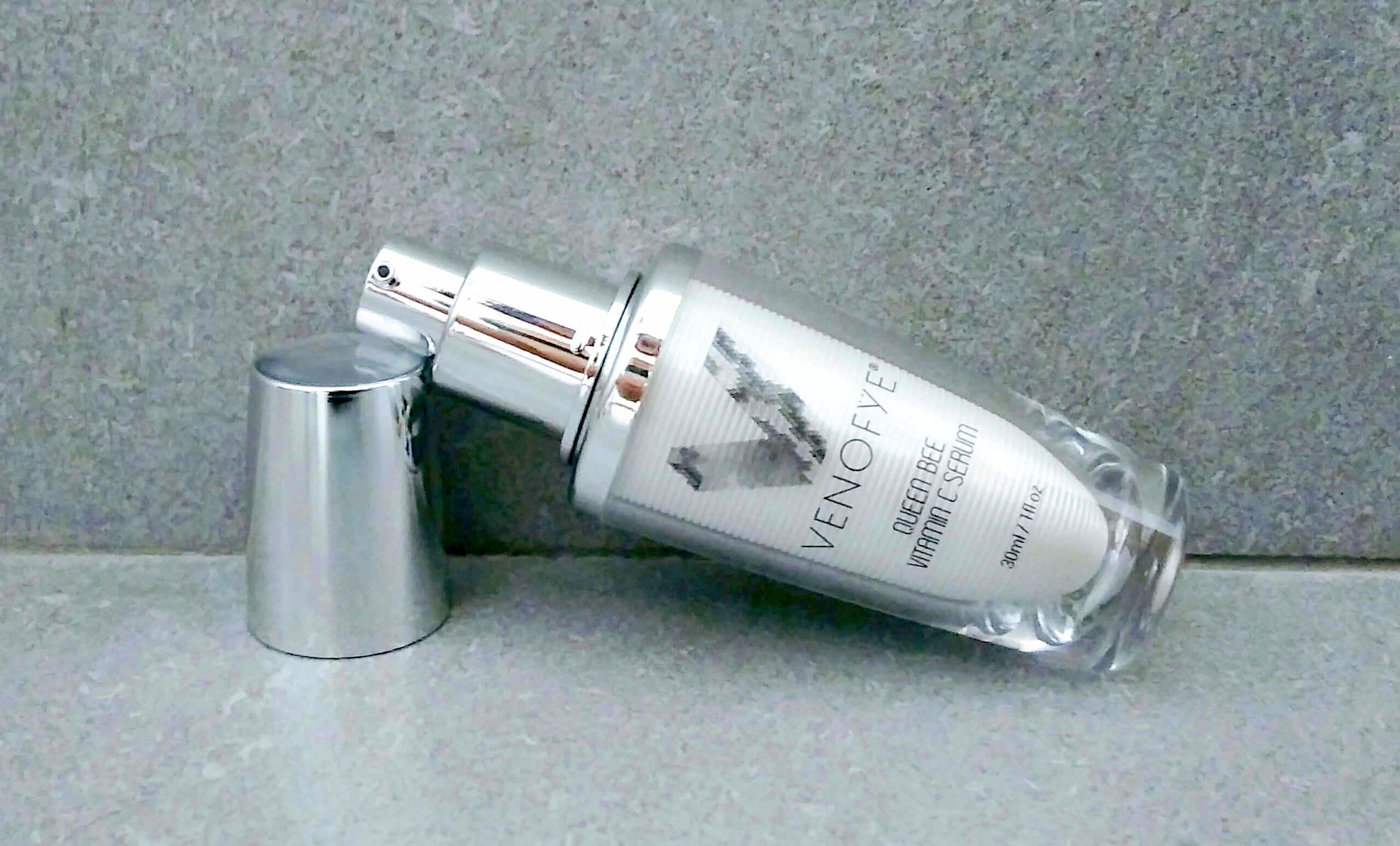 The Queen Bee Vitamin C Serum comes in a 1 ounce white and silver pump container and inside in a white box with shiny hexagons that form a beehive-like style, so its protected.
It's made with:
Cyclopentasiloxane and cyclohexasiloxane, fluid silicones that works as conditioners.

3-O-ethyl

ascorbic acid

, a stable derivative of pure ascorbic acid.

Honey, which acts a s a humectant.

Citrus aurantium dulcis (orange) peel oil, for a sweet fragrance.

Bee venom, a.k.a. nature's botox, the signature ingredient for the brand.
Wait, bee venom?
Yes, purified bee venom is made from a mix of compounds, one being a peptide that consists of 26 amino acids, and another main compound is hyaluronidase which improves blood flow and plumps the skin.
If you like bees, because bees pollinate, and pollination gives us fruits and food, you don't have to worry about them being hurt in the process. Bees are stimulated to pump out a bit of venom with a glass sheet that is then removed from the hive and they don't lose their stinger, so they can move on with their busy-bee lives.
*If you are allergic to bees you might want to talk to your dermatologist about it before you use products with bee venom in them. Plus, patch test before, always, at least 24 hours in advance.
I have been using this serum for about two weeks, at night. I cleanse my skin and then apply a small amount of the serum and distribute it along my face, neck and décolleté (chest). Some days I need a lightweight moisturizer on top, others I don't (because hormones across the month change our skin slightly). It's silky and goes on smooth, this is why a small amount (like one pea size for the face and one pea size for your neck and chest) works fine. I liked it so much, that it is now a part of my essentials in my destination wedding carry-on.
Now, of course I have not done my bag yet, but I know I have everything I need already. It was time to ask my husband's aunt if she had thought about what she was going to wear and take with her, needless to say there was some major downswing that needed to be done.
After we narrowed down what she would wear (clothing, shoes and jewelry) for each day and convinced her that she could survive with just 2 purses, it was time to teach her how to do travel sized skin care and makeup. Most skincare and makeup containers come in containers that are 3 ounces or less, but there are smaller sized options to save you space and TSA hassle. Remember that for carry-on everything that is liquid has to fit in a standard size Ziploc bag.
We got her makeup organized and she knows what she will take and what to leave home (hopefully she stuck to it when the time comes). We got her cleanser and moisturizers in travel sizes, and I decided to give her the ViperLift Bio Syringe to try out. She really likes to wear makeup and I thought it would be great for her to wear beneath it.
ViperLift Bio Syringe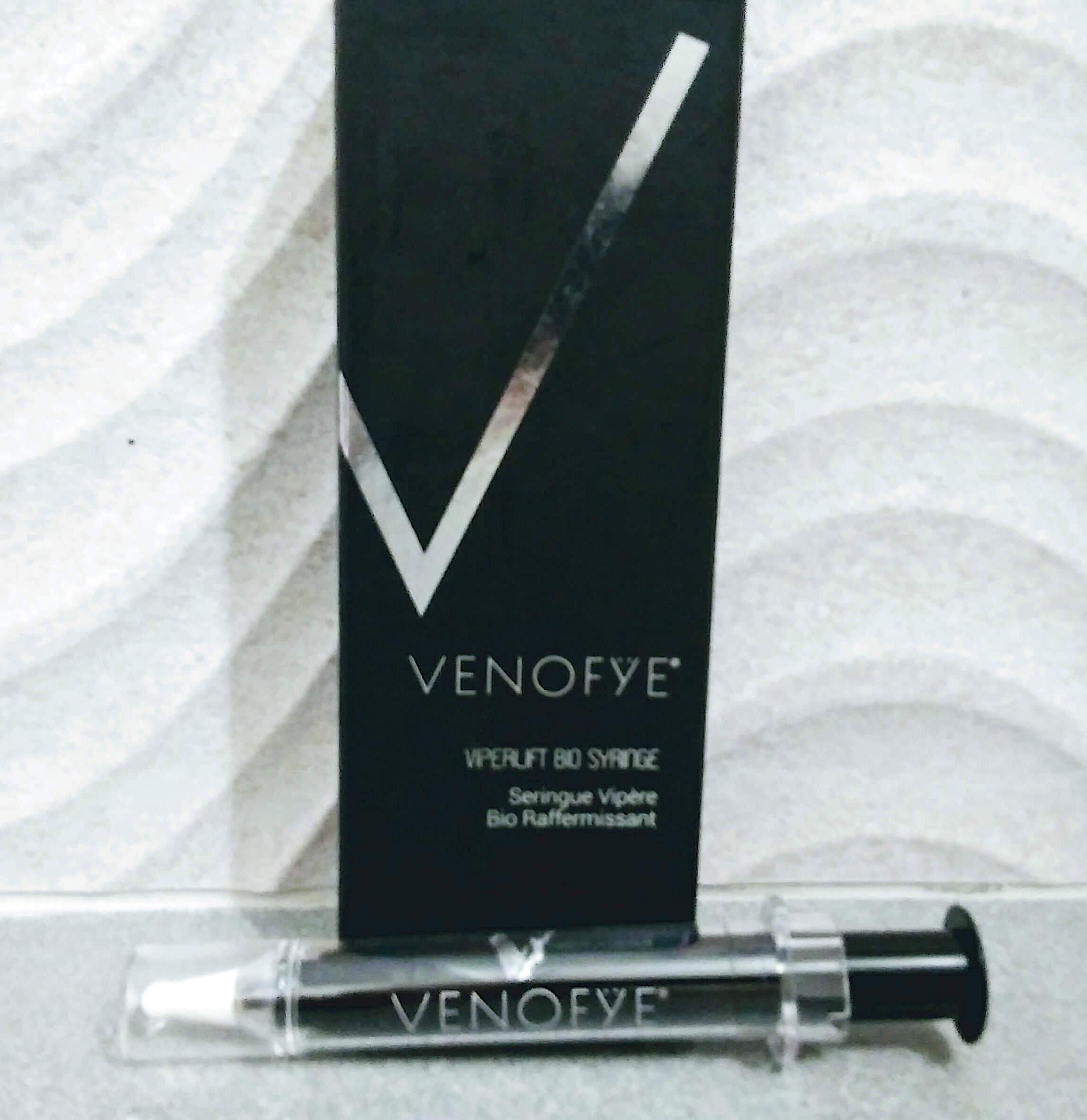 The ViperLift Bio Syringe, don't be afraid, it's not a real syringe, and it doesn't hurt. It comes in a black box and at 0.39 ounces it's a plastic "syringe style" treatment that reduces the appearance of deep wrinkles for a special event. The syringe style applicator makes it easier to use, since the product is meant to be applied directly on wrinkles. I explained to her that after cleansing her face she should gently press the syringe like applicator directly on a wrinkle until a bit of product comes out, apply it across the wrinkle and then wipe the excess off with a swab.
We did a patch test and one day she had a special event at her church and decided to use it underneath her makeup, which is the way to go. Since it forms sort of a film on top of the wrinkles, when you apply makeup on top, it smooths everything out. Be aware that the first time you use it, more product that expected might come out, just wipe off excess. It has a beige-pink like color to it, but it goes on clear. Remember to always use the tip cover and cap for hygiene and protection.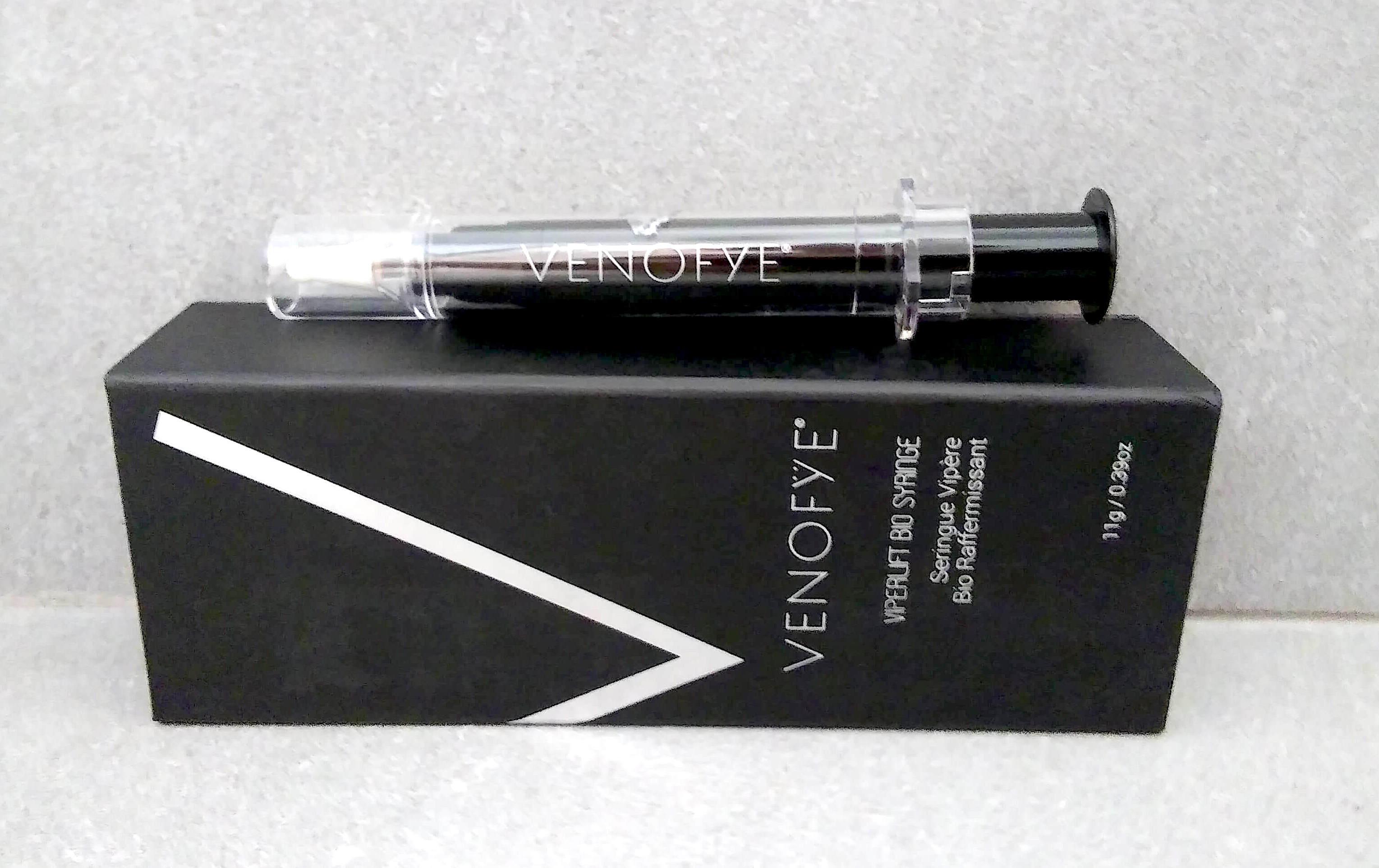 She loved the treatment and it has been added to her destination wedding carry-on essentials (without the box of course), plus her church special events essentials as well.
This deep wrinkle treatment is made with:
Magnesium aluminum silicate, a mineral that comes from purified and refined clay.

Sodium polystyrene sulfonate, helps mask wrinkles by forming a film on top.

Cucumis sativus extract (cucumber), works as an antioxidant.

Acetyl hexapeptide-8, a peptide that is derived synthetically and used as a skin restorer.

Hyaluronic acid, a moisture replenisher that we have in our skin, but we start losing it as we age.

Retinyl palmitate, the ester of vitamin A a.k.a. retinol.

Tocopheryl acetate, a form of vitamin E, that works as an antioxidant and a skin conditioner.

Persea gratissima oil (avocado), used as a skin moisturizer.
Dipeptide diaminobutyroyl benzylamide diacetate, a synthetic neuro peptide a.k.a. snake venom. It works by relaxing facial muscles, the reason why it's known as a safer option to Botox. It is also a skin conditioner.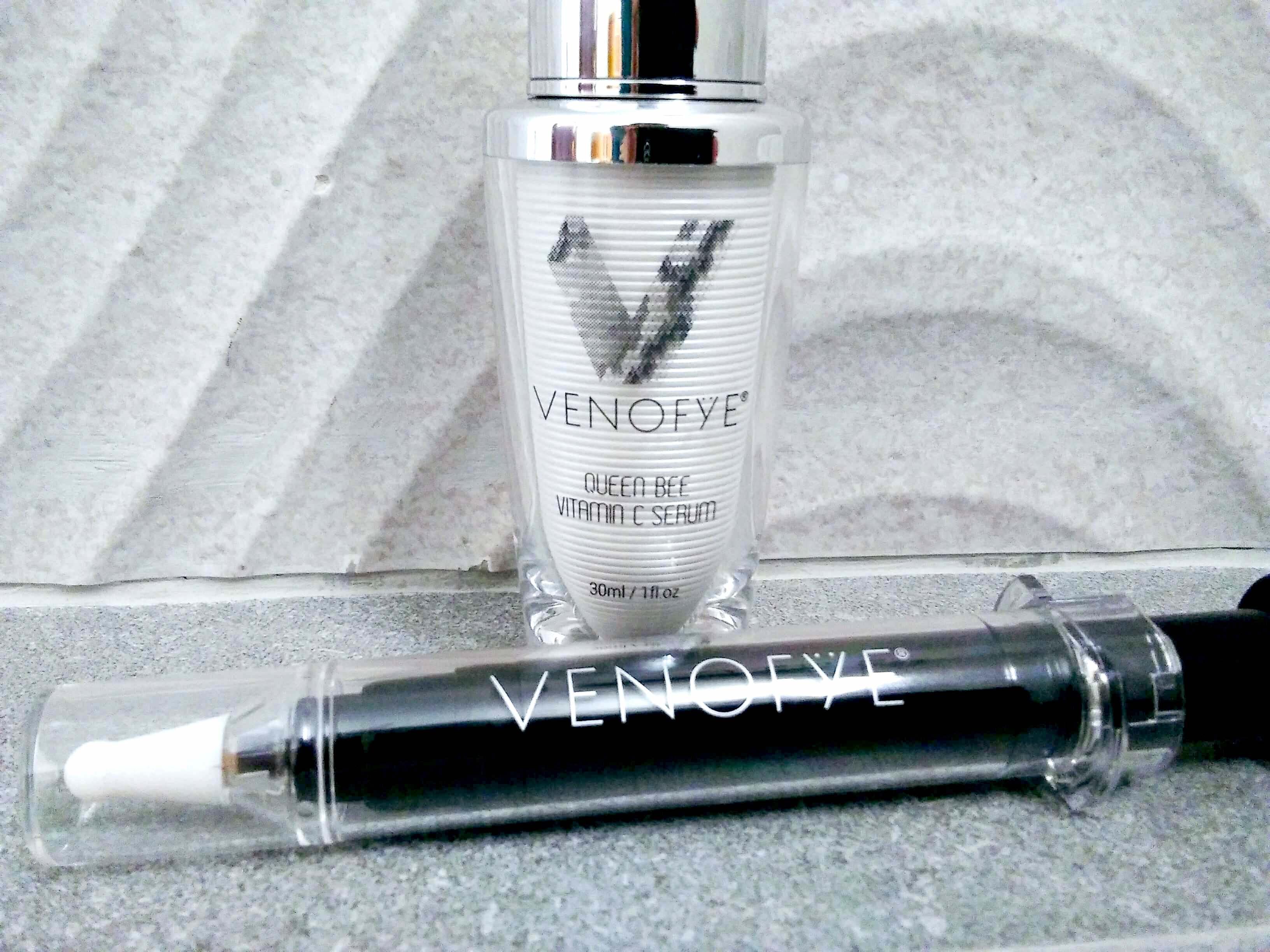 Hope this review helps you understand more about these skin care products and what they can do for you. Venofye has many other collections and products to cover a variety of skincare concerns. You can check out their website and you can even buy online (my favorite way of shopping).
Venofye Collections:
Body- Features body scrub and body moisturizers

Queen Bee- The most complete collection

Drone Bee- For men's unique skincare concerns

Royal- For the delicate skin around the eyes

Orchard- Designed to brighten and fight pigmentation concerns

Apitoxin- Focused on collagen

ViperLift- Focused on smoothness and firming