When you think of a 'trio', what do you think of? A group of friends, a group of books or movies? Anything like that?
Well, I used to think the same. Until I discovered the HerStyler Marula Oil Hair Nourishing Serum, the Argan Oil Hair Serum and the Super Styler.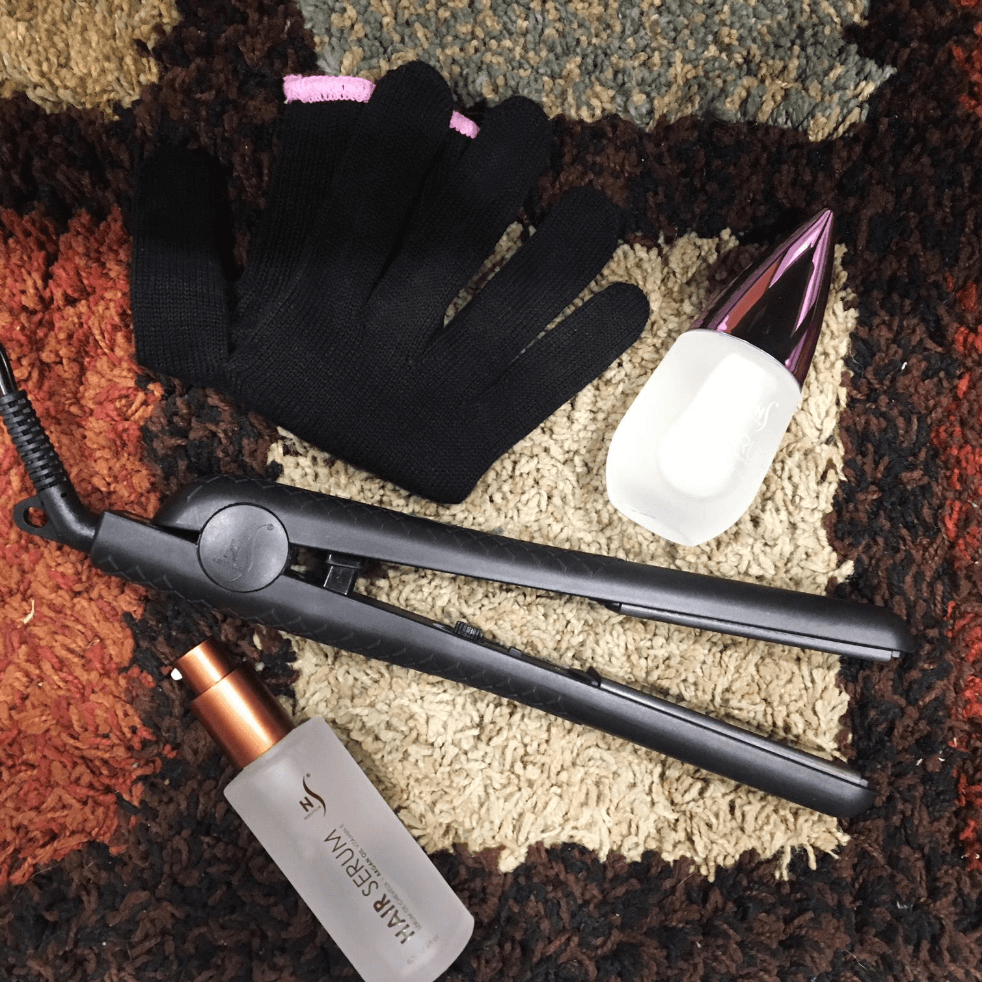 This trio of hair products are the ones you've been looking for. So, look no further because they are here to stay. I got recommended this brand a while ago and just recently I got the chance to try out not one, not two, but three of their products. I've always loved the results (or at least some of them) that some hair care products can provide to you before, after or while doing your hair. In this case, there was no exception.
Marula Oil and Argan Oil Hair Serums
The reason I decided to try out both the Marula Oil Hair Serum and the Argan Oil Hair Serum is because of the curiosity in finding out the difference between the two serums, even though one is infused with Argan Oil (with vitamin E) and the other with Marula Oil. Regularly a hair oil doesn't necessarily have to help with styling your hair, but it does help as a nourishing treatment that helps us improve the health of our hair. Oils will help your hair while lubricating it and lending a hand with split-ends.
As I mentioned, one oil in particular has Marula in it, but for those of you who don't know what Marula is, let's start off by saying this: It's the one hair oil ingredient you need. Marula oil comes from the very well known African Marula tree. It helps you to renew your hair and it's even considered as a conditioner-replacer. The HerStyler Marula Oil renews your hair to a manageable and softer one while absorbing easily into your hair without leaving it oily or greasy.
The benefits of Marula oil are very important, because it helps you beautify your hair and keep it healthy. It creates the process of nourishing everything from scalp to tips. It can help your hair from very damaged weather and environment, so you don't necessarily have to style your hair to put this type of hair product on. You can just nourish your hair and walk straight out that door. You can even do it on the way to your appointment, work or even before going out to walk your dog, or cat, whatever you're into.
The HerStyler Marula Oil Hair Nourishing Serum helps:
Renew your hair

Eliminate frizz

Absorbs easily

No greasy residues

Promotes radiant shine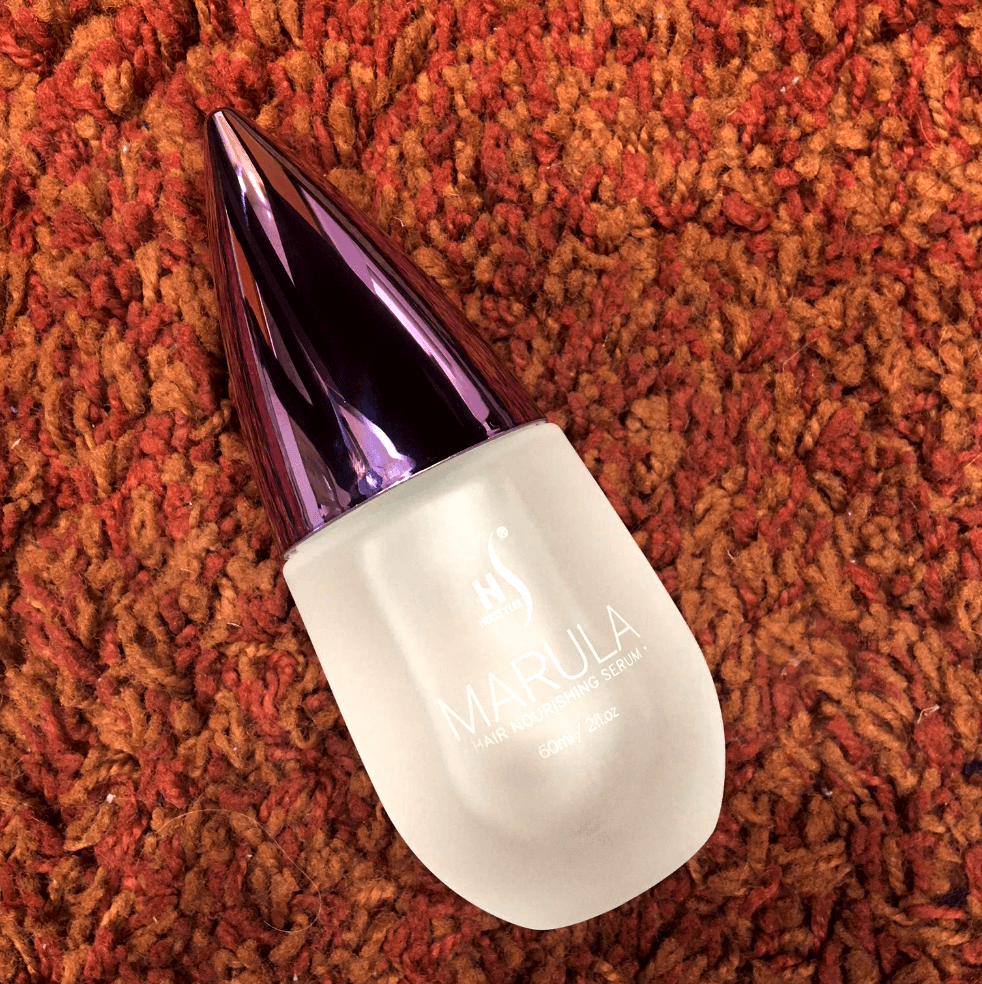 I've had my fair share of really greasy hair because of oils that have left my hair really oily. I would use the oil before using any hair product to do my hair and next think I know it starts to get greasy and by end of the day it's a disaster. I would have to wash my hair the same day as styling it. It was so bad that I don't even remember the company's name. And let me tell you, it was "infused with Argan Oil"…. Right. #UGH
The product box itself for this particular product, however, is beautiful, nothing like I've seen before with hair care products. The product is a pretty big size. Usually I'm used to oils or serums in very small sizes, so seeing that this product has a bigger size is great, knowing I won't run out so soon. The body is very well made and the top cap has this magnetic-violet feel and it's very smooth and good looking. Great work, HerStyler!
But, speaking of Argan Oil, HerStyler's other hair serum is infused with this specific ingredient, plus some Vitamin E. This oil helps in some incredible ways:
It can be used as a treatment for your hair

Scalp moisturizer

Can fight dandruff

Doesn't irritate

Treats does split-ends
When being combined with Vitamin E it can also cause a positive affect to our hair. But anyone can ask themselves: Is Vitamin E good for hair?
You've guessed it. Yes. Vitamin E helps to promote hair growth and reduce the sight of inflammation on your hair. It can be combined with all kinds of ingredients like Coconut Oil, Avocado and Argan Oil. It's a very important supplement in your hair oil or even on your diet. Vitamin E can also promote shine and help to support a healthy scalp, because no one wants a bad-looking scalp. It can implement better pH balance, it can regulate the blood circulation and it can condition your hair, being found in many shampoos, conditioners, and in a lot more hair care products.
But your diet is very important when expecting better results. Vitamin E can be a big part of your everyday diet and when implementing some Vitamin E, it can create better results not only for you physically but in the hair department as well. Creating a well balanced diet can help in a lot of different ways, but I'm not going to focus on that now. I might go off track here and I'll never end this review…. jajaja.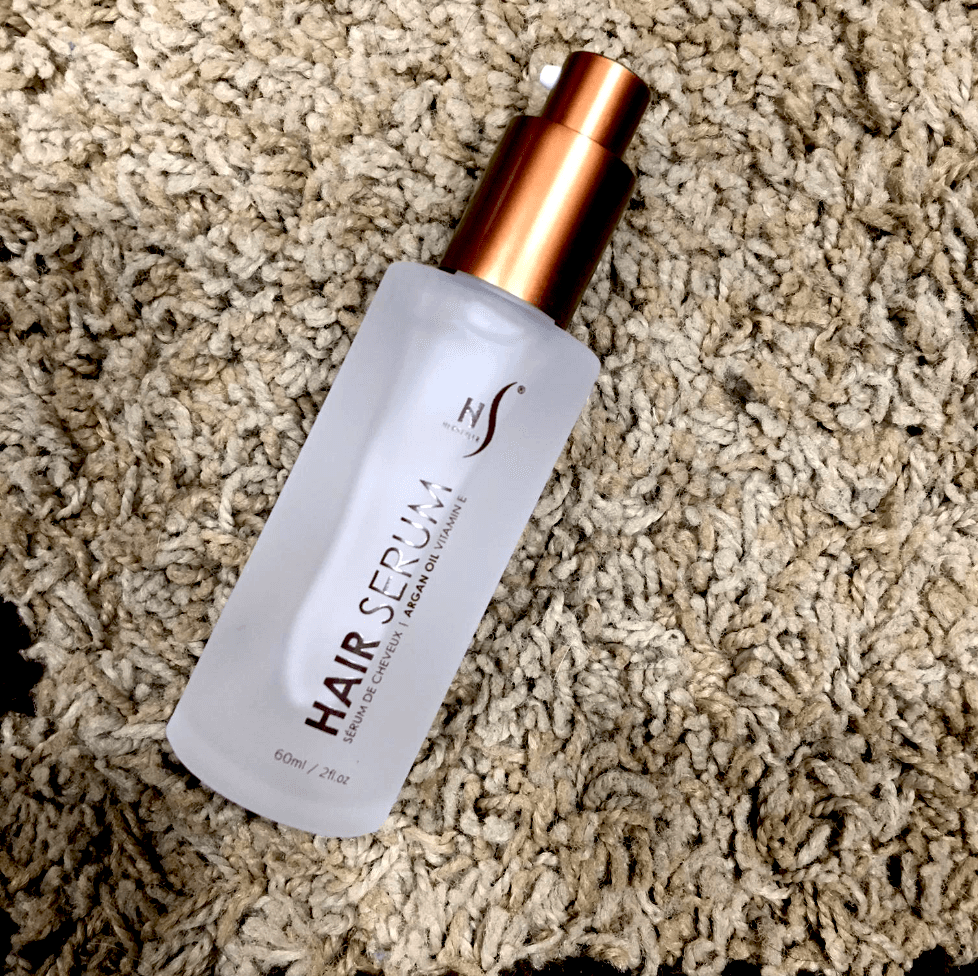 The HerStyler Hair Serum comes in a very pretty and minimalist packaging with its instructions and directions. The bottle itself is also big in size and automatically you can smell the Argan oil when opening the box. It kind of has the same type of body protection like the Marula Oil so the glass doesn't break easily, which is a very big help when using it. When you plump it, you can feel the smooth texture on your hands. And yes, the Marula Oil also felt smooth on the tip of my thumbs. Don't you think I forgot 😉.
Ok, so after all of this chit chat, you may be asking yourselves: What's the difference between both products, then?
Well, it's simple. Both can help in a lot of similar ways, but they can also have different goals:
Marula Oil Hair Serum
Nourishes

Renews

Absorbs

Non-greasy residue
Argan Oil Hair Serum with Vitamin E
Used as touch-up

Eliminates dandruff

Helps the scalp

It's infused with Vitamin E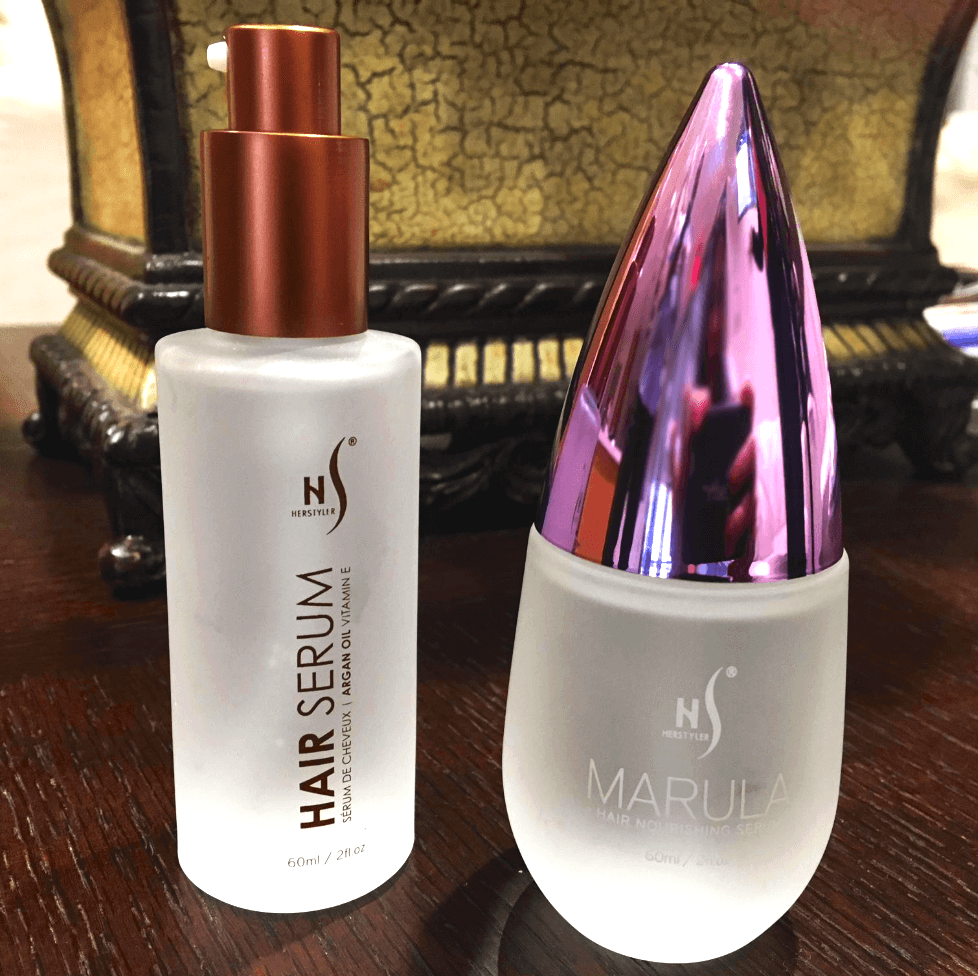 Both products are great, let me tell you. Both help in a lot of different ways and have very good results. I've never used a hair serum or hair oil before that gave me good-looking results. And both of these products were used with my new favorite straightener: HerStyler's Super Styler.  I'll tell you my process in just a little bit, but first, let me explain how awesome this new straightener is.
Herstyler SuperStyler
Not only is it physically beautiful, it also presents really impressive technological features that brings progress and positivity to your hair. Yes, positivity. Why? Well, let's begin.
Negative Ion technology
This feature allows you to eliminate does stubborn frizzy hair. Hair circulation is also something that this feature promotes, because it prevents the hair to over-dry while improving its strength. It also allows you to get stronger and shinier hair after using a tool with Ion Technology, so imagine when combining this feature with the two serums mentioned before.

Easy Grip
This feature really caught my attention when opening the product box for the first time. Its grip allowed me to handle the iron more carefully and looking at it closely, it makes the straightener look and feel different than other straighteners. The grip helped me style my hair without having it slip from my hands. This design allows you to have an easier grip handle and is incorporated in the bottom and top part of the product for a better use in both sides.
1.25″ Ceramic Plates
Its ceramic plates are not only good for frizzy hair but helps you tame it, and the size is the perfect recommended one in every website. 1.25″ is considered to be the standard and comfortable size for any type of hair. The ceramic plates are also recommended for any type of hair and hairstyle as well. It won't affect you negatively if you have thin or thick hair. No matter the type, it will help. I may also mention that its plates are also floating ones. This can be useful when applying the straightener and managing the s movement through your hair. It helps you to not pull your hair nor get it tangled in the plates.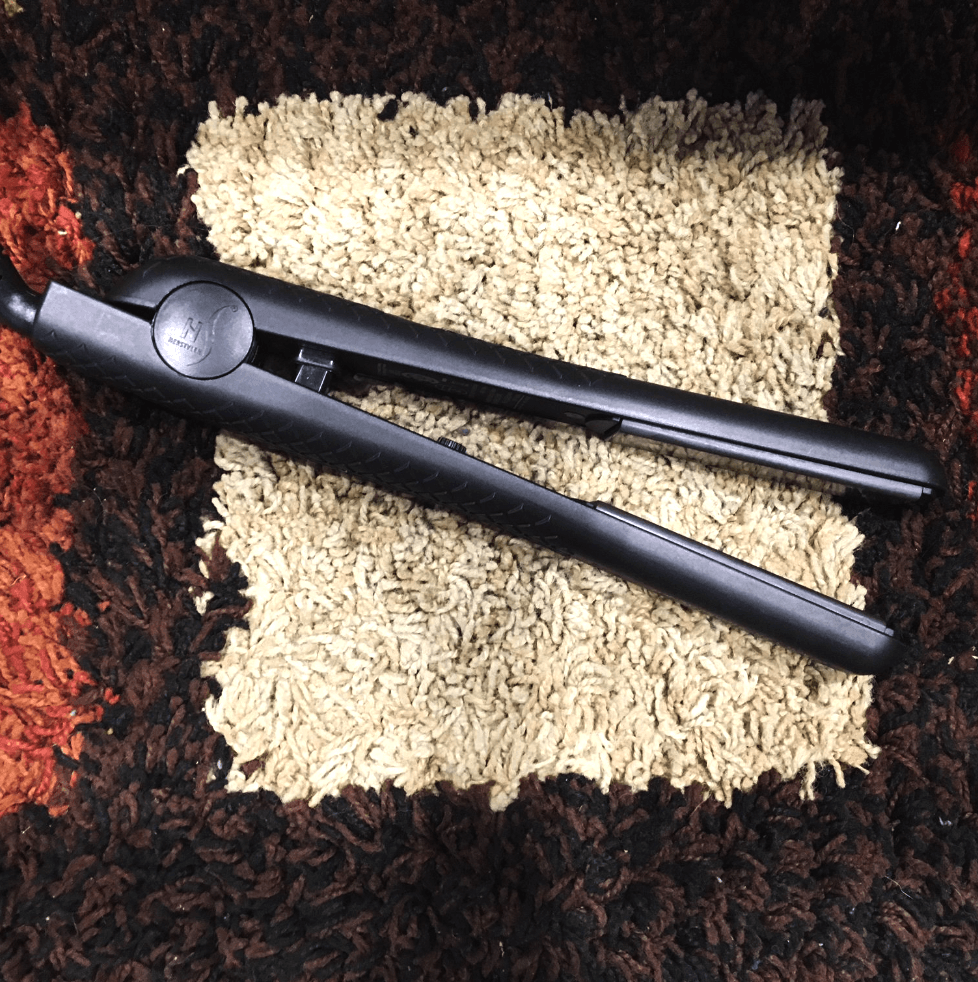 On/Off Switch
Well, what can we say about this? It allows you to switch between on and off in a very easy way. While on, the indicator light beams in the color red.
Heat Setting
The heat setting allows you to go up to 500°F, which is a bit higher than most straighteners I've used and seen in the market. This setting is suitable for every type of hair as well. It won't leave a burning smell or feel to your hair after using the straightener, whether you used the heating setting half way or up to the maximum.
Long 360° Swirl Cord
This feature in particular allows you to move the straightener easier. It won't allow you to get tangled along the way and the fact that it's a very long cord is a big help, so you don't have to be too close to the wall plug. While using it, it can provide some help when creating those really pretty waves we all want sometimes. it spins and spins and spins and never gets tired!
Safety and Warranty Card
This card comes beneath the straightener's frame. It helps to understand more about this product, its safety instructions and all costumers that bought the straightener directly from the website will receive the warranty card and it will only be valid when registering at herstyler.com.
Now, the packaging is very minimalistic and pretty looking, much like the other two products. I like the fact that HerStyler keeps this very consistent look and it makes them stand out among other hair companies. The features are all explained in the bottom part of the box and, last but not least, it brings a GLOVE.
Yes, that's right a glove. This item is part of the product packaging and it helps to style your hair. It allows you to hold the hair while styling it and it won't burn your fingers, get them hot nor will it frizz your hair. You don't have to necessarily use it with this product only, the best part is that you can use it with other hair products you may have or use to style your hair.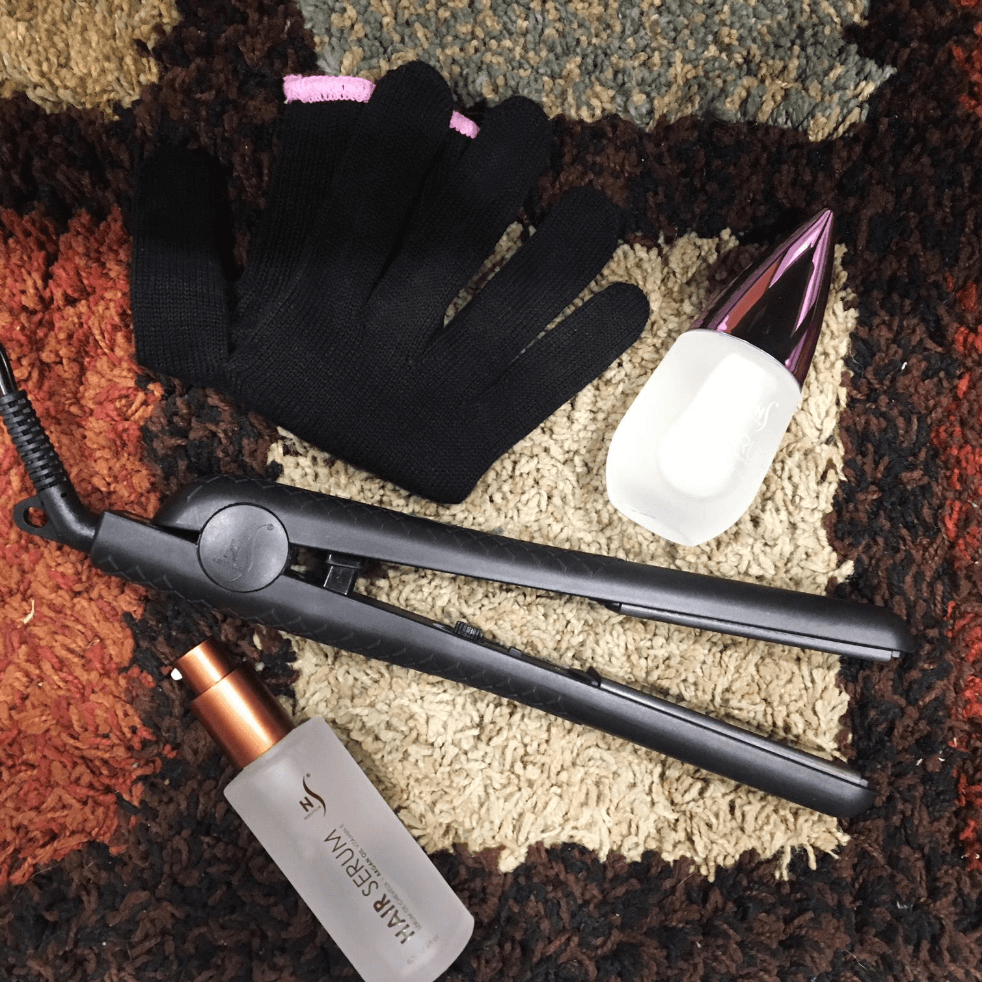 Now, the Process!
I started out using the Hair Serum first, followed by styling my hair with the Super Styler and finishing off the process with the Marula Oil. Why this specific process?
Well, I wanted to give a try to both serums, not just one. And also, it's important to keep in mind that I used the hair serum before styling to prevent any damage to my hair because of the heat and seal the deal with the nourishing Marula Oil, especially on the tips of my hair.
I applied a small amount (1-2 pumps) of the Hair Serum by using my fingers and combing through my hair softly, so every inch of hair is covered by the Hair Serum.

I started to heat up the straightener. I didn't necessarily went up to 500°F.

While I waited for the straightener to heat up a bit, I divided the sections of hair I wanted to straightened.

I started styling my hair. A very easy-to-do straightening style.

After styling, I applied the Marula Oil to nourish and seal, so my hair could be even more softer after styling.
After the process I understood why a lot of people are going a bit too crazy for these products. My hair has never been this soft before! It felt like it never went through a hair tool, let alone a straightener. I was really REALLY impressed with these products and now I can actually pretend I don't do anything to my hair and flaunt the natural look I've always wanted. A look I didn't get from other companies. So, what are you guys waiting for? Go get yourself some really worth-your-money hair products from HerStyler 😀