As a skincare enthusiast always on the lookout for new and exciting products, I recently stumbled upon Avinichi, the buzzworthy skincare brand that has been making waves in the beauty world. Intrigued by the positive reviews and promises of transformative results, I decided to try some of their products for myself.
After incorporating Avinichi into my skincare routine for the past few weeks, I can confidently say that this brand lives up to the hype. From their thoughtfully curated ingredients to their luxurious packaging, Avinichi has truly impressed me. In this review, I'll share my firsthand experience with several Avinichi products that have become staples in my daily regimen.
A Fresh Start with the Noni Mousse Cleanser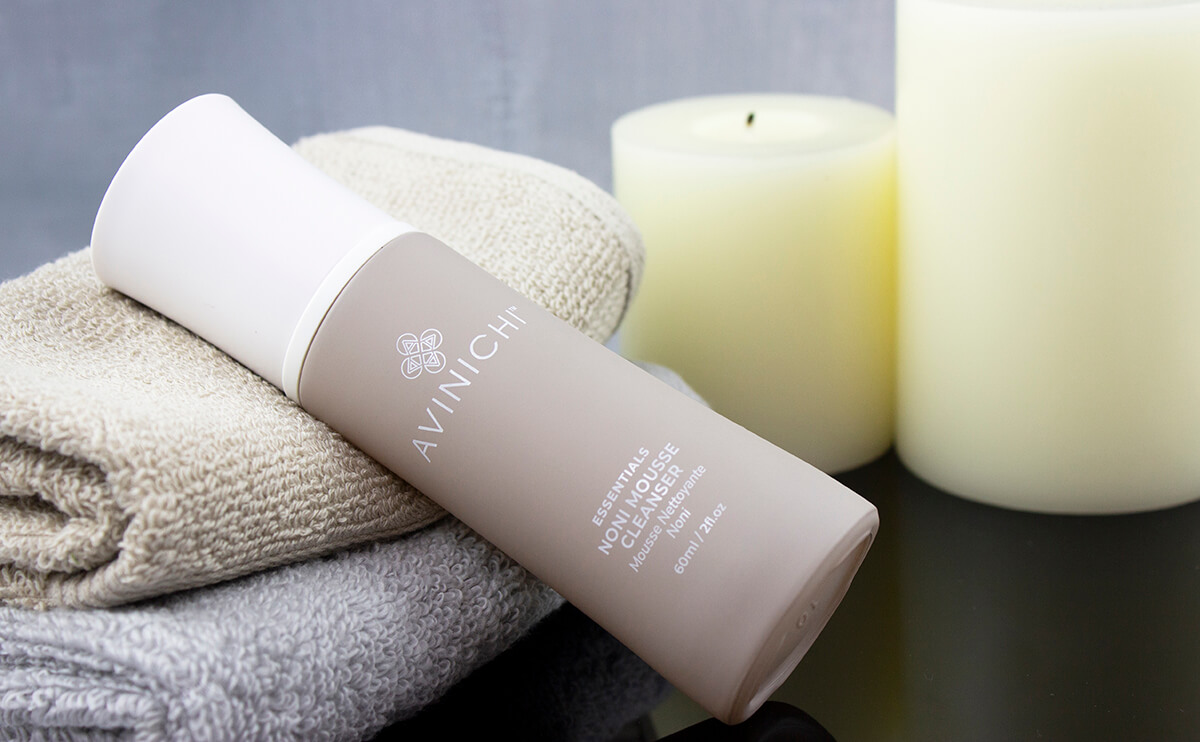 The first step in any skincare routine is cleansing, and the Noni Mousse Cleanser sets the bar high. This gentle yet effective cleanser is a delight to use, as it effortlessly removes impurities and makeup without stripping my skin of its natural oils. The texture is lightweight and lathers nicely onto my face, and the subtle scent adds a touch of luxury to my cleansing ritual.
After rinsing off the cleanser, my skin feels refreshed and clean, ready to absorb the benefits of the following skincare steps. What I love most about this cleanser is that it doesn't leave any residue, making it perfect for my combination skin. This product has become a staple in my routine.
A Boost of Radiance with the Hydrating Multifruit C-Serum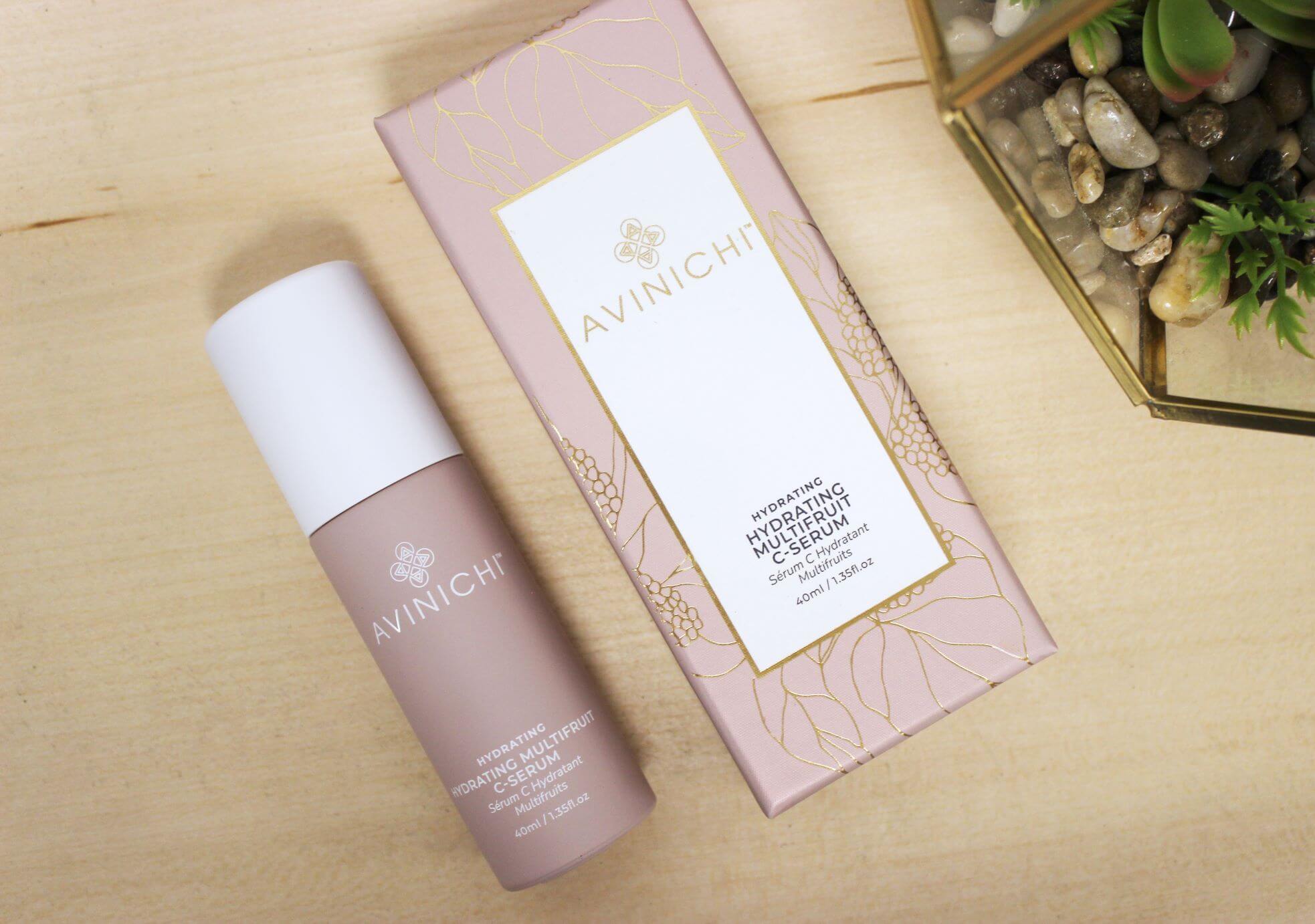 Next up is the Hydrating Multifruit C-Serum, and I must say, this product is a game-changer. Packed with antioxidant-rich ingredients, including Vitamin C and mulberry extract, this serum promises to brighten and protect the skin from environmental stressors. The lightweight formula absorbs quickly into my skin, leaving it feeling velvety smooth and hydrated.
Since incorporating the Hydrating Multifruit C-Serum into my routine, I've noticed a visible improvement in my skin's radiance and overall texture. My complexion looks more even, and my skin feels plump and rejuvenated. I love the natural glow it imparts, and the added protection against free radicals is a fantastic bonus.
Hydration Station with the Noni Morning Glow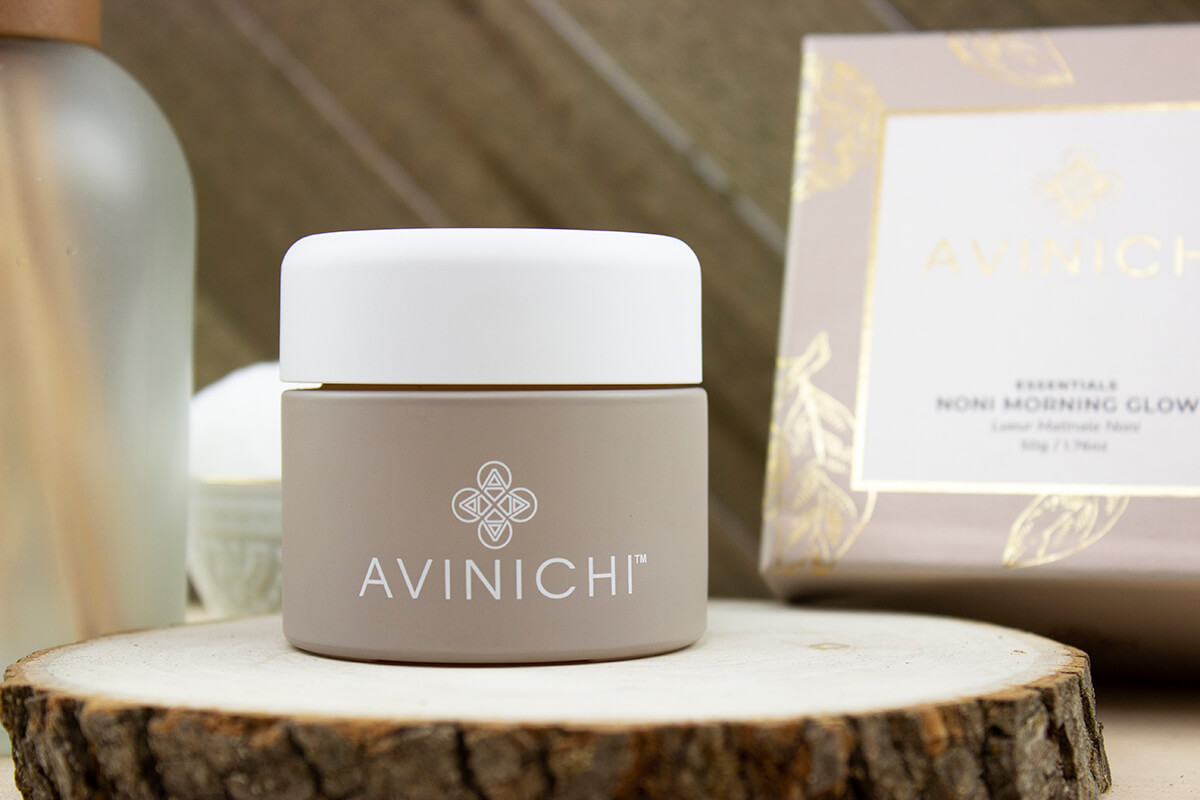 When it comes to hydration, the Noni Morning Glow reigns supreme. This rich yet non-greasy moisturizer is a true savior for my skin, especially during the dry winter months. Infused with hyaluronic acid and ceramides, it provides long-lasting hydration and helps maintain my skin's natural moisture barrier.
After applying the moisturizer, my skin feels plump and deeply hydrated, without any heaviness or greasiness. It's the perfect canvas for makeup application, and I've noticed that my foundation goes on smoother and lasts longer. This moisturizer has become a staple in my morning and evening routines, and I can't imagine my skincare routine without it.
A Spa-like Experience with the Noni Advanced Hydro-Gel Face & Eye Mask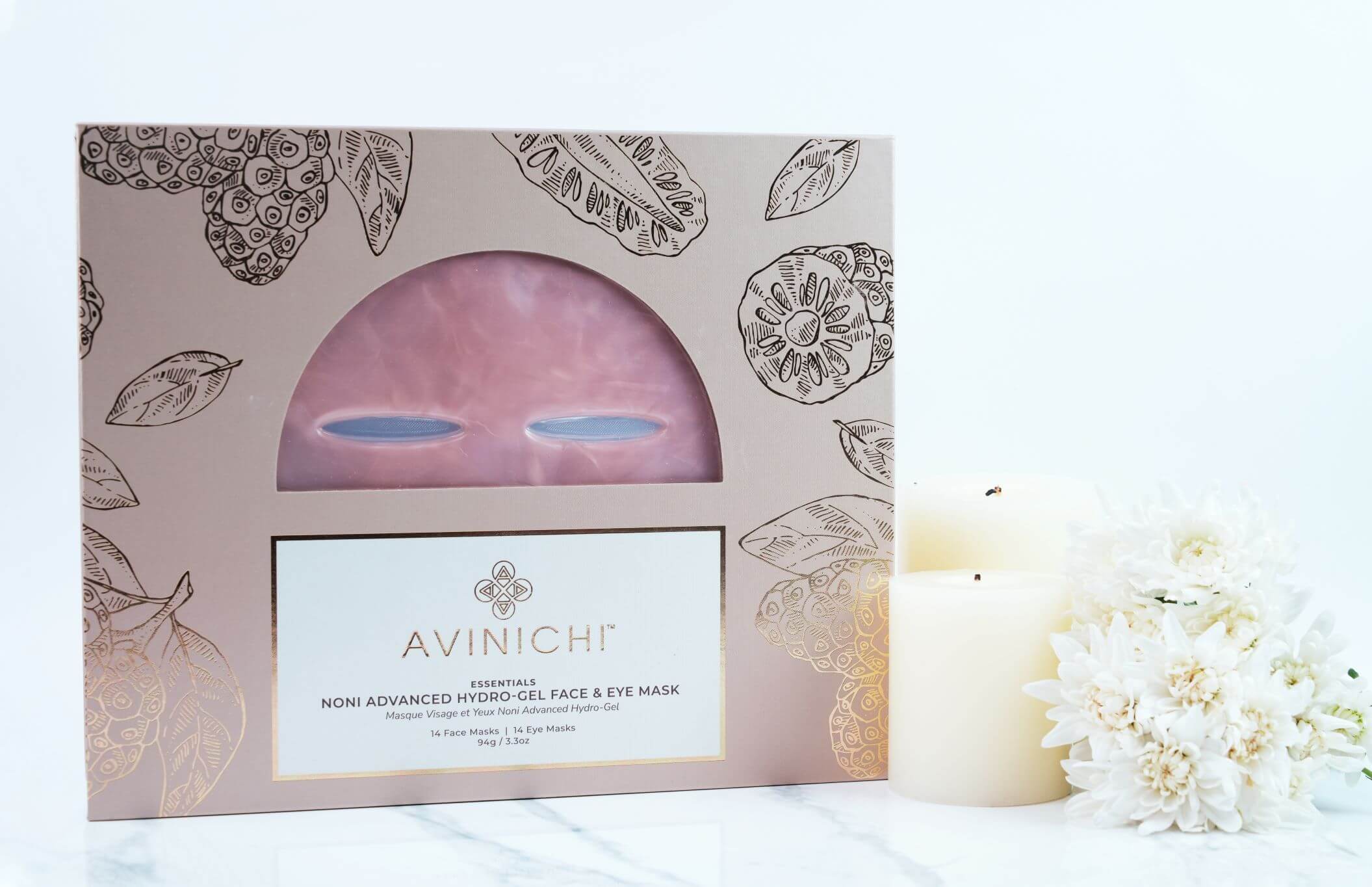 For a little self-indulgence, I turn to the Noni Advanced Hydro-Gel Face & Eye Mask. This mask is like a spa treatment in the comfort of my own home. It's drenched in a rich serum infused with nourishing ingredients like lavender oil, noni fruit extract, and collagen. I adore the cooling sensation as I apply the mask, and the relaxing aroma takes my self-care routine to the next level.
After leaving it on for 15-20 minutes, I remove it to reveal soft, supple, and rejuvenated skin. The Avinichi masks are perfect for those moments when I need a quick pick-me-up or want to pamper myself after a long day. I always keep a stash of these masks on hand to treat myself whenever I need a little extra TLC.
Targeted Care with the Dark Circle Eye Perfecting Cream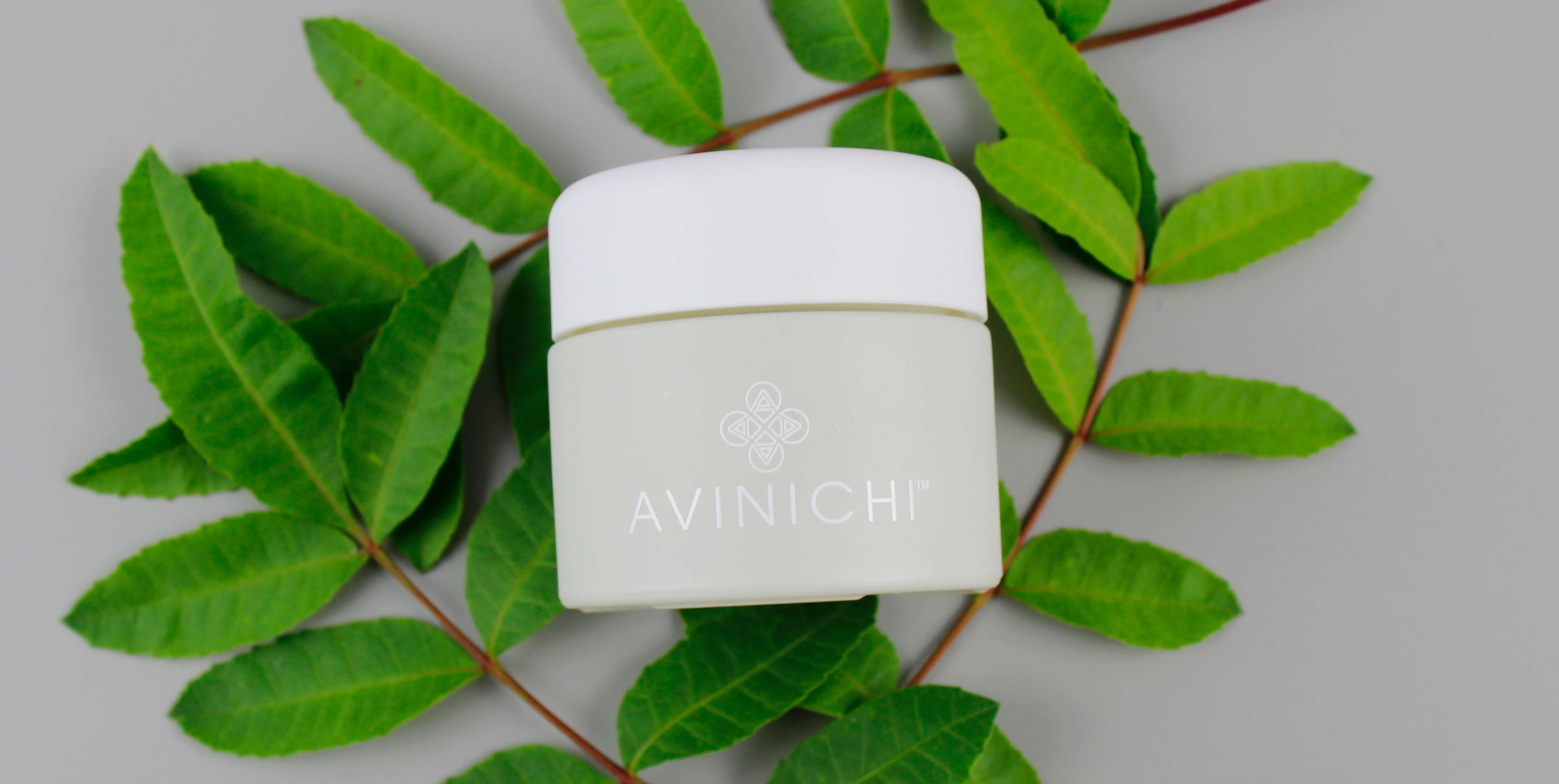 The delicate skin around the eyes deserves some extra love, and that's where the Dark Circle Eye Perfecting Cream comes in. This luxurious eye cream is formulated with potent ingredients like collagen and fruit extracts to target fine lines, puffiness, and dark circles.
I've been using this eye cream for a few weeks now, and I've noticed a visible improvement in the appearance of my under-eye area. My skin feels firmer, and my dark circles appear less prominent. The best part is it's lightweight texture absorbs quickly, and a little goes a long way. Thus, making this eye cream a worthwhile investment.
The Final Verdict: Avinichi is a Game-Changer
After trying a range of Avinichi products, I can confidently say that this skincare brand has exceeded my expectations. The thoughtfully curated ingredients, luxurious packaging, and visible results make Avinichi stand out in a crowded beauty market. My skin feels revitalized, hydrated, and more radiant than ever after using these products.
The best part about Avinichi is that it caters to different skin types and concerns, making it accessible to a wide range of beauty enthusiasts. Whether you have dry, oily, sensitive, or combination skin, Avinichi has products that can address your specific needs.
Another aspect that sets Avinichi apart is its commitment to using high-quality, natural ingredients. Each product is carefully formulated with a blend of botanical extracts, vitamins, and antioxidants that work synergistically to deliver effective results without compromising on skin health. I appreciate that Avinichi avoids harsh chemicals and unnecessary fillers, ensuring that their products are gentle and safe for daily use.
Not only do Avinichi products deliver visible results, but they also offer a luxurious experience. From the elegant packaging to the delicate scents, using Avinichi skincare feels like indulging in a spa-like ritual. It's evident that the brand pays attention to every detail, creating a sensory delight that enhances the overall skincare experience.
Furthermore, Avinichi's dedication to sustainability and ethical practices is commendable. The brand prioritizes eco-friendly packaging and responsible sourcing of ingredients, making it a conscious choice for environmentally conscious consumers. Knowing that my skincare routine contributes to a more sustainable planet gives me an extra sense of satisfaction.
Conclusion
In terms of affordability, Avinichi falls within the mid to higher price range. Accordingly, reflecting the quality of their ingredients and formulations. While some might consider it an investment, I believe that the results and overall experience justify the price. Additionally, Avinichi occasionally offers promotions and discounts, making it more accessible to those who want to try the products without committing to the full price.
Another aspect that impressed me is Avinichi's customer service. Their website is user-friendly and informative, providing detailed descriptions of each product and their ingredients. Moreover, they offer excellent customer support and respond promptly to inquiries, making the purchasing process smooth and hassle-free.
As with any skincare brand, individual results may vary depending on factors like skin type, lifestyle, and existing skin concerns. While Avinichi worked wonders for me, it's essential to remember that skincare is a personal journey. What works for one person may not work for another, and it's crucial to listen to your skin's unique needs.
In conclusion, Avinichi is undoubtedly one of the hottest new skincare brands to emerge in recent times. If you're on the lookout for a skincare brand that combines effective results, luxurious experience, and sustainable practices, Avinichi might be the answer. Whether you're looking to rejuvenate your skin, address specific concerns, or simply indulge in self-care, Avinichi has something to offer.
So, is Avinichi the hottest new skincare brand? From my perspective, yes! And I can't wait to see what innovative and transformative products they'll introduce in the future. If you haven't tried Avinichi yet, I highly recommend giving it a go. Your skin will thank you for it!