I come from a family that adores hot sauce. My dad was once a member of a hot sauce of the month club, so there has never been any lack of spiciness in my household. I also had friends in high school that worked at a hot sauce store—that's right, a store that sold only hot sauce—so I feel like I'm a pretty good authority on which hot sauces are the best.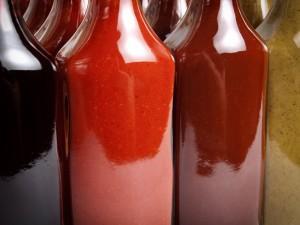 Huy Fong's Sriracha
The trendiest sauce on this list by far, Sriracha has become the go-to sauce for spice lovers in the past few years. It's popping up as a key ingredient in many dishes at restaurants, and Sriracha mayo is quickly becoming the favorite new condiment for people who like a little kick in their food. At this rate, pretty soon Sriracha will be replacing ketchup!
Tabasco
The original and one of the best, there has always been a minimum of at least 3 bottles of Tabasco sauce in my household. This sauce first made its way onto the market way back in 1868 and its longevity is a testament to how great it is. It's the perfect way to spice up any dish, and is a great intro sauce for those who haven't yet converted to the ways of spicy living.
Cholula
This sauce from Jalisco, Mexico adds a mix of pequin and arbol peppers to their recipe, so you know they're not messing around. To give you an idea of how hot this sauce is, the pequin pepper alone is said to be seven times hotter than a jalapeno! My mouth is burning just thinking about that. Marketed as 'the flavorful fire,' this sauce has more than just heat with its unique flavor.
Race City Sauce Works
This sauce brand, based out of North Carolina, has won close to 150 local, regional, and international awards for their spicy recipe. They specialize in using unique ingredients in their sauces, like in their Green Fairy sauce, which contains a combo of habanero and Serrano chile and absinthe! Founded in 2008 by a chef, you know you're getting the good stuff when you buy any hot sauce from this company.