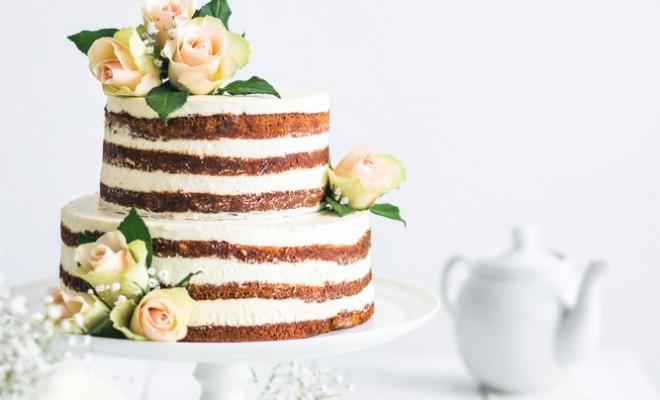 Naked Cakes for Every Occasion
|
Naked cakes are the trendy new desserts that are taking over for all events! They're super popular for weddings right now, and are so cute you're going to want to serve them all the time. A naked cake is pretty much what it sounds like—it's a cake that's bare on the outside. Instead of having frosting on the outside, there are only thick layers of icing between the layers of cake, making it appear 'naked.'
This rustic-style cake has been very popular at wedding this year, particularly at trendy barn-style weddings that have been taking over the wedding scene. The simplicity is quite a departure from the fancy fondant covered cakes that you typically see at a wedding, but they're no less elegant than any other wedding cake. And don't confuse simplicity with plainness—garnishes like fruit or flowers make beautiful decorations for these cakes, and they're very easy to get creative with. The look of the cake is so natural that it's probably best to stick to natural decorations—use real fruit and flowers instead of the gum paste variety. It's a simple yet elegant look that would look great at any outdoor event—whether that's a wedding, a garden party, or even a low-key BBQ.
The concept might be simple, but that doesn't mean it has to be simple in appearance! Don't limit yourself to vanilla and chocolate, but add some natural coloring and flavor to bring some vibrancy to the cake. Because you can see the layers of cake as well as the frosting, the multi-tiered style gives you a lot of opportunity to create a lovely visual with different colors or even textures. You could also do a very light coating of frosting on the outside, just light enough that you can still see the insides, like a little peek-a-boo layer that still lets the core be seen. It's always nice to stick with a bit of a theme, for instance you can garnish with strawberries and even put some in the icing, giving it a nice pale pink color. The opportunities are endless!
So the next time you're looking for a dessert to impress your friends, look no further than a naked cake!