There's nothing like a girls' night out with your besties to relax and have lots of fun. Every time my friends and I get together, we try something new, from food, wine, and movies to beauty and skin care products. We could say that when trying new skin care trends, it's more of a girls' night in, but you get the idea.
On our last get together, we were super excited because we were going to try some very amazing skin care products made with gemstones. We were also looking forward to trying this new beauty trend: Multi-Masking.
You can imagine how eager we were for that night to arrive! It was going to be all about some luxurious skin pampering, champagne, and girl talk!
Luxury skin care reaches a new level: Gemstones
The face masks we're going to try are the Morganite Magnetic Mask and the Black Onyx Mask from Lionesse. As you can see, the name of the products alludes to the amazing ingredients they're made of, morganite and black onyx.
But, why gemstones?
Well, I learned that crystals and gemstones, such as diamonds, sapphires, amethysts, etc., possess healing and rejuvenating properties. These wonderful properties are due to quite an astonishing quality gemstone have: They naturally vibrate at a higher frequency. This vibration promotes cellular restoration, encouraging a more youthful and healthier appearance.
The Morganite Magnetic Mask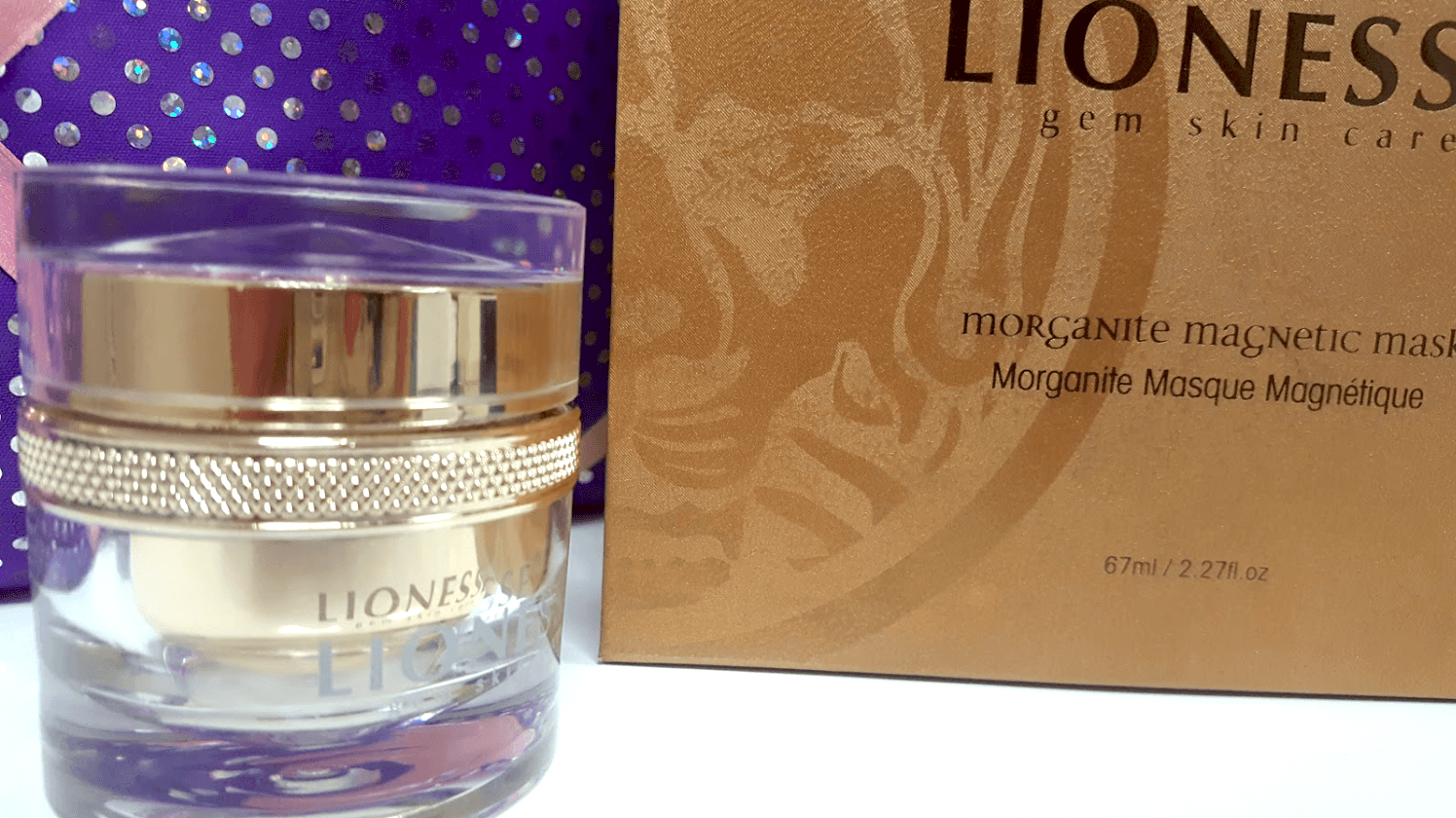 Have you tried a magnetic mask? Well, I certainly hadn't, so I was very much excited to try Lionesse's Morganite Magnetic Mask.
Morganite is a gemstone that belongs to the emerald and aquamarine family and possess a beautiful and subtle pink color. Considered the "crystal of divine love", morganite is thought to represent the beautiful rays of sunrise, kindness, and compassion, too. Some say that morganite helps people to appreciate life and promotes joie de vivre.
This mask contains a fabulous ingredient that makes this mask a beauty treat for your face, but it's also a very innovative beauty product. The Morganite Magnetic Mask is indeed magnetized with iron powder! This mask will magnetize your beauty back, by drawing impurities out of your skin and delivering beautifying and rejuvenating botanicals.
The Morganite Magnetic Mask is not just like something that seems to be taken out of a sci-fi movie; it's luxury in the palm of your hand, too!
Just check out the astonishing and lavish ingredients it contains:
Iron Powder

– This is a natural ingredient that will draw out the impurities off your skin, while stimulating it, so you can achieve a firmer and tighter appearance.

Diamond Powder

– Diamonds are not only for engagement rings. They can really make a difference in your skin's appearance. Regarded as a symbol of purity, diamonds have the ability to exfoliate and adding luminosity to your skin.
But these aren't the only ingredients it has. It also incorporates soothing ingredients like:
Coconut Oil

– This amazing oil is used in many beauty products because of its amazing antibacterial and antifungal properties. It is also an incredible moisturizer.

Rosemary

– Being part of the mint family, this plant possesses the same soothing and healing properties of peppermint and sage. It's packed with antioxidants, and it provides natural astringent benefits to the skin.

Sunflower Seed Oil

– The emollient properties of this beautiful flower make this oil a great moisturizer. It is also high in vitamin E, which is a very potent antioxidant, and rich in beta-carotene, making it a powerful anti-aging elixir.

Marula Oil

– This oil is rich in vitamins, minerals, antioxidants, and nutrients that deliver nourishing benefits to the skin, leaving it soft, healthy, and looking more luminous than ever.

Baobab Seed Oil

– This oil contributes to make skin feel softer and suppler. It improves skin's elasticity and encourage the regeneration of skin cells. Its hydrating properties fight dryness, reducing the look of wrinkles and fine lines.
The Black Onyx Mask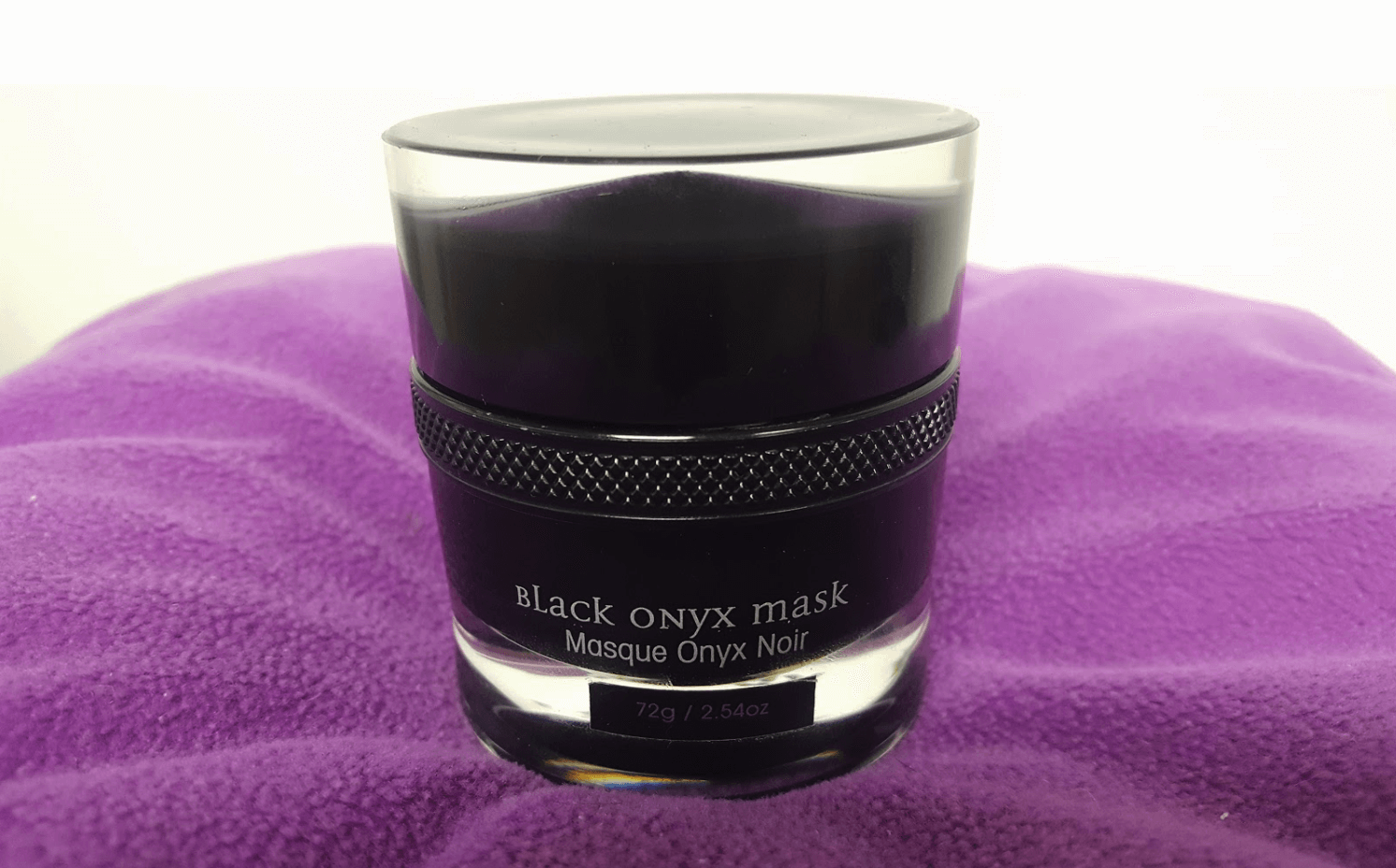 Some say that black onyx helps you to let go. Others use it for good luck and protection. In general, it's consider a healing gemstone with the ability to help people achieve focus, balance, optimism, and intuition in times of emotional turmoil.
The black onyx belongs to the quartz group. Although it can be found in other colors, it's predominantly black. Its soothing abilities include calming inflammation and sunburns, and healing wounds.
The Black Onyx Mask is designed with a unique blend of luxurious and beautifying ingredients. Among these ingredients are:
Sweet Almond Oil

– Rich in antioxidants, proteins, and other minerals and vitamins, this delicious oil is a delight. Its light texture helps skin to dislodge dirt and debris accumulated in the pores easily.

Kaolin

– This clay has a very versatile nature. It can be used internally to help de digestive system, and, of course, externally, to help cleanse and exfoliate dirt and dead skin cells on the surface of the skin.

Aloe Vera

– This is the queen of plants! Aloe vera is known as the plant of immortality, because of its healing and rejuvenating properties. Also, a very multifaceted plant, it can act as a moisturizer, treat acne, fight aging, and soothe sunburn.

Arabica Coffee Seed Extract

– Coffee isn't just delicious, it also provides a lot of antioxidants and health benefits. Topically used, it can be of great help to diminish the look of dark circles, puffiness, and wrinkles.

Lemon Peel Extract

– Did you know that peels contain as much as 10 times more vitamins than the juice itself? Lemons are nature's blessing to us, because they're so multifaceted you can even use them for cleaning! But let's not lose focus here. Lemon peels enhances skin's natural clarity, softness, and glow.

Archangelica Root

– Its many vitamins, nutrients, and antioxidants make of this herb a natural beauty miracle. It has soothing, healing, and anti-inflammatory properties that fight acne and dryness, making skin glow.
The main ingredient is of course:
Black Onyx Powder – With healing and soothing properties, the black onyx will help your skin regain its soft feeling and youthful looks.
Why get just one, when you can have more?
Have you heard that your face is like a clean canvas, ready for you to create your masterpiece? Well, I know that this saying refers more to makeup than to skin care, but now it can be used to talk about multi-masking.
And you might be asking yourself, what is multi-masking?
Multi-masking is the art of incorporating more than just one mask at the same time.
Let's just admit it, very few of us have only one type of skin. It's closer to the truth to say that usually we tend to have an oily T-zone, more prone to blockage, while our cheeks need more hydration. So, why using a mask that while doing an incredible job in your nose and forehead, it will suck the life out of your cheeks?
That's when multi-masking comes in.
Applying multiple face masks is not only practical and convenient, it also allows you to address each of your different skin concerns at the same time.
How to multi-mask
When you multi-mask, you're customizing your skin care routine. For example, if you're continually getting breakouts around your chin, you apply the specific product that will help control those breakouts. And if the contrary is happening in your cheeks, I mean that you tend to suffer of dryness, then a moisturizing mask will do the trick.
You can use all the masks you want depending on your specific needs. Isn't that amazing! A clay mask to acquire a mattifying look in your forehead, a charcoal mask to get rid of debris and blackheads in your nose, and eye sheet masks to diminish puffiness and dark circles. The possibilities are endless!
So, basically, multi-masking is layering masks to achieve the best skin care results.
A beautiful experience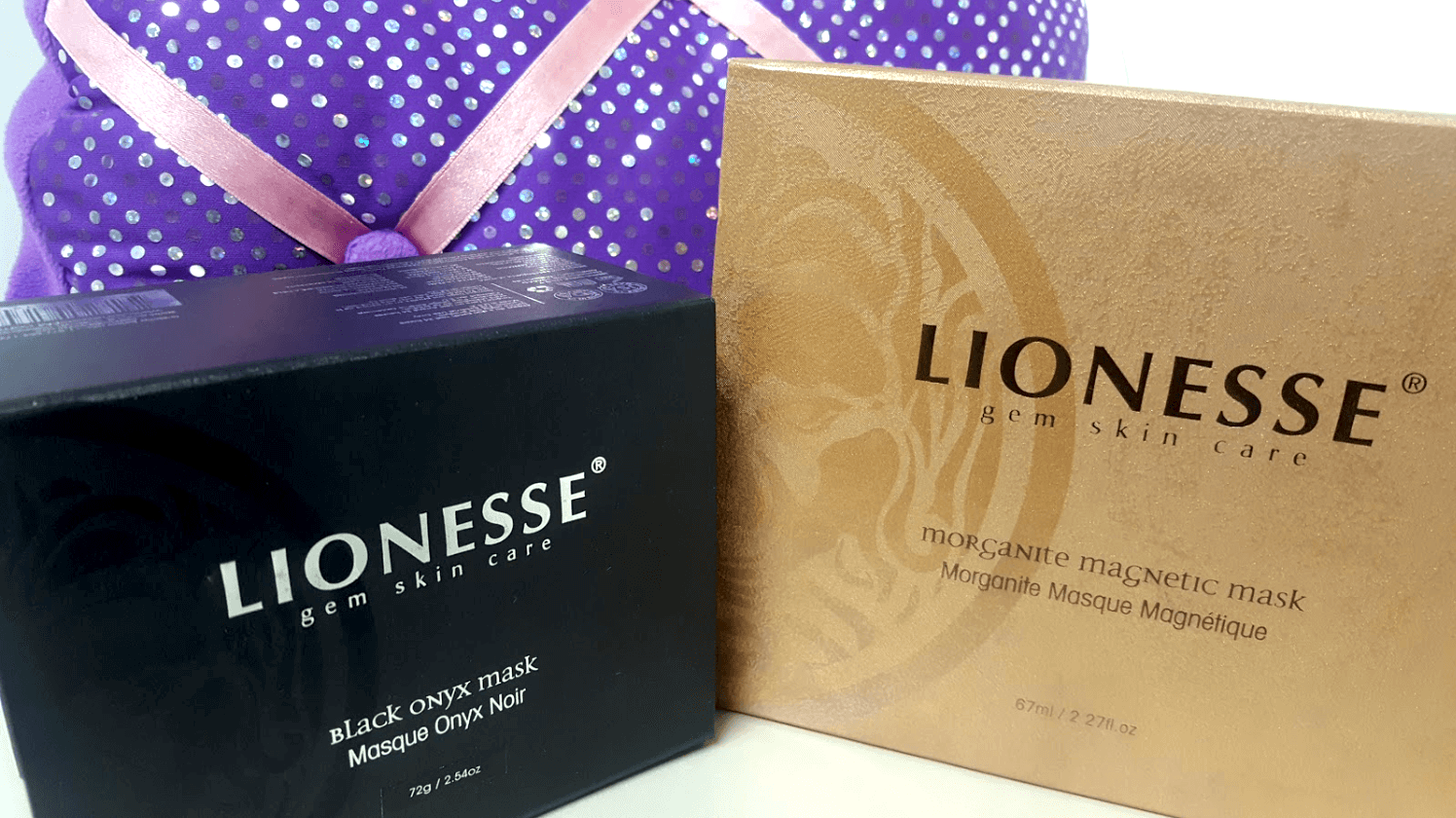 There were three of us who wanted to try these masks. So, Nikky applied the Morganite Magnetic Mask onto her whole face, Anna went with the Black Onyx Mask, and I tried the Black Onyx Mask on my nose and chin, and the Morganite Magnetic Mask on my forehead and cheeks.
As soon as I started applying the Black Onyx Mask, I felt it warming up. That tells me that it starts to work right away. I can already feel the dirt melting away. The consistency of this mask reminded me of pancake batter, because of its smooth and creamy viscosity. At the same time, the texture made the mask a little tricky to apply. If you put on a little too much, it starts dripping.
The Morganite Magnetic Mask is very easy to apply. It spreads beautifully and stays on your face. I must say that the texture of this one is amazing! It's soft and it sparkles!
We waited the require time, and in the meantime, we talked about our feelings while we drink a delicious sparkling champagne.
After 15 minutes, I started to wipe off the Black Onyx Mask from my nose and chin. I really felt that they were clearer, and the skin felt really soft.
I was really excited to wipe the Morganite Magnetic Mask off, because you need to hover a magnet close to your skin to remove it. How does that even work!? But, the great thing is that it does!
I put the magnet into one of the small sachets and started passing it without touching my skin. I could feel the magnet lifting up the mask, and all the dirt and debris with it! It really felt amazing!
After removing the mask, I massaged the remaining oils onto my face and neck. My skin acquired a beautiful glow and an astonishing soft feel.
We were very pleased with these incredible masks! Nikky's skin glowed like I have never seen before, and Anna's skin achieved a beautiful, even tone, and a wonderful softness.
I can say that it was one of the best girls' night in ever!
Beautiful skin without harming bunnies
Another great thing about Lionesse's products is that they are cruelty free! I'm always in search of quality skin care products that take into consideration the rights and wellness of animals and nature in general.
Lionesse guarantees that they harmed no cute little bunnies in the making of these products. They have the leaping bunny logo, so, you can go on and try these amazing masks away.
If you want to learn more about this brand, visit their website. They certainly have more scoop (pun intended?) than I do!